3M launches SCBA designed for law enforcement, special ops
The X3-21 Pro SCBA is quiet and subtle to help responders keep a low profile
---
By Police1 Staff
ST. PAUL, Minn. — A new self-contained breathing apparatus (SCBA) solution designed specifically for law enforcement, special operations and HAZMAT is now available from 3M, a manufacturer of worker safety products. The 3M Scott X3-21 Pro SCBA is the first SCBA certified to the NFPA 1986 standard on respiratory protection equipment for tactical operations, according to a 3M press release last month.
The X3-21 Pro differs in some ways from its firefighting counterparts. Notably, the X3-21 Pro includes a harness with non-reflective, low visibility materials to help keep a low profile during tactical operations, according to the release. The X3-21 Pro also does not have "buddy" lights nor a "man-down" PASS alarm.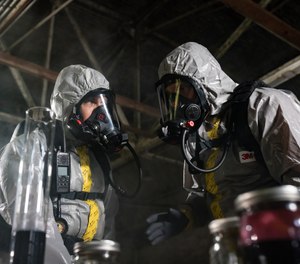 "The X3-21 Pro is a gamechanger for law enforcement," said Tony Pickett, 3M global portfolio senior manager in a statement. "We took the proven capabilities of our fire SCBA and redesigned it to specifically meet the needs of law enforcement to help them perform at high levels in hazardous conditions when a reliable air source is needed."
Key features of the 3M Scott X3-21 Pro include:
Certified to NFPA 1986 standard.
5.5 cylinder technology to help minimize weight and reduce operator fatigue.
Snap-change cylinder connection to quickly replace cylinders.
Multi-operational harness materials offer greater resistance to chemical exposure.
Compatibility between fire and law enforcement customers to reduce cost burden.
For more information about the 3M Scott X3-21 Pro SCBA, click here.

Request product info from top Police Personal Protective Equipment companies
Thank You!