PRESS RELEASE
Body Armour Canada Now Offering Protection Against Taser™ Branded Weapons to Canadian Military and Law Enforcement
---
WHITBY, ON - Body Armour Canada Ltd., one of Canada's leading suppliers of ultra-lightweight and thin bullet resistant vests, has become the first Canadian company to be able to offer its customers within military, law enforcement and security, the truly innovative and unique ThorShield branded products, manufactured by G Squared Consultants.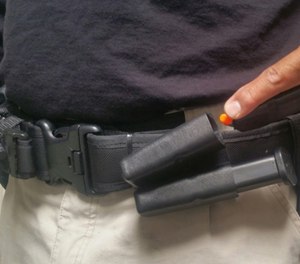 "Being able to provide cutting-edge products that continues to give additional protection to our customers is what pushes us each day to make a difference in a somewhat over saturated marketplace," said Bill Geraghty, CEO of Whitby, Ontario based Body Armour Canada Ltd.
The ThorShield Energy Weapon Protection Fabric is the most effective protection against non-lethal energy weapons on the market today. ThorShield works by providing a highly conductive specialized layer of fabric ensuring the electrical current conducts through the fabric versus the body. "Body armour companies only focus on providing protection from handgun and rifle rounds and/or blades; however, with the risk of assault from the illegal use of TASER™ type weapons and stun guns, ThorShield gives back the advantage to military and law enforcement personnel," said Mr. Geraghty.
"This superb fabric can be integrated into the design of new body armour carriers," he said. "We also sell the Chameleon Electronic Control Device (ECD) training suit, the world's only training suit that allows for real, live TASER™ Branded Device probe-firing and stun gun drive-stun applications, currently in use by several US police departments and academies."
In addition, Body Armour Canada is currently the only Canadian supplier of the "V Pouch" -- the fastest Indexing Tactical Ergonomic Magazine System and the perfect quick access magazine holder for your Glock medium and long magazines.

Further information:
Body Armour Canada
289-314-7900
sales@bodyarmourcanada.com
www.bodyarmourcanada.com