Lt.Col. Grossman's 'Sheepdogs' book teaches kids to be protectors
Originally written for children of law enforcement and military officers, SHEEPDOGS: Meet Our Nation's Warriors teaches all kids to be strong while remaining virtuous in a dangerous world
---
Article updated October 17, 2018
For some, law enforcement is truly a family affair — a profession handed down from generation to generation. Part of the reason for this is that police parents — sheepdogs — either actively or unwittingly teach their kids to be sheepdogs too. 
I urge law enforcement parents — all parents, really — and school officials to prepare kids for active shooters (or other violence) outside the home. We must begin instruction at early age — just like we do with stranger danger or fire safety. The difficulty at that time was I couldn't find any educational materials to assist parents and teachers in this endeavor.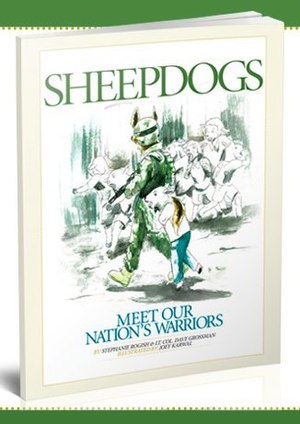 Lt. Col. Dave Grossman and Ms. Stephanie Rogish have stepped up to this challenge with their co-authored children's book, "Sheepdogs: Meet Our Nation's Warriors," a book for children of police officers, military personnel and many others. 
Experts in Their Chosen Fields 
Well-known to law enforcement, Lt. Col. Grossman is a Pulitzer Prize-nominated author, West Point psychology professor, and world-renowned expert on aggression and violence. Ms. Rogish was an elementary school teacher who now spends much of her stay-at-home, military mom time volunteering, writing, and driving kids — including her own— to activities.
The co-authors bring their combined experience, education and expertise to the challenge of introducing young children to the concepts of violence and the legitimate use of force to protect ourselves and others. They're aided by the simple but expressive illustrations of Joey Karwal. 
Using Grossman's sheepdog metaphor, the book poignantly explains to children that "sheepdogs" (police officers, for example) live and work to protect the innocent, peaceful "sheep" (people) around them from "wolves" (bad people).  
The book was originally written for children of law enforcement and military officers. As Rogish explains:
"Our hope is that this helps them understand why their "sheepdog" isn't always home and why they protect people they don't even know. And yes, we address that hard topic of 'when the sheepdog never comes home.' We also want to 'train up' the next generation of sheepdogs.  To let these young sheepdogs know it's ok to stand up to the bully and stand up for the underdog."
Sheepdogs is a book for all kids
"Sheepdogs" is a valuable read-together for any parent, teacher, and young child. One illustration shows a teacher as a sheepdog below the text:
"Did you know some sheepdogs don't even wear uniforms? They can be moms and dads, teachers or regular folks at regular jobs. They are prepared to confront the wolf and protect those around them."
The teacher sheepdog is pointing to a Shakespeare quote on the blackboard: 
"All things are ready, if our minds be so."
Each illustrated page of this book provides a springboard for meaningful discussion with children about violence and the power of good in a way that is neither patronizing nor fear-mongering. As a teacher/trainer much of my adult life, I appreciated the book's concluding lesson and directed activities.
"People are different [from animals in nature]. People can make the decision to be a sheepdog, a wolf, or a sheep. You can decide what you will be. Do you have what it takes to be a sheepdog?"
Following is a page that invites the child to paste photos of sheepdogs in their life and discussion questions that include:
What does courage mean to you? Tell about a time when you showed courage.
What do you think the wolf means when he says, "Might makes right"?
What does the sheepdog mean when he says, "Compassion is not weakness"?
Don't teach kids to be sheep
We can begin teaching our children "how to be strong while remaining virtuous in a dangerous world" with the help of teachers and books like "Sheepdogs." Or we can let our children be taught to be sheep, as is being done with "Uncool: The Anti-Gun Violence Project."  
A California librarian presenting this project to parents and children said that six or seven is not too young to begin a conversation about guns. "It's not too young because of the world we live in."
I couldn't agree more. But the project's message for kids is "imagine a world without guns." 
The first Uncool workshop at the Pasadena library featured a children's book, "Mark and the Jellybean Monster." In the book, Mark resolves his fear of something he does not know — a Yeti monster — not by resorting to guns but by discovering a shared love of jellybeans.
Grossman understands how what we teach kids is critical to stopping violence. That's why he co-authored "Stop Teaching Our Kids to Kill: A Call to Action Against TV, Movie & Video Game Violence."
He's vehemently against romanticizing or glorifying guns or violence. 
As a former special education teacher, then prosecutor, now law enforcement trainer and author who carries concealed, I prefer the lessons of "Sheepdogs" over teaching our kids to imagine a world without guns. 
To beat a worn phrase, it's wolves that endanger our kids, not guns.
If we don't step up to the challenge of teaching our children how to be strong and virtuous in a dangerous world, others may well turn them into sheep who can't imagine a world with wolves or guns.