Police release findings in Nev. school shooting rampage
Seventh-grader who went on a deadly schoolyard shooting rampage had images of the Columbine gunmen on his cellphone
---
Associated Press
SPARKS, Nev. — A Nevada seventh-grader who went on a deadly schoolyard shooting rampage had images of the Columbine gunmen on his cellphone and told a therapist three days before the October attack that classmates were teasing him, authorities said Tuesday.
But Jose Reyes, 12, gave contradictory accounts in two suicide notes about whether he was acting out of revenge when he opened fire at Sparks Middle School, killing a teacher and wounding two boys before turning the gun on himself, Sparks Police Chief Brian Allen said.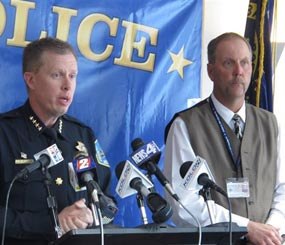 Allen released a 1,300-page report detailing the investigation into the shooting. He also announced at a news conference that no charges will be brought against the parents of the boy, who brought the semi-automatic handgun from home.
While detectives found instances where Reyes might have been teased or mistreated by other students, there wasn't enough evidence to merit bullying charges, Allen said.
Reyes wrestled with speech problems since kindergarten and felt inadequate with his family, police said. He also recently had been prescribed an antidepressant and had shown some signs of autism.
The youth offered conflicting motives in two handwritten suicide notes.
In one to teachers and students, Reyes "clearly expressed anger" over his belief that he was embarrassed and mistreated at school, and he "indicated he would get revenge," Allen said of the boy who was a voracious player of violent video games.
In a second note specifically to his parents, Reyes suggested the rampage "was not a result of shooting games or bullying," the police chief said.
Both notes alluded to the fact that "his life would end in the process."
Police learned one of the students Reyes shot had teased him about not having muscles during a physical education class. Other students called Reyes names and accused him of wetting his pants after they poured water on him.
Allen included a message to students during the news conference: "Be nice. Be kind. Treat your fellow students with respect. We're all a little different. It matters."
According to the report, three days before the shooting, Reyes' father took him to a psychotherapist, who said the boy showed signs of a depressive disorder. Reyes had a generic form of the antidepressant Prozac in his system at the time of his death, police said.
The boy told the doctor he was being harassed and called names at school.
Investigators said Reyes had images on his phone of the two teens who committed suicide after killing 13 at Colorado's Columbine High School in 1999. They also found searches on the Reyes' family laptop for "Super Columbine Massacre Role Playing Game."
Forty-seven of the 69 video games in the boy's collection were "violent-themed, first-person shooter or shooter-type games" such as "Grand Theft Auto V," ''Assassins Creed" and "Call of Duty 4," police said.
Police earlier said Reyes' parents could be charged if they knowingly made the 9 mm pistol available to the boy. But Allen said Tuesday the investigation turned up no evidence that Jose and Liliana Reyes were aware that their son knew where the 9 mm pistol was kept in a kitchen cabinet.
Ken Robison, a Reno lawyer for the parents, said prosecutors indicated to him earlier they would not be charged, but Tuesday's announcement brought a "sense of relief."
"Hopefully for the Reyes family there's closure and they can proceed with their healing," he told The Associated Press.
Copyright 2014 The Associated Press