The app that could stop killers in our classrooms
Hero911 is a downloadable mobile app that has the potential to save many, many lives
---
What might happen if a teacher whose classroom is under attack by an active killer — like Jonesboro (Ark.), Littleton (Colo.), Santee (Calif.), or Newtown (Conn.), — had the ability to press a button on their mobile phone that immediately summoned every cop within a 10-mile radius?
Response time would be quicker, right? Fatalities might be fewer, hooah? 
A new mobile phone app for law enforcement and education professionals makes that concept a reality.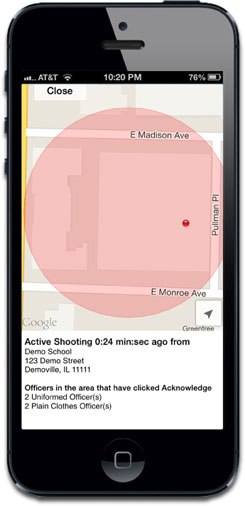 Saving Kids for the Cost of Crayons
One year ago, off-duty Police Officer Nate McVicker and "technology guy" Brian Estes were playing cards one night and came up with the concept to use an app to shorten police response time to school shootings. 
They soon called Tom Swip (another "technology guy" ) and Mike Snyders (who retired as Colonel with the Illinois State Police) and the four of them developed Hero911, a downloadable mobile app that has the potential to save lives. 
There is no hardware to install and/or maintain on premises for either the schools or police — everything is cell phone and network based — and the company utilizes the highest encryption and security standards on its servers.
It's completely free for officers, and for educators there is a one-time set-up fee of around $2,500, and thereafter, schools pay $99 per month for unlimited users of the technology.
To put that into perspective, it's estimated that most elementary school classrooms spend about a $100 on Crayons, construction paper, and other supplies per month. Multiply that by the numer of classrooms they are supplying per school. Two? Five? Ten?
Every month.
Get the idea of how inexpensive this is in comparison?
Only Vetted, Verified Sheepdogs Need Apply
Officers must complete the registration procedure after they download the app, and the company confirms their law enforcement status — similarly to Police1 — with a vetting procedure. All of the officer information is strictly confidential and is not shared with vendors.
Released on Google Play and the Apple App Store in November 2013, the company has now approved nearly 10,000 officers for the Hero911 app nationwide. This includes municipal, state, and more than two dozen federal agencies.
The app includes a geo-fenced area near each school within which an alert can be sent to all nearby police officers, on duty and off. 
The alert indicates on a map the precise location of the school where the teacher activated their panic button. Importantly, the app on LEOs phones is purposely set up to NOT track officer off duty locations. 
Two Sides of the Same Coin
As president of the Hero911 Network, Mike Snyders oversees the management, security, and overall vetting process on the deployment of the Hero911 app. The school side of the technology is managed by a separate company, Guard911 LLC, and the school-side product is SchoolGuard. 
There are two corresponding websites, www.hero911.org for law enforcement officers and www.schoolguard.com for teachers and school administrators.
The SchoolGuard app provides a panic button for every teacher and can only be activated when the user is on or nearby school property.
In the event of a threat, the teacher pushes the panic button that immediately speed dials 911. While the phone is dialing 911, the system immediately bursts an alert to the smart phones of every teacher in the school AND every police offer with the Hero911 app within a 10-20 mile radius. 
I recently connected with Snyders to get a little more information about the system, and he told me, "Two weeks ago we released an upgraded version that includes a user test, tutorial, and web link. Next week we're rolling out a feature, which will be huge, to allow us to push a text notification to all officers to inform them of a reported school shooting anywhere in the country," Snyders said. 
Officers within a 10-20 mile radius of a reported school shooting will be alerted and receive mapped location of the threat, or a low-key situational awareness notification if the shooting is not nearby.
Schools in Illinois, Texas, Indiana, and New Jersey are now installing SchoolGuard, and schools in many other states are calling with significant interest.
One Important Caveat
We must acknowledge potential officer safety concerns related to multiple officers from multiple agencies, including those in plain clothes that may be first on scene to a school massacre.  
"Hero911 is dedicated to the rare instance where any delay in response can be life or death for children. In the spirit of officer safety, we built an officer acknowledge button into the app, so after receiving a school shooting alert officers are asked to acknowledge 'in uniform' or acknowledge 'in plain clothes.' We know this app will not solve all of the world problems but Hero911 could provide a uniform officer a minute or two head start to the scene, a plain clothes or off duty officer may be the closest and will perhaps have the first opportunity to confront the threats."
Of the 800,000-plus police officers in the United States, only a small percentage of them are in uniform monitoring a police radio at any given moment. 
"The Hero911 app dramatically increases the pool of officers that may be in a position to save lives," Snyders said.
Look at it this way. Thre was a full five-minute delay from the first on-scene-911 call being made, to the arrival of officers at the Sandy Hook school. Hero911 would cut that time to well under a minute. 
All of this sounds too good to be true, I know. But belive me, I've held it in my hand. It works.
As I have previously written, there is no one big idea that would significantly reduce the severity and frequency of active murderers in American schools. There are myriad ideas from which we may build layers of solutions based on local needs. 
This is one such idea.