AG Barr: Disrespect for cops not only wrong, but endangering
In an opinion piece, the U.S. attorney general writes a lack of police support is affecting retention, safety
---
Police1 Staff 
WASHINGTON — In an opinion piece published by The New York Post, United States Attorney General William Barr writes that a lack of respect for law enforcement officers is not only wrong, but also dangerous. 
The article comes less than two weeks after Barr drew criticism for saying that communities nationwide may find themselves without the police protection they need if they don't support police officers. He outlines the many challenges and dangers law enforcement officers encounter daily to protect the areas they serve.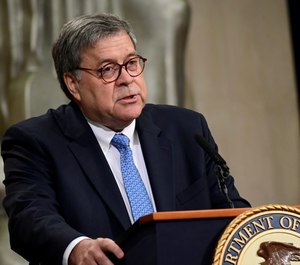 "Police officers are now required to handle the fallout from a vast range of social ­pathologies that were once the domain of social workers, psychologists and family members," he writes. "There is no tougher job in the country than serving as a law-enforcement officer. Every morning, officers across the country get up, kiss their loved ones and put on their protective vests. They head out on patrol never knowing what threats and trials they will face." 
In the piece, Barr points to an escalation of violence against police officers and a drop in the number of full-time officers per capita as two indicators that a lack of respect for law enforcement officers is working at a detriment to the profession. 
"In the last 20 years, the number of full-time sworn officers per capita dropped 11 percent," he writes. "… The number of applications has significantly decreased over the past several years, and many officers are leaving well before retirement age." 
"Here is the stark reality," Barr continues. "Without a serious focus on officer retention and recruitment, including a renewed appreciation for our men and women in blue, there won't be enough police officers to protect us. 
"It's not just civilian respect that is lacking – there is also an absence of respect for the work police officers do among prosecutors and judges," Barr writes. 
"Police officers must look on as the criminals that they have risked their lives to apprehend get turned loose by 'social-justice' DAs and 'progressive' judges who no longer see their role as protecting the community from predators." 
Barr urges readers to show law enforcement officers the same respect and gratitude many civilians show to those who serve in the armed forces. He writes that support for officers means "adequate funding" and "an extra degree of goodwill for having chosen a trying life of public service." 
"When we show our respect and appreciation for our police, it says more about our love of liberty and justice than perhaps any other act," he concludes.