A Class A uniform that combines comfort, fit and performance
5.11 Tactical's new Flex-Tac Uniforms are an innovative poly/merino wool blend that sets a new standard
---
Sponsored by 5.11 Tactical
By Sean Curtis for Police1 BrandFocus
5.11 Tactical has been innovating uniform wear in the law enforcement/emergency response industry for many years – and thank goodness! They recently came out with a version which offers some superior performance because of a blend of polyester and wool: not just any old wool, but Australian merino wool. This is exciting because the new blend combined with the same 5.11 quality features makes for an awesome uniform.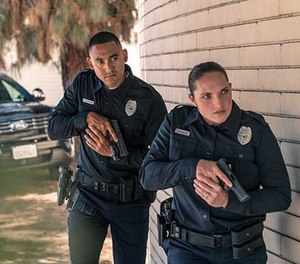 To those familiar with performance fabrics, merino wool is no surprise. Wool outperforms cotton when it is wet, retaining 80 percent of its heat in cold weather situations, while also maximizing thermal regulation in warm environments. 5.11 Tactical worked in partnership with The Woolmark Company to develop the Flex-Tac Poly/Wool uniform collection. It shouldn't be a surprise that they went in this direction given 5.11's legacy for innovation.
A vast improvement
I wore crummy uniforms for 10 years – they never failed to serve as a source of complaint. They were too hot in the summer and too cold in the winter. They would bind up and pinch in inappropriate places, at inconvenient times. They also did not function well overall, offering marginal looks largely at the expense of my comfort. I wasn't the only one who suffered.
When I became a lieutenant, the first thing I did was order 5.11 uniforms for the entire patrol division. It was a big change for a small sheriff's office that had worn terrible uniforms for so many years, but it turned out to be amazing. Had Flex-Tac been around when I was still ordering uniforms, I would have gone with this trend-setting option, too.
Topside features
Despite wearing 5.11 uniforms for five years, I wanted to check out the new products myself. I received the new Class A Poly/Wool uniform and was very impressed. The blend is 62 percent polyester and 38 percent merino wool and weighs in at 5.1 ounces. It is duty weight, sturdy, yet comfortable to wear. The shirts have a stretch in the fabric that is hard to believe. How does this apply to a professional uniform?
Easy, with a proper, tailored fit, the uniform shirt adheres to the body and stretches to accommodate the ballistic vest underneath while handling brass or patches on your shirt like a boss. Now, before you go thinking yoga pants, this uniform pulls off a command presence like nothing you've seen before. There are no sloppy, untucked shirts, no baggy, excess fabric hanging around. The uniform is form-fitted if you want it to be and you won't have to fight your shirt to access any of your gear on your belt.
There are epaulettes, a badge tab, and a name badge support strip and you can have them sewn in if you or your department requires. These options give the shirt greater length of wear when brass is a requirement. In addition, there is a radio loop available and the shirts have discreet wiring routes (either side) for earpieces on radios. 5.11 understands that law enforcement agencies need options, so it provides them.
The traditional patch pockets come with the scalloped flaps you're used to, as well as the pen guides which hold the ever-important instruments for writing tickets. Hook and loop closures hold the pockets closed so nothing is lost when things get rough. The stretch applies here, too, allowing the pockets to be stuffed full of necessities without looking unprofessional.
The shirts have a button-covered zipper-front placket, making for quicker doffing and donning. The outer surface of the garment is treated with a Teflon finish, meaning stains and dirt can ruin someone else's day. The shirts are available in men's and women's cuts, and come in black, silver tan, and midnight navy.
Foundation of function
The new Class A Poly/Wool pants reflect 5.11's understanding of function and service. Coming in with the same general blend of 60 percent polyester and 40 percent merino wool, the twill fabric is a little heavier at 7.8 ounces because this is where the rubber hits the road. The pants are made with a tunnel waistband and gripper elastic, meaning your shirt isn't going to come untucked unless something goes terribly wrong.
The pants, being Class A, have simple, clean lines, but they come with a permanent crease pressed in, meaning far less maintenance is required for a truly professional look. There are two, ample front pockets and two welted rear pockets with a button tab for closure. Despite being Class A, there is a fifth, hidden, utility pocket which I had to search to find. It's secreted near the waistband and will hold a small knife, handcuff key or other items.
Also treated with Teflon, the Class A Poly/Wool pants have the elastic waistband which will forgive a big lunch or long winter. There are seven belt loops which make it a snap to close the waist, the pants also benefit from a French fly. They are available in men's and women's cuts, and come in black, silver tan, midnight navy and sheriff green.
Total package
5.11 maximizes the functionality of the Class A with this application, providing generous pockets and a bonus hidden utility pocket all while remaining strictly within regulation. The new Class A Poly/Wool uniform represents the company's dedication to serving the women and men in the field whose duties subject them to cold, wet and windy climates.
My experience with these uniforms reveals them to be overall tough yet comfortable. There is no binding or pinching and nothing really limited my mobility. I loved the breathability and function of the poly/merino wool blend and found the shirt and bottoms always appeared professional. The stretchiness of the materials helped the shirt maintain a sleek and tapered profile while the pants stayed comfortable with the forgiving waist.
5.11 Tactical's new Class A Poly/Wool uniforms are even home laundry and dry clean friendly, adding up to a great innovation in comfort, durability, fit, performance and convenience.
About the Author
Sean Curtis is a law enforcement professional with nearly two decades of experience, serving with SWAT, diving and swift water rescue teams in Colorado. He has also served in wildland fire, search and rescue, EMS and emergency management.

Request product info from top Police Apparel companies
Thank You!