Behind the scenes: How 5.11 Tactical created its latest innovation
How the police uniform is evolving with the times
---
The following is paid content sponsored by 5.11 Tactical
By Police1 BrandFocus Staff
You wear your uniform every day, but chances are you haven't given much thought to yours beyond "Does it fit?"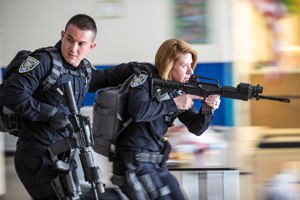 Uniforms fill the same pivotal but underappreciated role as the drummer in a band: they're only noticed when something goes wrong. But that doesn't mean that a lot of thought isn't put into engineering them, as 5.11 Tactical recently did in designing their new Next Level Uniform line.
The first step: Listening to officers
The entire process of designing a uniform line, from concept to execution, typically takes anywhere from 18 to 22 months and involves a lot of research, hard work, and feedback from real cops. The process for the Next Level Uniform, much like any other product, began by listening to the needs of the officers who wear the product.
When looking to create a new line, "we look at how things are working and what gaps exist," says Joel Alarcon, VP and General Merchandise Manager of Footwear and Nylon at 5.11 Tactical. In one way or another, officer feedback is a part of every step in the development process.
5.11 Tactical holds regular formal and informal meetings with end users to talk about their products, and determine where improvements can be made. Those end users are real police officers from patrol to SWAT and everything in between. These meetings can include a few officers or more than a dozen. Through this feedback, 5.11 can get a feel for the concerns of real officers and begin to develop ways to address them.
It's what's inside that counts
Once feedback is collected, the product development team works out what features can and should be included in the product. In the case of the Evo boot, for example, those changes were many.
"We started from the inside out," says Alarcon.
The design team at 5.11 Tactical knew they wanted to take each part of the boot and improve it, beginning with the platform. The PRIME platform has an OrthoLite insole that provides a comfortable base for the foot while including moisture-wicking and anti-microbial properties, and D3O impact protection built in to shield the foot from strong impacts.
Some of the changes were huge, like the addition of an eVent waterproof, breathable and blood borne pathogen resistant membrane that protects your feet from whatever you may have to step in. Others were subtle but thoughtful, like the addition of fence-climbing lugs on the outsole, designed to fit perfectly into the holes in a chain-link fence, making them easier to climb.
Intelligent design
The next step in the process is to apply those innovations to a new design. Combining that feedback, 5.11 Tactical creates a prototype. This one-of-a-kind model is used to test things like initial fit, comfort and function. Body models are used to ensure that what was once theory looks good in practice. Long before the product goes back on the market, many rounds of fittings and fine tuning are implemented.
Putting theory to the test
Once the product is close to done, it's time to bring in end users for feedback. In many ways, this is where the real test begins. Officers are asked to take the products home with them, to collectively look at them and provide feedback. The feedback is collected, after a short trial period, both in conversation and through surveys.
From these field tests, 5.11 Tactical learns how the product would perform in the real world. The feedback from end users helps the team look for patterns and similarities, including issues that need to be fixed before the next stage.
Wear testing
After the feedback is analyzed and the product is revised to reflect that feedback, the biggest test begins: wear tests. 5.11 Tactical sends test users a full set of gear in every conceivable variation of size and shape to take home and use for anywhere from two weeks to 90 days. The instructions are simple: beat the ever-loving crap out of them. Wear them, wash them, take them through the paces you'd normally expect do go through in your job and more. 5.11 asks end users to really push the limits of their products and see how they stand up.
After the end of the wear test, feedback is again collected and used to inform changes to the designs, if necessary. At this point, the product is ready for officers at large. Production starts, and shortly the product is ready for distribution.
From beginning to end, 5.11 Tactical merges the expertise of its talented designers and engineers with the real-life experience of officers in the field to produce new and better products that meet the needs of today's law enforcement professionals.
"Ultimately," says David Hein, Vice President and General Merchandise Manager for 5.11 Tactical, "we want to take away the issues officers face [with their gear] so they can focus on doing their jobs." For more information on the Next Level Uniform, visit www.nextleveluniform.com.

Request information from 5.11 Tactical
Thank You!