The COVRT 18: a low profile tactical backpack
5.11's new backpack offers tactical advantages in a covert design
---
The following is paid content sponsored by 5.11 Tactical
By Sean Curtis for Police1 BrandFocus
I am continually impressed with 5.11 Tactical. It is one thing for a company to cater to a particular lifestyle; this is just good business sense to develop and home in on a market. 5.11, however, evolves with the people who shop them religiously.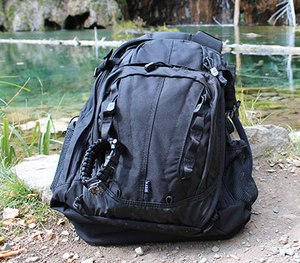 As I've aged, my tactics have changed accordingly. 5.11's COVRT 18 Backpack reflects this change down to the core while still providing a quality bag.
For years I have carried quality backpacks that were so tough they could be used as an emergency tow strap. Festooned with tactical patches and clipped-on gear, these bags have carried concealed weapons, water, lights, medical gear and anything else I needed to accomplish my missions, be it everyday carry or specialized.
I would often get comments (usually compliments) on my bags. "Hey man, cool bag, who makes that?" After a while I began to rethink this position.
In a world where unknown bad guys lurk, why would I want to draw attention to myself with my bag? This removes any advantage I might have via the element of surprise.
A simple bag can say a lot about someone. One identifies a college student while another marks someone as a laptop carrier headed to the nearest coffee and Wi-Fi. My bags screamed, "This guy is carrying a gun!"
Evolution
The COVRT 18 treads eyes-deep into the murky waters of what bags reveal while still fulfilling the mission-specific needs the user has.
At first glance the bag appears to be something a backpacker would wear. Technical in nature, features such as a handled yoke, sunglass pouch, daisy chains, admin pocket and water bottle holders give off the appearance of a person on a day hike. No visible MOLLE, Velcro or patches and minimal branding keep the bag mute—urban camouflage for the modern warrior. Available in a variety of "non-tactical" colorways, the COVRT 18 doesn't tip its hand.
What lies beneath is another matter entirely.
As a suit-and-tie kind of guy, I still carry a backpack to work. It has to serve multiple functions like carrying lunch, some EDC tools, medical gear and whatever else I need that day. When I saw the COVRT 18, I realized a backpack could do all of that and more, without marking me as a concealed carrier.
The backpack has great features. It's constructed of 500D nylon and has a tough finish but won't abrade you should you rub against it.
The shoulder straps are extremely comfortable and also include the QuickTact straps, which are an innovative design. Thin strips of nylon run the length of the shoulder straps, on the outward face. These can be pulled off of the straps (they are attached with Velcro) and any number of items slid onto them before reattaching. I was provided a Tech Sleeve for this area, a small pocket meant to hold a phone or other device, which also conceals a badge.
There is, of course, a dedicated pocket not easily located by the unexperienced for concealed carry of a full frame pistol. There is a padded sleeve for a laptop, and a flip-down ID panel.
Several of these items help the bag owner when transitioning to operational status. I'm still not sure I found all the pockets in this bag.
The Trials
Every fall I head to a three-day conference in Snowmass Village, Colo. There is hiking, biking and of course, learning, in the mountains near Aspen. I intended to take a COVRT 18 and wring it out, trying a wide variety of activities, all while carrying my generic loadout consisting of a backup gun, ammo, medical gear, lighting and the like.
5.11 makes a small MOLLE insert (sold separately), which is ingenious. Having a handle on the top, this panel allowed me to install all manner of gear via 5.11's generous accessory pouches and holster. This panel sits in the main compartment of the bag (gear toward the bag wall, thank you) and would pass a casual inspection even if opened.
If this wasn't slick enough, should things get heated, I can simply open the bag, grab the handle and rip out all my gear by removing the panel. Those who have frantically searched through voluminous inner pockets in bags know what a benefit this is.
With the panel kitted out and installed I headed for my first test, Hanging Lake Trail near Glenwood Springs. I stuffed an enormous 100 ML water bladder in the COVRT's provided pocket, added a few trail prerequisites, some camera gear, and headed out. The path starts out languidly, winding along the Colorado River, and promptly becomes a vertical assault where 1,065 feet are gained from a beginning elevation of 6,135 feet.
I was able to loosen the shoulder straps on the way up and tighten them on the way down for comfort and predictability. I dug deep, drank most of my water and made it to the top for the spectacular views. The pack did great in this capacity, carrying all my gear without causing me any discomfort.
Soon after the hike I arrived in Snowmass and prepared for the conference. In a ballroom filled with more than 200 people I deployed my bag. I used it to hold my folder and carry the inevitable materials first given to attendees after registration, but the bag also held my paneled loadout. Hanging from a chair or stuffed under a table by my feet, the bag set off no alarms. I was able to open it and place things in it without flashing a gun or causing any panic.
The terrain around Aspen provides some of the most amazing mountain biking opportunities in the country. Kitted out once again with a slightly different loadout, I was able to enjoy the amazing vistas while carrying all my essentials in the COVRT 18.
Results
I have used the COVRT 18 as an everyday carry for nearly two months. I have also taken it out on several adventures that required a different loadout than my usual carry.
The COVRT 18 I tested was black, and somehow this was perfect. It was classy enough to look good draped over a suited shoulder when going to work, but not out of place while crawling up a mountain trail or bombing down one on a bike. All the while the bag carried emergency gear and a backup gun with no one the wiser.
I have never used a more diverse backpack and continually think of it as the bag of endless possibilities. Available for just over $100, the 5.11 COVRT 18 is a mandatory purchase for those who have varying missions but don't want to advertise what they are.
About the author
Sean Curtis is a law enforcement professional with 15 years of experience, serving with SWAT, diving, and swift water rescue teams in Colorado. He has also served in wildland fire, search and rescue, EMS, and emergency management.

Request information from 5.11 Tactical
Thank You!