Sneak peek: Here's what the next level in police uniforms looks like
5.11 Tactical's new uniform design combines tradition with innovation
---
The following is paid content sponsored by 5.11 Tactical
By Police1 BrandFocus Staff
While so much of the equipment that defines a cop—from patrol cars to sidearms—has changed with the times, one area has remained starkly traditional: uniforms. The uniforms worn by most police officers aren't much different from what you might have seen on a patrolman in the sixties. Much of that owes to the powerful force of tradition within law enforcement – serving as a source of pride and strength among officers while providing comfort to citizens.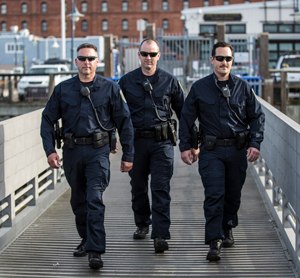 But maintaining a traditional look doesn't mean officers can't benefit from some major advances in apparel technology. It was in the spirit of combining the classic look with modern capabilities that 5.11 Tactical approached the developing of its new Next Level Uniform.
A holistic solution
The Next Level Uniform line includes six pieces, all of which can be used individually but which were designed from the start as an all-inclusive solution for officers and departments.
The process started as it usually does when 5.11 designs a new product line: by listening to officers and their needs. Through a series of discussions with end users, they zeroed in on how modern police officers' key requirements for uniforms have evolved, and what they consider most important for optimal performance.
"Officers are constantly in and out of a vehicle, then sitting, then running. Police uniforms have to do the same things as an office suit and a football uniform—and everything in-between," said David Hein, Vice President and General Merchandise Manager for 5.11 Tactical. "We really wanted to create a head-to-toe solution."
What takes a uniform to the 'next level'?
The next level begins with the 5.11 Stryke Uniform. This uniform was the natural evolution of the very popular 5.11 Stryke Pant, which features Flex-Tac fabric with mechanical stretch technology - a proprietary fabric that offers both flexibility and durability. The fabric is designed to prevent tears and rips as well as stretch when the officer is in motion, without stretching out. The uniform is available in both Patrol Duty and Tactical Duty styles.
An evolution in police boots
The Next Level line would not be a complete solution without boots. 5.11's new EVO boots have a traditional look, but they take advantage of several leading-edge footwear technologies: Ortholite insoles designed to maximize all day comfort and D30 impact protection to disperse impact. Together, they provide an optimal experience for daily use and high-performance situations.
The boots offer an extra benefit for those who work in secured buildings: EVO boots are fully non-metallic, meaning no worries about setting off metal detectors. Highly-versatile, the boot is available in waterproof and cold weather models, which feature eVent water proof, breathable and blood borne pathogen-resistant membranes.
How to take a load off while on duty
Every officer knows how heavy their duty belt can be, which is why the biggest advance of the Next Level Uniform may be one that you can't even see: the Zero-G plates, an innovative and unique carbon fiber load bearing system that integrates with existing duty belts.
The Next Level series' Zero G Plates attach to the inside of your outer belt and redistributes the weight of your duty belt evenly across the hips, minimizing the uncomfortable pressure that often accompanies non-optimized belts. Specifically, the 5.11 Zero G Plate system causes the belt to "perch" up on the hips to prevent forward tilt and pressure on you spine, balancing the load and giving the sensation that the belt is "floating" on the hips. The Zero-G belt will fit under any duty belt on the market. "It's about the comfort and the health of the officers" says Hein.
A shining star, no matter who you are
The final component of the Next Level Uniform is the CFX  Badge. "It's an alternative option—not a replacement—for the traditional metal badge," says Hein of the three dimensional embellishment that can be added to uniforms and looks like a real badge. "It will never replace the metal badge that an officer has earned, but the CFX does have its benefits." It's both home laundry and dry cleaning friendly, making maintenance easy on officers.
Taken together as a package or individually, the Next Level Uniform line by 5.11 Tactical provides improvements in design and materials over traditional uniforms while maintaining a professional, classic appearance.  For more information on the Next Level Uniform, visit www.nextleveluniform.com.

Request product info from top Police Uniforms companies
Thank You!