5 ways body-worn cameras have helped police officers
How video from the officer's perspective is making their jobs easier
---
The following is paid content sponsored by L-3 Mobile-Vision, Inc.
By Police1 Staff
Body-worn cameras are certain to have a huge effect on law enforcement. As they make their way into departments across the country, the evidence seems to indicate that the change will be positive—for officers and the public. Here are five real-life stories ripped from the headlines in which body-worn cameras similar to L-3 Mobile-Vision's BodyVision have positive outcomes for law enforcement professionals.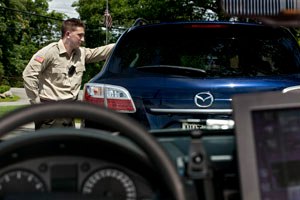 In Texas, body-worn cameras help fight domestic violence
As any officer will tell you, domestic violence calls can be some of the most difficult to prosecute.  Due to the nature of the relationship between attacker and victim, the victim will very often recant their official statements or refuse to cooperate with law enforcement after the initial call. This often leads to cases being dismissed.
In Bell County, Texas, police are finding that after equipping 300 of their officers with body-worn cameras, the number of domestic violence cases that wind up being dismissed has dropped dramatically. With the evidence provided by the body-worn cameras, it is difficult to refute that the violence too place.  In response, many of the accused choose to plead guilty rather than face trial.
In Idaho, a dog owner apologizes to officer who shot his dog
Dealing with an aggressive dog can be a dangerous situation for any officer. And some officers who have responded by shooting dogs have even been tried for animal cruelty, like Officer Price from Commerce City, Colorado. In Texas, a deputy was fired for shooting a dog. In an already contentious situation, worrying about the consequence of defending yourself from an aggressive animal is an unnecessary distraction.
In Nampa, Idaho, when an officer was forced to shoot an aggressive dog, showing the owner the video captured by a body-worn camera resulted in an apology for the dog's behavior.
In Arizona, an officer shows his side of the story
A Mesa Arizona police officer discovered the usefulness of body-worn cameras when he got into an altercation outside of a local Circle K. The officer's confrontation with an individual turned into a fight. A bystander captured the scuffle on his cell phone. Along with appearing on the local news, the video went viral on the internet, leading many to call into question the officer's behavior.
Fortunately for the officer, he was wearing a body-worn camera, recording the confrontation from his perspective. Both versions were shown on the local news and the public got a more objective picture. 
In Maryland, police report that civilians behave better
In New Carrollton, Maryland, police are finding that the cameras help make their jobs easier by keeping civilians more civil. Since equipping officers with the cameras, they've noted a change in the behavior of both civilians and officers.
"People tend to behave better when they are on video," said New Carrollton Police Chief David Rice, whose 17-member department has used body-mounted cameras for about a year. "We're not getting as much combativeness from people. In that respect, it has worked very well," he continued, noting that the effect can be seen among both officers and civilians.
In California, body-worn cameras linked to substantially reduced public complaints and use of force
In Rialto, a small city outside of Los Angeles, the police department outfitted all 70 of their uniformed officers with body-worn cameras, theorizing that use of the cameras would reduce complaints and lawsuits, and thus expensive settlements and payouts.
The introduction of body-worn cameras as standard equipment in 2012 lead to an 88% reduction in public complaints against officers, and a 60% decline in officers' use of force. It's had to deny that these cameras are beneficial. People act differently when they know they are being recording, and altercations are much less likely to get out of control.
Showing citizen interactions from the officer perspective to the community at large, has resulted in a reduced rate of public complaints and increased prosecution of domestic violence cases. Body-worn cameras are a net positive in law enforcement.   

Request information from Mobile-Vision, A Safe Fleet Brand
Thank You!