3 communications essentials to enhance situational awareness
Solid network reliability, data priority for first responder traffic and local 24/7 support are crucial
---
Sponsored by U.S. Cellular
By Police1 BrandFocus Staff
When it comes to public safety communications, a reliable network is key. First responders need operational and reliable connectivity in order to keep citizens and property safe as well as themselves and fellow officers. The more quickly officers gain situational awareness, the more control they have over a situation and the safety of others. Whether a natural disaster or emergency event, first responders' voice and data traffic need to get through in any situation.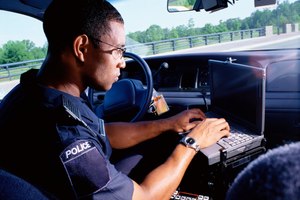 Law enforcement agencies make choices about their wireless carrier based on the carriers' geographic coverage, broadband speeds and technology offerings like affordable rugged handheld devices. But first responders must also be confident that their wireless carrier offers solid network reliability, data priority for their traffic, and local support that is there whenever they need it.
First responders should look for a carrier that hits all these marks with a range of public safety solutions, such as U.S. Cellular. In order to be a wireless partner that agencies can trust, the following should be covered:
Network reliability
A first responder shouldn't have to worry about network reliability. They just need their smartphones, tablets, and rugged laptops to successfully connect at all times, no matter where they are.
Network reliability for first responders starts with well-engineered systems that are regularly monitored and serviced. The network should be available anywhere it's needed, especially in rural areas. Built-in redundancies such as backup power systems and network restoral systems are also essential. A reliable network is defined by the ability to stay online and provide backup network support quickly, especially in the face of a large-scale disaster.
"We own the majority of our network assets, meaning our towers and transmitters," said James Rose, U.S. Cellular's senior manager of solutions architects. "This allows us to plan for disaster and first responder support right down to a granular level, to make sure everything works when they need it most."
In emergency situations, network reliability is essential. You want a network that can get you back online and keep you online, such as being able to stage "Cell on Light Trucks" (COLTs) quickly, to increase wireless capacity and ensure first responders have the bandwidth they need.
First responders come first
It is vitally important that first responders stay connected which is why their voice and data communications need to receive priority over other traffic and pre-emption when the network is overly congested. The safety of officers depends on their continuous access to computer-aided dispatch, records management systems and other essential tools.
"When you're a first responder performing life-saving mission-critical work, your communications should have priority," said Rose. "U.S. Cellular makes sure that public safety traffic always comes first."
When network traffic gets heavy – as can happen during major crises – data priority automatically pre-empts all other traffic to put first responders ahead of everyone else. This prioritization ensures that public safety communications always get through, supporting those in charge and life-saving situational awareness for those in the field.
Local support when you need it
There is no substitute for local 24/7/365 support when first responders need it. Having someone local, who knows their needs and resources, is extremely valuable. 
Emergency operations can include access to technicians and resources that are pre-staged in areas where a need for emergency assistance is anticipated, plus real-time coordination and deployment of emergency service teams to restore service, such as having the ability to quickly deploy COLTs and COWs.
U.S. Cellular proactively monitors the company's network 24/7 to spot and remedy signal outages, offers unlimited first responder plans to avoid data overages during disasters and has local solutions experts, to make sure that help and guidance is received where it's needed most.
When trouble strikes, U.S. Cellular responds. For example, when a March 2020 tornado hit Cookeville, Tennessee, the carrier provided local residents with wireless and Wi-Fi services, car/wall chargers and power packs through their local retail stores and community partners. U.S. Cellular has provided similar relief in previous disasters and will continue to do so during future incidents.
The big 3 of public safety communications
Network reliability, data priority, and local service are essential requirements for public safety agencies to be able to do what they do, and in these areas U.S. Cellular delivers. But they're more than a wireless carrier – they're an ally.
"We take a partnership approach to first responders and the communities they serve," said Rose. "We do our very best to make sure that U.S. Cellular's priorities are aligned to those of public safety. I can't say that enough."

Request information from U.S. Cellular
Thank You!