How to put an end to ear fatigue
This earpiece features a thin wire and microspeaker to deliver radio communications without sacrificing comfort or situational awareness
---
Sponsored by N-ear
By Police1 BrandFocus Staff
The online Merriam-Webster dictionary doesn't have a definition for the term "ear fatigue," but ask any law enforcement officer who has regularly worn a conventional acoustic tube earpiece what ear fatigue is, and they'll understand. Ear fatigue is what happens after hours of wearing a device built for sound but not comfort.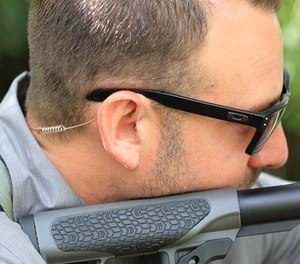 This is why many officers eventually pull out their acoustic tube earpieces – just to relieve the extreme discomfort – even though doing so can compromise their communications and situational awareness.
The causes of ear fatigue 
One cause of ear fatigue is the irritating pressure of an ill-fitting mushroom ear tip inside the ear canal, like a cork stuffed into a wine bottle. Another is the weight and chafing of the plastic acoustic tube sitting on top of the wearer's ear. These problems only get worse over time, especially toward the end of long shifts or in cold weather.
Add the fact that dirt, moisture and germs (including COVID-19) can accumulate inside the hollow tube over time – adding potential infection to the discomfort – and one can see why officers need a better way to stay connected. With the N-ear 360 covert earpiece, they can maintain critical communications with no discomfort.
Designed for the job 
The N-ear 360 covert earpiece has five patents and has been purpose-built to eliminate the causes of ear fatigue while also providing superior performance, durability and cleanliness as compared to acoustic tube earpieces. The N-ear 360 is compatible with all two-way radios used by law enforcement and can be immediately used with speaker microphones and many existing one- and two-wire earpiece kits.
The earpiece delivers high-quality sound with a lightweight, high-performance microspeaker designed by audio experts from Denmark. Gently cradled inside the ear canal using a selection of thin flexible ear tips (more on that below), the N-ear microspeaker delivers clear audio directly to the wearer's inner ear. Unlike the acoustic tube, it doesn't need a thick plastic earbud to keep it in place.
The N-ear's audio cable, available with a 2.5 mm, 3.5 mm or SnapLock connector, allows for instant connectivity to speaker microphones or directly to two-way radios. The ultra-thin wire that runs between the microspeaker and the radio is encased in braided Kevlar cloth fibers to provide protection and durability, with up to three times more pull strength than a much thicker resin-clad wire.
The result is a stealthy near-invisible wire that runs between the wearer's ear and their two-way radio, unlike the bulky plastic of an acoustic tube earpiece that is not easily concealed. This is an earpiece made to be discreet.
To maximize wearer comfort, the N-ear 360 comes with a patented "ear bend" that loops over the user's ear. This ear bend keeps the microspeaker in place while eliminating any pulling on the cable as the wearer moves. This bend, controlled by the wearer, supports the perfect fit to the ear and ensures the earpiece won't fall out, even during a scuffle.
Built for compatibility and flexibility 
The N-ear 360, designed to be compatible with all two-way radios/connection systems, comes with the equipment to plug into one-, two- and three-wire audio connectors, including radios using the SnapLock system. The unit can also be purchased with single or dual earpieces, depending on departmental requirements or personal preference.
Because different situations require different levels of audio isolation, N-ear's ear tips can be purchased in three configurations. The first type are vented open tips that allow ambient (outside) sounds to flow freely through to the wearer's ears for full situational awareness. The second are tulip tips that reduce the flow of ambient audio for more focus on the radio audio. The third are double flange tips for those times when officers need to hear the radio above all else.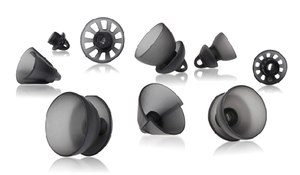 N-ear stocks all three types of ear tips in various sizes and provides expert assistance to ensure that officers get the ear tips that best suit their needs.
Why stopping ear fatigue makes sense 
Law enforcement agencies go to tremendous lengths to ensure that their body armor can be worn for entire shifts and that the electronics inside their patrol cars are easy to reach and intuitive to operate. Agencies do this so that officers can do their jobs unhindered by fatigue-inducing discomforts and inconveniences that can impair their ability to focus and perform when it matters most.
When an acoustic tube earpiece become so unbearable to wear that an officer must remove it, their communications with others and situational awareness are undeniably affected. With the N-ear 360 covert earpiece, officers can remain in contact and retain full situational awareness undistracted by painful ear fatigue. Each earpiece comes with a three-year warranty and a 120-day 100% return program.
For more information, visit N-ear online or check out their YouTube channel.
Read Next: How to buy headsets (eBook)

Request information from N-ear Inc.
Thank You!