Protect your hearing with the latest in-ear headset
The CLARUS line by Silynx offers top performance and guards against hearing loss at a price to fit any budget
---
The following is paid content sponsored by Silynx Communications.
By Police1 BrandFocus staff
When it comes to police communications systems, the headset is nearly as important as the radio. Too many agencies spend millions of dollars on radios and supporting systems but then opt for cheap headsets to stretch their budgets. But hearing loss, exacerbated by poor equipment, decreases officers' effectiveness in the field and costs millions every year in disability claims.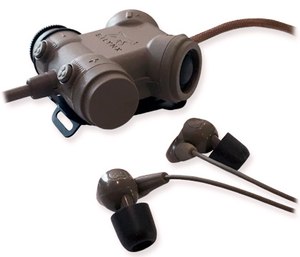 Increasingly, officers are looking beyond comfort and price for headsets that offer noise canceling and hearing protection features. Silynx Communications is solving the price versus performance problem with its affordable CLARUS in-ear headsets, which provide reliable, clear communications and field-tested hearing protection, all in a product that weighs only a few ounces and fits snugly and comfortably in the user's ear.
Smaller, lighter, more comfortable
Comfort and ease of use have long been top concerns for tactical headset users. Old-fashioned over-the-ear headsets are heavy and sweaty and get in the way, tempting the user to remove the headset for a moment's relief – thereby losing his or her radio connection.
The Silynx in-ear headsets eliminate these problems. The CLARUS, which weighs less than 3 ounces – as compared to the average over-the-ear headset that weighs in at nearly a pound – does not interfere with eyewear or headgear and reduces the load on the officer, providing a comfortable solution, especially in long-wear situations like a stakeout or standoff.
CLARUS headsets come with several sizes of interchangeable foam tips for optimal fit, and the earpiece stems can be inserted into whatever foam insert the user finds most comfortable, including custom ear molds.
Rugged, modular, easy to use
Tactical gear must be made to withstand rough conditions and easy to use. The CLARUS systems come with a water-resistant push-to-talk unit (PTT) that serves to both key the operator's radio(s) and power the earbuds.
The roughly 2-inch square device is less than an inch thick and provides two readily accessible push-to-talk buttons and two smaller volume control buttons for the hear-thru functionality that enables the user to maintain environmental awareness. Field-tested for several years now, the CLARUS PTT unit is optimized to be as small as possible while still being comfortably operated by any size hands, big or small, bare or gloved.
The CLARUS line also provides modular connection options. Each model is equipped with different levels of modularity, depending on the operating profile of the user. The FX2 offers fixed leads to the headset and the radio and is ideal for budget-conscious departments or those who have no need to change out their headset or their radio. The CLARUS XPR provides quick disconnect connector (QDC) options on the radio lead or the headset or both. This provides maximum flexibility for use with almost any tactical radio or headset in a variety of situations, from high-speed tactical or undercover operations to casual conversations on a cellphone.
Clear audio, full situational awareness
The CLARUS earpiece delivers sound directly to and from the user's ear, providing a high level of clarity. Instead of the added weight and potential snag hazard of a boom mic, the CLARUS system incorporates a microphone about the size of a pinhead into the stem of the earpiece. A second tiny microphone on the outside of the earpiece provides "hear-thru functionality," a key differentiator of the CLARUS systems.
"Essentially, it's the equivalent of having nothing in your ear," said Matthew Hein, Silynx CEO.
Most in-ear headsets on the market use bone conduction technology, which relies on vibrations in the inner ear, for the internal microphone. But bone conduction transmits unnecessary noise when a user is on the move – and, more importantly, it provides poor voice clarity at whisper level, making it less than desirable for SWAT and covert operations.
Silynx products do not use bone conduction. Silynx solved the bone conduction problem by developing its patented "True Voice" technology, which clearly transmits the voice present in the user's ear canal at any volume, making it highly sensitive and able to clearly transmit even a whisper.
Hearing protection
The CLARUS' hear-thru functionality does not detract from its hearing protection capabilities. Many industrial workplace requirements mandate a certain level of hearing protection from noise 85 decibels and up. Police officers face this level of noise and higher on a regular basis, in addition to the risk of impulse noise from gunfire, etc.
Just as the system protects against steady-state noise, the hear-thru system responds to the decibel increase during impulse noise events, automatically and immediately compressing the noise until the volume decreases back to a safe level.
"Hearing is protected, without a thought, constantly," said Hein. "It's the ability to put the system in your ear and forget it because you know you'll be able to maintain that situational awareness."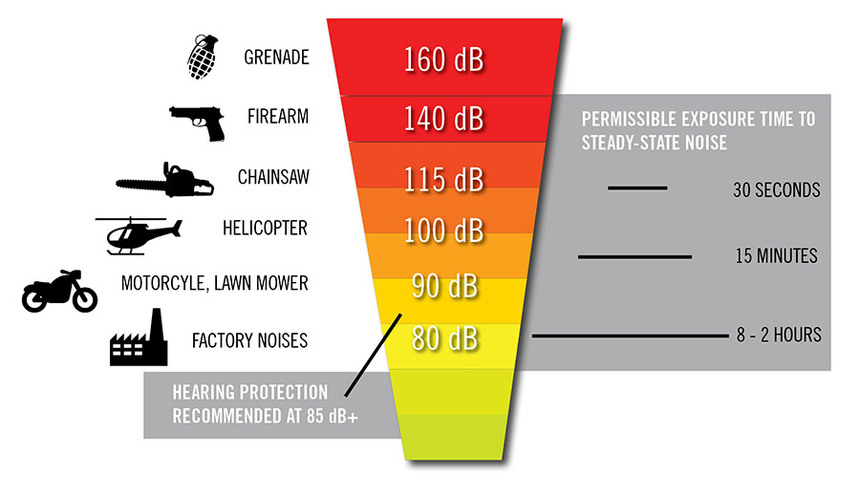 Less expensive than you think
By making the most of a stable, high-performing technology, Silynx is passing along the cost savings to the customer. The CLARUS line of in-ear tactical headset systems packs all the functionality that officers require – hearing protection, situational awareness, clear two-way communications and radio compatibility – into a durable, affordable, plug-and-play product that fits in the palm of your hand.
For more information on in-ear headsets, contact Silynx Communications.

Request information from Silynx Communications
Thank You!