3 reasons cops should consider a degree in management
Management studies can help you advance your law enforcement career, increase your pay and open new post-retirement options
---
Sponsored by Norwich University
By Police1 BrandFocus Staff
"Is it worth going back to school to get my bachelor's degree?" This is one of several important questions you should ask yourself, especially if you're looking to move up the ladder or approaching retirement.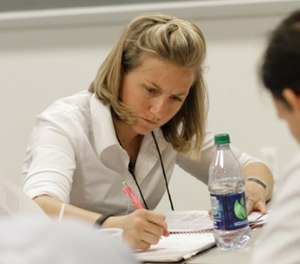 Traditionally, police departments do not require a bachelor's degree for officer positions, so for some officers that means several years could go by before they realize how an advanced degree could help them get ahead.
Alexa Ward, an enrollment advisor for Norwich University, said management studies degrees have become an increasingly appealing option for law enforcement officers.
"The management studies program is a great fit for anyone who wants to grow their leadership skills, become exposed to diverse ideas and even consider a master's degree in business administration down the line," said Ward.
Here are three reasons police officers should consider pursuing a management studies degree:
1. YOU'LL HAVE THE TOOLS TO BECOME A BETTER LEADER 
Some management degree programs offer students an option to pursue a concentration area that allows them to hone their leadership skills. Many of the courses in management studies include a focus on developing leadership skills and approaches.
Effective communication skills are also essential for an officer to thrive professionally. Pursuing a management studies degree can provide opportunities to learn more effective approaches to interacting with people from all walks of life, said Ward.
"The management degree with a concentration in leadership helps you really develop the skills to speak to those you work or deal with in an effective manner," said Ward.
Over the years, many studies have highlighted how having a college degree can benefit police officers. One study that looked at disciplinary cases against officers in Florida found that officers with a high school education accounted for 75 percent of all disciplinary actions, whereas only 11 percent of officers with college degrees were subjects of disciplinary action.
2. A DEGREE CAN OPEN DOORS FOR OTHER CAREER OPPORTUNITIES 
Many police officers have the option to retire after 20 years of service. A degree can be especially helpful for you if you're thinking of switching careers post-retirement. Even if you're not yet eligible to retire, a career switch becomes much more manageable if you've earned a degree in a versatile field like management.
With a management degree, retirement on a police pension could translate into starting a new business, working in a completely different industry or even working as a consultant for a police department that wants more senior officers.
"We encourage our students to think big-picture when choosing their major," said Ward. "If you want to assume a leadership role, it's extremely useful to have leadership skills that you can point to on your resume."
3. GETTING PROMOTED AND INCREASING YOUR EARNING POWER IS WITHIN REACH 
If you're thinking about going to school to increase your chances of getting a promotion, then the good news is that you're headed in the right direction.
One study found that 48 percent of law enforcement officers who attained college degrees did so to advance their career. Another study that looked at how college degrees affect promotional outcomes for New Jersey State Police found that an officer's educational degree was the strongest predictor of promotion. In other words, many officers were promoted based on their level of education, which demonstrates the value of earning advanced degrees.
At many police departments, officers make more with a bachelor's degree. For example, Dallas PD officers earn $49,207 and up on average, but college-educated police officers in the same department make $52,807 and more as their base pay. At Atlanta PD, officers with bachelor's degrees make anywhere from $2,800 to around $3,600 more annually than do officers with a high school diploma or GED.
"For police officers, there's a tremendous benefit in getting your higher education, and it's extremely valuable for officers to hone their critical thinking skills, cultivate their ability to serve those from diverse life experiences and backgrounds, practice effective communication and prepare for more advanced leadership roles down the line," said Ward.

Request information from Norwich University
Thank You!