Climb the career ladder with a four-year degree
Continuing your education can boost your salary and help you make the move to a higher rank
---
The following is paid content sponsored by Norwich University.
By Police1 BrandFocus staff
It's no surprise that higher education can advance your career. Earning your degree can make you a more qualified candidate and set you apart from your colleagues when applying for promotions, as well as boost your salary and give you the skills to be more professional on the job. Advancement in your criminal justice career is a logical step, so if your goal is to become a detective or chief officer, a four-year degree is a must.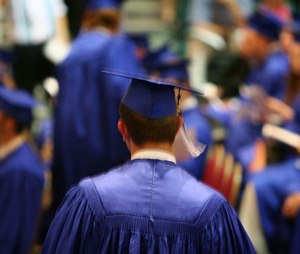 Here are three key ways a degree will help you become a law enforcement leader.
1. A degree can help you get promoted.
A four-year degree can open doors for advancement from patrol to sergeant, detective and more. In a competitive field, an educational foundation could be the pivotal element on your resume that helps you get a position or promotion and make you a more qualified candidate for positions in other departments.
Julie Scribner, a detective sergeant with the Vermont State Police, knew that in order to be eligible for promotion, she needed to have a bachelor's degree. Scribner earned her degree online from Norwich University and considers it an investment in herself and her future.
She is now eligible to be promoted to different ranks within her department.
"It opens up doors for me that otherwise would have remained closed," Scribner said.
Working toward a promotion from patrol officer to detective is a worthy goal. Along with patrol officer experience and agency training, a bachelor's degree in criminal justice is one path to becoming a detective.
Many departments only hire college graduates for detective positions, and all federal agencies require a four-year degree. According to the federal Bureau of Labor Statistics, employment of police and detectives is projected to grow 4 percent from 2014 to 2024, and "applicants with a bachelor's degree and law enforcement or military experience, especially investigative experience, as well as those who speak more than one language, should have the best job opportunities."
Part of that promotion is an increase in salary. Many departments offer a salary boost for degrees, such as San Antonio, where an officer with five years on the force plus a four-year degree earns nearly $4,000 more than an officer with equivalent experience but no degree.
2. A degree can help you be more professional on the job.
Professionals in many fields adopt a goal of learning something new every day and use their workplace resources as a learning laboratory to explore new theories. Understanding why you do what you do on the job can help you be more effective and position you as a leader among your colleagues and community.
Patrick Sarasin, a patrol officer with the Warren (Rhode Island) Police Department, says he feels much more prepared to support his colleagues and identify ways to improve operations after earning a master's degree from Norwich University.
"It really helped me to understand how I can better my department," Sarasin said.
Citizens now expect more accountability and restraint from police than ever before, and the critical-thinking skills you gain while pursuing your degree can increase your ability to solve problems and de-escalate confrontations.
3. Officers with degrees are less likely to encounter complaints.
Studies indicate that completing a four-year degree boosts officers' professionalism and chances of landing sought-after promotions. The skills you'll gain, including effective communication, greater cultural awareness and a solid understanding of constitutional law, can help reduce your chances of an incident.
As Police1 columnist Lance Eldridge notes, officers with a bachelor's degree reportedly choose options short of an arrest to resolve problems, attract fewer citizen complaints and have fewer disciplinary problems compared to their high-school graduate colleagues.
One study conducted at Michigan State University found that officers with a degree are less likely to use force and thus less likely to become embroiled in controversy. This is especially important in today's climate of public scrutiny following several high-profile incidents nationwide.
Prepared to compete
Continuing your education can help you be more professional on the job, as well as boost your salary and help you make the move to a higher rank as the kind of highly qualified candidate that law enforcement agencies are looking for.
Whether you choose to pursue a degree for career advancement or simply to fulfill a personal goal, earning a degree demonstrates your commitment to your career and service. If your career plan includes enrolling in a degree program, do your research and choose an accredited university. With solid police knowledge, advanced skills and a degree from a respected institution, you'll be prepared to compete for any job.
For more information on earning your degree online, contact Norwich University.

Request information from Norwich University
Thank You!