Review: Pelican's new 7 Series lights provide battery options and added functionality
Pelican has engineered a new series of lights for law enforcement with features that are smart and tactical
---
Sponsored by Pelican
By Sean Curtis for Police1 BrandFocus                                                                                                           
Pelican is a company famous for amazing gear cases that are tough, waterproof and have customizable foam inserts to secure whatever you want to carry. However, they have also been making flashlights for years, and these products enjoy the same reputation for durability.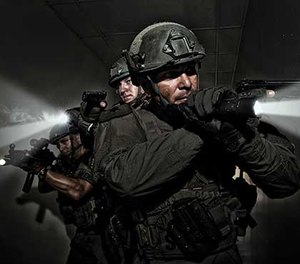 Pelican has produced a new tactical series of flashlights, and I recently received a couple to test out.
History
I've been using a Pelican flashlight for nearly 20 years for camping and search and rescue missions, and it's given me flawless service. I was excited to hear that Pelican had entered the tactical realm. With so much competition in this market, I knew the company would need some strong entries to be competitive, and I was not disappointed.
The 7 Series flashlights are designed with police in mind. Pelican came out swinging with 15 different lights in the lineup, offering something of interest to nearly every possible user. The lights are tough, up to Pelican's standard, but something they are doing differently is offering various methods of powering the units – and that's downright handy.
Pelican 7620
The initial light I tested was the Pelican 7620. The first thing you notice is the size. With a general standard having been established in the tactical flashlight realm, this one exceeds that usual size, coming in at just over 6.5 inches long and slightly under an inch in diameter (grip portion).
The black, Type III anodized, aluminum case is sturdy and feels great in the hand. It's not too large and actually fits in a pocket with a clip (without protruding, unlike the large C-cell lights I carried on patrol for so many years).
But the 7620 gives off more light than the giant flashlights of old, as much as 1124 lumens. And here's the real kicker: It can use different batteries. One of the hallmarks of the 7 Series is a versatility of power sources. The 7260 can be powered by two AA batteries, two CR123 batteries, three CR123 batteries or a Pelican rechargeable battery. Regardless of what batteries I used in the unit, I did not notice rattling that would give away my position.
On top of this, the unit has four programmable modes of light available,diversifying its utility. There are high, medium, low and strobe modes.One need only to manipulate the switch to access and lock in these various modes. There is also an LED battery level indicator light on the side of the unit so you know where you stand at all times.
The 7620 carries an extreme ingress protection level (IPX8), and I tested this in a local river with zero disappointment. The flashlight feels like it's service-ready, tough, dependable and able to withstand some abuse without letting you down.
Pelican 7070r
The Pelican 7070R is definably a bit bigger than the 7620, but still far easier to wield than the giant lights of yore. It, too, will tuck into a pocket, although it measures nearly 7 inches long and 1.25 inches around. The case is Xenoy, a plastic blend, but it is styled for tactility, and it feels very sturdy and lightweight.
The 7070R is a flagship in the line because of some added features. First, there are two activation switches for forward or reverse grip. A forward mounted switch allows for traditional activation and the rear switch allows for a more tactical approach. This light also boasts an IPX8 ingress protection rating ensuring use in any inclement conditions. In addition, like the 7620, the 7070R has a battery level indicator light so you know where you stand on charge. I wish I had had that feature on the road.
During testing I found the 7070R to be extremely bright, a reported 1219 lumens on the high setting. The unit also came with a 3.7-volt lithium-ion rechargeable battery and a wireless USB charger. When I say wireless, I mean the charger includes a wire from a USB port to the charger. You simply stick the flashlight into the charger, then line up the markings. There are no electric nodes to connect therefore there are no possible leakage points unlike contact charger designs. For added security the light can be locked into place for vehicle and other mobile mounting locations. Many vehicles now have USB ports, making this flashlight a go-to unit for your patrol car or personal vehicle.
The 7070R also has the capability to use an app for personal programming, which I installed on my iPhone. After pairing the app to the flashlight, I was able to control the level of brightness, moving it from very dim to full power. In addition, I could change the rate of the strobe function to a slow location beacon flash, all the way up to fast "disorient suspects" mode. This feature allows for setting up to five modes Mode 1 could be a low power setting, Mode 2 could be a rapid strobe — whatever you desire. The ability to program your preferred settings means your light will provide the modes best suited for your needs. The programs can be changed as you see fit.
The rigors of law enforcement often mean officers are hard on equipment—this goes double for SWAT. Over the years I dropped my flashlights a number of times to various outcomes. I tested both the 7070R and the 7620 by dropping them onto a concrete surface from a height of six feet a number of times. I did this with both lights on. They never stopped working and, while the cases took a few scratches, their function was still perfect with the lenses and bulbs intact.
7 Series Sum Up
The two offerings sent to me by Pelican were simply impressive. They both proved to be quite durable and functional. The lights come with a limited lifetime warranty and are very bright given their relative size. The variance of some of the 7 Series being able to use different batteries is really cool and can increase their overall output. They come with appropriate adapters which fit inside the light housing to make whatever battery size/quantity work. This is so useful if the gas station on your midnight shift does not carry CR123 batteries. Both lights I received came with batteries so they were duty-ready out of the box.
It is clear Pelican gave a great deal of thought when assembling this line of lights just based on their features. Cops need no-nonsense, dependable lighting to help them make life and death decisions in the middle of the night when most of the world is sleeping. Pelican is stepping up to answer that call.
About the Author
Sean Curtis is a law enforcement professional with nearly two decades of experience, serving with SWAT, diving and swift water rescue teams in Colorado. He has also served in wildland fire, search and rescue, EMS and emergency management.