How to field-test unknown substances with better accuracy and speed
Raman spectroscopy can identify suspicious materials without exposing officers to harm
---
Sponsored by B&W Tek
By Ron LaPedis for Police1 BrandFocus
According to this U.S. Department of Justice Drug Enforcement Administration (DOJ DEA) publication, fentanyl is not only dangerous for addicts, but also for cops, public health workers and first responders. Fentanyl can be absorbed through the skin or by accidental inhalation of airborne powder – and as little as 2 milligrams of fentanyl can cause death. K9 units are particularly at risk of immediate death from inhaling fentanyl during their work.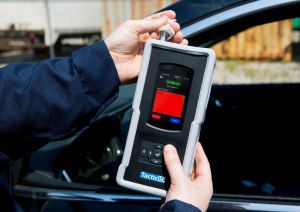 Flash, bang, emergency room
In 2016, a flash bang grenade tossed into an alleged stash house kicked up powdered fentanyl and heroin that SWAT officers raiding the building breathed in, sending them to the emergency room. Other documented cases of LEO exposure include a LEO brushing powder from his uniform and detectives opening a baggie to check the substance.
The DOJ DEA Briefing Guide for First Responders makes recommendations on potential best practices for first responders that may encounter, test and transport exhibits that could contain fentanyl-related substances. It also recommends that first responders who may encounter fentanyl carry naloxone.
Just one part of the problem
While fentanyl is in the news, there are many other substances in the field which cops need to identify and deal with. Some examples are heroin, cocaine, MDMA (ecstasy) and explosives. It is also important to be able to identify a completely unknown substance to help you understand how to deal with it.
Field testing that requires direct handling of suspected drug powders is discouraged due to safety concerns. This extended period of uncertainty about the contents of the suspicious material is undesirable, as it requires extreme vigilance during handling.
To minimize the period of uncertainty and eliminate handling of samples, scientists from the National Institute of Standards and Technology (NIST) are working towards hands-free field testing. In a 2017 paper published in Forensic Chemistry, NIST reports that two technologies, Ion Mobility Spectrometry (IMS) and Direct Analysis in Real Time Mass Spectrometry (DART-MS), can detect trace amounts of fentanyl and other substances.
Disadvantages of IMS include relatively high cost, high false positive rate and the limited number of target chemicals it can detect. While technically portable, a DART-MS device comes in a case which is the size of two large desktop computers. It also needs a compressed nitrogen cylinder and substantial power to send the sample though the test chamber where an electrical discharge produces excited gas molecules for analysis.
A third method for hands-free field testing is the Raman spectral analysis instrument.
High-accuracy ID of unknown substances
Raman spectroscopy is named after Indian physicist Sir C. V. Raman. Unlike IMS and DART-MS devices, that both vaporize a sample for analysis, Raman is a light-based method that is used to observe vibrational, rotational and other low-frequency modes in a system. Basically, a Raman device can create a high-accuracy fingerprint of a sample it is used to test.
Just like your Android or iPhone packs more power into your hand than was used to send a man to the moon, devices that use Raman spectroscopy also have been miniaturized. These devices allow users to get real-time actionable identification of unknown chemicals, explosives, narcotics, pharmaceutical drugs and many other substances, while reducing operational uncertainty and response time.
Easy to use
Raman devices provide non-destructive, non-contact and highly accurate substance identification. This minimizes exposure to unknown materials while maintaining the original state of the evidence. Most narcotic samples can be quickly identified in their original packaging by simply pressing the sample within a container, such as a plastic bag, against the sampling tip of the analyzer and pressing the scan button.
If the sample is a street drug, you can make an arrest. If it is an explosive, it's time to call in the hazmat or bomb disposal team. If fentanyl comes up, it might be time to grab your naloxone injector and lay on some additional personal protective equipment.
Raman technology is such a powerful field tool that the Scientific Working Group for the Analysis of Seized Drugs (SWGDRUG) recommends it in their minimum standards for the forensic identification of commonly seized drugs. Like any advanced technology, not all Raman instruments are created equal.
Without powerful software and an extensive substance library, you might as well be carrying a brick. Think of the substance library as a dictionary and the Raman output as an unfamiliar word. You have all of the letters in the right order, but you need to know what it means.
Software and the library
B&W Tek understands how important powerful software and an extensive, updatable library are to unknown substance identification. Most of their devices, such as the B&W Tek TacticID-GP include a field-updatable library with over 10,000 chemicals, explosives, narcotics and much more, with an optional library of over 12,000 items.
Because of its powerful software and extensive library, TacticID provides a clear, definitive result, with no user interpretation required. All scans are time and date stamped and stored automatically in the analyzer. Many samples are not a single pure substance, and with the mixture analysis function of the TacticID, the major components of the mixture can be identified. The intuitive user interface allows the unit to easily transfer data from the handheld unit to a computer for automated, secure data storage and reporting.
Because each dealer likes to cut their product slightly differently, your agency can add certain cuts as a library entry so that you can check for a distribution pattern as samples are tested. If a new substance shows up on the streets, you can add it to the library in case you see it again. And when it comes to explosives, many of them have already been fingerprinted by the FBI's Terrorist Explosive Device Analytical Center (TEDAC).
Fluorescence
To get the intense light that they need to function, Raman devices use lasers, which come in different colors (frequencies). Some frequencies are better than others for specific tasks. The traditional near-infrared 785-nm laser, used in most Raman devices, is great at detecting small amounts of fentanyl, cutting agents, precursors and binding agents. But B&W Tek recognized that some Raman analyzers also have problems when the unknown substance or its container has strong fluorescence.
To solve this problem, B&W Tek introduced the TacticID-1064 to help cops identify materials such as the blue pill form of ecstasy and some forms of heroin and to work with a much broader range of packaging. Like its name says, the new model uses a 1064-nm laser – and it comes equipped with an onboard camera to capture evidence photos at the scene. The photos are then included in the test report, which can be exported directly onto a USB drive for convenience. The TacticID-1064 displays both GHS and NFPA 704 chemical safety information, giving additional actionable data, helping keep cops safe.
Summary
Before you buy a Raman instrument, you need to know whether it will be used to identify street drugs, explosives, unknown substances or all of the above. Ask questions about the substance library and software available for it, and how they are updated. Find out if the manufacturer offers multiple laser wavelengths and ask for demonstrations on substances in your evidence locker. A high-quality Raman analyzer like the TacticID® series is one more great tool for cops to add to their bat belts.

Request information from B&W Tek, Inc (tacticID)
Thank You!