How to neutralize fentanyl for improved scene safety (white paper)
Prevent exposure to narcotics and other hazardous substances with proper precautions and decontamination procedures
---
Sponsored by Decon7 Systems
By Police1 BrandFocus Staff
Police officers deal with all kinds of potentially harmful substances in the line of duty, including bodily fluids and dangerous narcotics like fentanyl. It's critical to protect yourself, and others, from these hazards to avoid the short- and long-term health effects, which in extreme cases, can include death.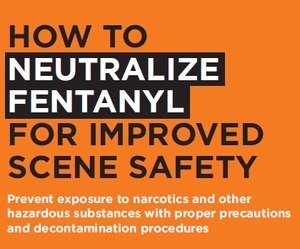 This white paper explores how police can protect themselves and others from these threats, in particular the importance of proper personal protective equipment and how to decontaminate a scene to neutralize any suspected or confirmed threats.

In this free white paper, you'll learn:
Exposure risks for officers.
Personal protective equipment.
Precautions to protect yourself from exposure.
Decontamination to neutralize threats on the scene.