How to choose the right sights and scopes for your department
Visual and targeting accuracy is only the beginning
---
Sponsored by Sightmark
By James Careless for Police1 Brand Focus
There is no doubt that a marksman is only as good as their sight or scope. If a scope doesn't provide accurate aiming data, then it is useless to the officer relying on it – and potentially life-threatening as well. (If the officer is using an unenhanced "iron sight,'" this stacks the odds against them even further).
In contrast, a modern, high-quality optical can be a real asset to law enforcement. High-quality sights and scopes provide police marksmen with the ability to neutralize perpetrators accurately and reliably. This enhances public safety, and the safety of first responders at the incident scene.
What to look for when assessing sights and scopes
It is vital for police departments to choose sights and scopes that deliver the performance they need, at a price they can afford, but price should never come first. Otherwise, the department could end up with sights/scopes that can't do the job properly.
Points to consider:
The glass used in sights and scopes must be optically accurate (without distortions), coated/shielded to minimize glare, and large enough to allow sufficient light to the user's eye(s).
Features incorporated in the scope/sight – including digital night vision and thermal imaging – should be of the highest resolution and sensitivity, without adding complications and limits to the sight/scope's basic functions.
Police sights and scopes must be rugged enough to work in all weather conditions and able to survive the unavoidably rough handling they will face in the field.
Companies selling these devices should provide your department with demo units to try out first, before any contract is signed.
Sights and scopes that deliver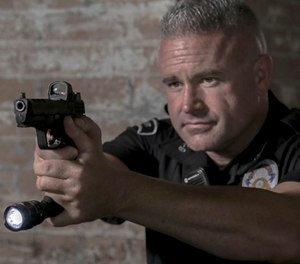 Sightmark makes a range of sights and scopes for tactical use that meet these recommendations. Depending on the product selected, these devices can be purchased with laser targeting (red dot), digital night vision, flashlights, image streaming or various combinations of these capabilities.
For instance, the rugged Sightmark Ultra Shot M-Spec FMS Reflex Sight is designed to deliver accurate, ultra-fast target acquisitions in virtually any environment. It comes with a wide-angle lens system with scratch resistant and anti-reflective red coating plus integrated sunshade, illuminated red 65-MOA circle-dot reticle with 10 brightness settings and night vision brightness modes.
The Ultra Shot M-Spec Reflex Sight is also incredibly tough. Its rugged, lightweight 6061-T6 aluminum body and protective shield was repeatedly drop-tested, abused, and used in wildly different environment conditions by the Cheyenne, Wyoming Police Department for 18 days straight. The Ultra Shot M-Spec kept on functioning, regardless.
The Sightmark Photon RT 6x50 scope allows tactical shooters to detect and target objects out to 200 yards under the cover of darkness, thanks to its 768x576 CMOS sensor and invisible 940nm built-in IR illuminator. (This scope can also be used in daylight.) The Photon RT scope comes with a high-resolution 640x480 LCD display, built-in audio/video recording, and the ability to transmit real-time video to WiFi-connected smartphones and other devices using the Stream Vision App. It can be used mounted on a rifle, or as a hand-held device.
Sightmark's Pinnacle family of scopes provides highly-accurate aiming and magnification performance in a light, rugged form factor. The first-focal plane Pinnacle 5-30x50TMD Riflescope delivers precision long-range shooting out to 1,000 yards and beyond, with a large 50mm objective lens that maintains a bright, high-resolution image at all times.
The bottom line
Quality should be, and can be, every police department's top priority when buying sights and scopes. Lives literally hang on these purchasing decisions – both those of officers and the members of the public that they are tasked with protecting.
As well, practically the last thing any chief wants to handle are questions from reporters who are ready to criticize after a tactical situation went wrong due to inadequate sights and scopes.
Finally, as the above examples prove, it is possible to buy high-quality precision sights and scopes at affordable prices. Police departments can now enhance tactical effectiveness and officer safety, while staying within budget guidelines.
About the author
James Careless is an experienced freelance writer. He has been covering public safety issues since 9/11.

Request information from Sightmark
Thank You!