These 4 mistakes will affect your shooting accuracy
Learn from the pros on what impacts rifle scope accuracy
---
Sponsored by Steiner Optics
By Sean Curtis for Police1 BrandFocus
The world of the variable power optic (VPO) is a rapidly emerging field in law enforcement.  Previously a relative unknown, glass selections for law enforcers were divided among fixed magnification, red dot, or variables only for designated marksmen depending on their role in the field.  Now, police agencies can deploy their responders with variable optics, which gives them a wider and safer range of engagement, regardless of their role.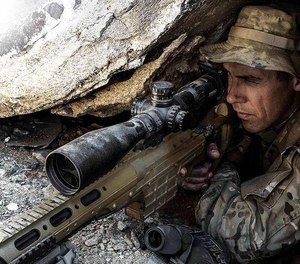 The difference with a variable power optic is that it gives the officer more options than he or she would have with a fixed power or red dot option.  Being able to increase the magnification of a scope not only increases the odds of hitting the right target, but it also lets you hit the target where you want to hit it.  An officer utilizing a red dot on a rifle will do well with close engagements, but might be taxed at distance shooting.  On the opposite end, a fixed optic would be difficult to utilize in a close quarters combat scenario. 
Securing this capability for your agency is a must-have tactical advantage, but what are some of the most common mistakes officers make that affect accuracy?  I recently met with JP Prins, head law enforcement trainer for the Makhaira Group to ask him this very question.  Steiner Optics contracts the Makhaira Group to conduct train-the-trainer level trainings on optics use for perspective police agency clients.  Prins indicated that the trainings are not a sales pitch for Steiner Optics and that he adapts to the capabilities and needs of agencies across the nation. 
Options equals strength
Prins referenced a recent shooting, in which a suspect used a shotgun and a bullet-resistant vest to initiate a standoff that injured a Miami-Dade police officer. Fortunately, another officer with a rifle that was equipped with a variable power optic was able to engage and stop the suspect when negotiations failed to resolve the conflict. Prins said that this scenario was an example of how the variable power optic gave the officer an edge to stop the shotgun-wielding suspect at a safe distance, further away than the shotgun's optimal accuracy. Incidents like these remind us that it's important to know the various capabilities of the variable power optic and the mistakes officers can make that would impact a rifle scope's accuracy.
Mistake 1: Not practicing for your working environment
Prins said one of the biggest mistakes he sees officers make with variable power optics is not training for their realistic patrol environment.  It is pretty easy to take a scope to a known distance range, dial it in and shoot from a standard fixed position. However, that doesn't always fit with reality. Officers will face any number of scenarios in their work and must train to be able to optimally engage from various distances and shooting positions.
Utilizing the true 1x capability of this type of optic might come as a given to many officers, but also knowing how to take full advantage of the ability to zoom in through magnification is also a useful skill.  One day an officer might be called upon to make entry to a building where 1x zoom is going to be clutch.  A week later, they may be on perimeter or over watch making the most of a 5x zoom. Being accurate and knowing how to transition your rifle scope's zoom level is a critical skill.
Mistake 2: Not using variable power optics habitually
The second piece of advice Prins shared was that the use of variable power optics must be ritualized. Carlos Hathcock, the United States Marine Corps sniper with a record-breaking service record, was known to go through the same processes every time he took a shot. This—the experts argue, is a habit can benefit modern police shooters. Because there is a range of magnification, law enforcement shooters might make the mistake of putting away an optic that is dialed out after a training or incident.  Whether it is a shift change, trunk check, or some other type of scenario, adding an optic-readiness-check to a weapon readiness check should become habit.
Mistake 3: Being overconfident in variable optics
Prins said officers gain a great deal of confidence when they become accustomed to a variable power optic. Specifically, he noted how the scope can help an officer with a confident mindset because it not only provides a clearer target, but point of aim and point of impact too. Having a much larger upper torso within your reticle does not mean you can dismiss all your training though. Prins said there are scenarios that can lead to overconfidence with the VPO. 
During trainings he has advised officers to take up non-traditional shooting positions to reflect a field reality that may confront them in the real world. For instance, having to lean out from behind cover is a challenge most officers should acquaint themselves with. Having an optic capable of greatly enhancing the target might lend officers to disregard mechanical offset though, particularly when they are placed in a different shooting position. But the reality is this: Officers should train to consider their zero and mechanical offset and various distances.
Mistake 4: Choosing to lack confidence in variable optics
Modern optics are much more durable than they used to be. Prins said he has seen a number of officers who have established zero in their VPO. He then has challenged them with a question about that zero. He said they often end up questioning their optics. The insecurity probably stems from older technology being less likely to hold a true zero when banged against something incidentally. Prins noted that officers might bounce their optic off a doorframe while making entry—this should not affect your accuracy with modern, quality, technology—but fearing an absolute loss of zero is another potential mistake officers can make.
Fall to the level or our training
All these issues can readily be addressed by proper levels of familiarization and training. Prins said undoubtedly, getting officers to address targets from varied shooting positions, and different distances, should help them build the confidence they need to deploy variable powered optics in the field.  Additionally, encouraging them (through training) to build automaticity into their routines with their optics will ensure optimal outcomes upon initial deployments. Finally, working diligently through training to learn the capabilities and limitations of VPO will enable officers to accurately engage the evolving threats law enforcement face on a daily basis.

Request information from Steiner-Optics
Thank You!