Make the most of your police experience after retirement
A private security franchise can help you build your own business using the skills and experience gained in your law enforcement career
---
The following is paid content sponsored by Signal 88 Security.
By Police1 BrandFocus Staff
Police officers retire from the force well before most other professionals hang it up, and even if you're lucky enough to have a solid pension, it likely won't cover all your financial needs. Most cops are not content to rest on their laurels, either, even after so-called "retirement."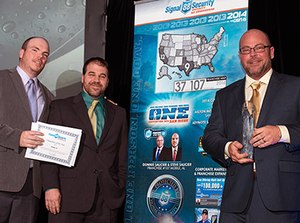 So how can you build on your police experience for a successful second career?
What do you want?
First, you should take the time for some self-assessment. What are your skills? What are your goals? What is your personal mission? Weigh these considerations and choose a second career that fits your strengths, interests and financial needs. The International Franchise Association warns that some people start a business only to find out they don't enjoy it, and advises that you should start a business in an industry you'll enjoy for the next 10 to 15 years.
Private security is one option that enables experienced officers to put their skills to good use and continue to serve the community. In general, cops are good at structure, planning and observation and are driven by a desire to serve. These attributes, plus your relationships and law enforcement knowledge, make private security a natural fit for many officers.
You'll also have to decide whether you want to work for someone else or go into business for yourself, a prospect that comes with significant risks as well as rewards. Consider whether you have the resources and business acumen to launch your own firm. Do you have enough money saved to survive without making money for a year or more? What do you know about sales, marketing and payroll?
Why consider a security franchise?
Owning and operating a private security franchise can help you build on your existing skills and mitigate the risks of launching your own business.
"Police officers know security work and how to deal with the public," said Reed Nyffeler, CEO and co-founder of Signal 88 Security, which offers custom security solutions such as guard and patrol services through its nationwide franchise owner network. "They chose police work because they were passionate about protecting other people and improving their community, and we help them pursue their passion in a structure that helps them get a return while minimizing their risk."
The corporate team provides franchise owners the support needed to navigate the administrative aspects of the business so that you can focus on what you do best, rather than getting bogged down in minutiae. If you are considering private security, this means you can focus on protecting your clients, rather than spending hours on sales calls, bookkeeping and other tasks.
Additional benefits of franchising include built-in name recognition and an accelerated path to steady income. Private security offers potential for regular patrol contracts, and you can help other cops earn extra cash while they continue to deter crime.
A success story
Signal 88 Security, launched locally by a former sheriff's deputy in Nebraska, began franchising in 2007 and now has more than 300 territories covered by roughly 120 franchisees. Successful franchisees can speak to how this business model has helped them build a successful second career and a valuable asset.
During his 23 years as sheriff's deputy in south Louisiana and Mississippi, Donnie Saucier kept an eye out for a business opportunity where he could put his law enforcement experience to good use once he retired from the force. After considering several different companies, he opened his first Signal 88 franchise in New Orleans in November 2013.
"I've always liked the franchise concept," said Saucier. "You know the old saying – go into business for yourself, but not by yourself – and it fell right into place with what I knew."
He was so impressed with the overall system and potential for growth that he partnered with his brother to open a second franchise in Mobile, Alabama. With hard work and support from the franchise group, the brothers exceeded their five-year financial goals within the first two years, and Signal 88 named them its 2015 Franchise of the Year.
Saucier says that running a security franchise is very similar to running a small law enforcement agency, and he was able to put his experience to use in the business right away.
"A lot of law enforcement guys say, 'All I've ever been is a cop,'" said Saucier. "But in reality, so much that is learned throughout a law enforcement career is applicable to running your own business, especially when it's a security business. It's important for career law enforcement officers to know that there is life after police work."
Among all the franchise opportunities available, security offers the closest match to a cop's existing skill set, as well as the potential for camaraderie in a business community with a strong police presence. Successful business ownership requires effort and time, says Nyffeler, and a franchise is not a "set it and forget it" low-risk investment or the right fit for someone looking simply to supplement his or her pension. It does, however, minimize the expensive learning curve involved in starting a business.
"We see the pitfalls, we help you avoid them, and we encourage you along the right path," said Nyffeler.
For more information about owning and operating a private security franchise, contact Signal 88 Security.