Balancing between chaos and control is possible with this incident management tool
Officers can now take proactive approaches to incident management to enhance the public's safety
---
Sponsored by Incident Response Technology
By Tim Dees, Police1
When tasked with management of a tactical incident or a large event, it's common to begin with a silent prayer. But the good news is that a solid incident management software package can help you attain that goal.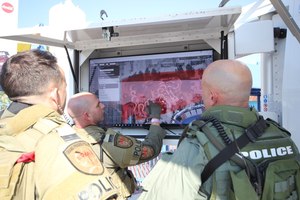 It wasn't so long ago that complex incidents were handled by a guy with a clipboard, or maybe a chalkboard or whiteboard at a command post. How well that works depends on how good you are, with some consideration for what kind of help you have, whether you have done this sort of thing before, and how lucky you are that day. Unfortunately luck is too often the determinate factor.
Incident management software allows the commander to track what is going on in multiple dimensions and minimize the role of luck in the outcome. The system creates time-stamped logs of every action, shows maps of the area of operations and what assets are deployed, and permits instant communication with operational units. Incident commanders and operators can communicate through the software and pass both textual information and photos in both directions, and can easily track how long units have been on station and may need relief.
From rodeos to riots
Matt Van Camp is a sergeant with the Payson Police Department in Arizona, which has 27 sworn officers, and is a team leader/commander of its special response team. He plans and manages many of  the public safety response to planned events like the city's annual rodeo, as well as tactical incidents that can happen anytime. His agency purchased the The Rhodium Incident Management Suite from Incident Response Technologies (IRT).
"Historically, we did it all on paper. It took me three years to find a product that met the needs of my agency," Van Camp said. "The electronic ICS forms are easy to use. If you have computer skills, you can teach yourself how to use it."
Van Camp uses the Rhodium templates to build response plans that incorporate Google maps and other graphical references. One plan can serve as the foundation for another. The plans are shared with the fire department for coordinated responses and management. Layers for fire, EMS, federal agency assistance, etc. are added or hidden as needed to help the incident commander keep a clear picture of the event.
Rhodium incorporates a smartphone app for individual officers involved in the incident. The app allows the incident commander to send and receive text and photos to and from his people in the field. If a suspect photo becomes available in mid-incident, the photo can be pushed to everyone involved. At the same time, the system tracks the GPS coordinates of all responders, so the commander sees everyone's location in real time.
Out-of-area deployments
Michael Wynn is the chief of police in Pittsfield, Massachusetts, an agency with 90 sworn personnel. The Pittsfield PD participates in a regional special response team that handles tactical incidents for all member agencies.
According to Wynn, in the winter of 2017 he and his officers responded to a barricaded suspect situation in another town. Not only were they not familiar with the area, but they were also at a location that was out of range for their portable radios.
 "[But] by managing the incident with Rhodium, we had mapping of the area, saw where all our people were deployed, and could communicate through the app and the team's smartphones," Wynn said.
Wynn said the incident management software also greatly simplified the production of the after-action report. "When the incident was over, I downloaded the event log from Rhodium and emailed a copy to all the other chiefs whose agencies took part in the operation. We had a clear timeline of every event in the incident."
Whereas Van Camp relied mainly on video conferencing with IRT, Wynn's agency had IRT's trainers come to Pittsfield and do an on-site training.
"The trainers were with us for several days. We pulled up some old incidents and used those as training platforms," said Wynn "Each participant in the training also built their own templates for future operations."
Both users have had a favorable experience with IRT's responsiveness on improving the product.
"You can make suggestions, like 'I'd like it to do this or that,' and often see the changes in a subsequent revision of the software," Van Camp noted.
Rhodium has made both agencies more efficient and responsive to community needs. Wynn urged potential customers to examine how much time they invest in event planning.
"Look at the pricing in light of effectiveness and efficiency. If you're not doing this digitally, how many action plans are you printing and discarding?" Wynn said. "We were starting with a blank document every year for our Fourth of July events. With Rhodium, we can use the previous year's plan or some other preloaded template as a starting point."
Rhodium is offered to users on a subscription basis. Demonstrations and trial subscriptions are available on request.
Tim Dees is a retired police officer and the former editor of two major law enforcement websites who writes and consults on technology applications in criminal justice. He can be reached at tim@timdees.com. 

Request information from Incident Response Technologies, Inc.
Thank You!