How a high definition camera system can increase your reactionary gap
Often officers struggle with getting enough distance in volatile scenarios
---
Sponsored by Tactical Electronics
By Yoona Ha, Police1 BrandFocus Staff
Recent events like the confrontation of a murder suspect that resulted in the death of a 16-year veteran of the Terre Haute Police Department, remind us of how quickly the hazards of police work can turn lethal.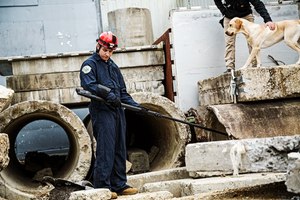 From the earliest stages of their careers, law enforcement officers are taught the importance of understanding reactionary gaps, or the minimum amount of space you need to properly react to a suspect being questioned or detained. But sometimes, in the heat of the moment it can be hard to remember everything you learned from training or even from years of experience.
Everyone knows that police work can be incredibly dangerous, and it comes with the territory that sometimes you'll have to interact with dangerous people who might be armed. When you're in those situations, you want to make sure that you have enough distance from the person to properly protect yourself in case things go wrong.
Sounds simple, right? But the reality is that officers often don't encounter scenarios that mirror their training in the academy, and even having a couple of feet of distance from suspects sometimes doesn't give them enough time to respond.
That explains why some departments have used cameras as a creative deployment of a tool that gives officers the extra reactionary gap they wouldn't have otherwise.
CORE Cameras give officers flexibility
Whether you're working for a specialized unit like a SWAT team or a search and rescue unit, chances are you'll often encounter situations where you want extra, reliable visibility on the suspect and situation at hand. Tactical Electronics' CORE Cameras were designed with that in mind. The lightweight CORE Pole Camera, for example, was designed to give officers extra visibility on the field for up to 2.5 hours.
With the CORE Camera, you don't have to rely on a tripod to mount the camera into many secure positions. At the base of the camera, there are two grip options: the CORE Grip and the POLE Grip. The POLE Grip gives officers an additional 10 to 17 feet distance, so officers can easily record and monitor the situation at hand.
Another edge that the CORE Camera line gives officers is that video recordings are streamed wirelessly to the CORE monitor, a high definition video screen, through an encrypted channel. As an officer, the last thing you want to worry about is getting your secure video recording data compromised or even surreptitiously modified while in the camera or after being transferred to a computer or cloud service.
One less thing officers have to worry about is switching the camera attachments for better visibility. All Core Cameras are made with modularity, so you can switch or attach different grips or camera heads without having to reboot the camera during your operation.
Identify bomb threats more accurately using thermal fusion technology
When your tactical team's safety is top of mind, you don't want your team to rely on guesswork to determine the minimum distance of safety from the suspected material. That's why you want to take advantage of technology that allows you to identify energized improvised electronic device (IED) components such as Tactical Electronics' thermal fusion technology.  This thermal identification technology allows officers to easily pick up on heat patterns consistent with an active bomb and other threats.
Both the CORE Pole Camera and the CORE Flex Camera have a high definition video sensor and a thermal imager that displays thermal colors while also displaying clear outlines of the objects and people being recorded. Before this technology was available, officers had to rely on using a standalone thermal imager that didn't give them a sense of clear physical detail. In fact, it was often difficult to make sense of what was being shown. Now officers can easily toggle from the thermal view to the HD view using one camera to gather information on the scene.
Your tactical missions can become much easier with cameras with the thermal fusion technology. No longer does your team have to worry about obstacles and hiding places to find the source of the threat. By using cameras with thermal fusion technology, officers can take advantage of the extra reactionary gap that's provided by the CORE Cameras and use the thermal imaging technology to easily identify people and suspicious materials generating heat. Plus, even if you're surveying an area where people and objects are around the same temperature (think of an attic or anywhere with a tropical climate) your camera will still pick up on the outline of human beings and foreign objects with similar temperatures as their surroundings.
You should never underestimate the possible threats you'll face on the field. Establishing an appropriate reactionary gap can make or break the odds of whether you'll return home safely. Protect your officers by giving them the tools they need to establish a safe distance from potentially lethal threats.  

Request information from Tactical Electronics and Military Supply
Thank You!