Webinar: Beyond Body Worn: Next Generation Digital Evidence Strategy
Learn how to connect the dots between many different types of digital evidence
---
Sponsored by NICE
Most police departments would probably agree that storing and managing body-worn video is one of their top challenges. But in reality, today's ecosystem of digital evidence is far bigger and broader, and while body-worn video is becoming the new normal, it's just one small piece of a much bigger picture. Successful investigations – from use of force and pursuit reviews to domestic violence and DUI cases – all rely on an investigator's ability to connect the dots between many different types of digital evidence.
Register below to view the recorded webinar, presented by digital policing experts Chief Lee Russo (Ret.), Chief Dan Dvorak (Ret.) and Rod Guy, to learn about: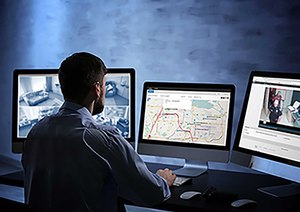 Challenges with managing other types of digital and multimedia evidence
The many advantages of open digital evidence management systems that collect evidence from any sources over those that are designed around specific hardware
Ways to reduce chances of lost or missed evidence  
Featured Presenters
Chief Daniel A. Dvorak (Ret.) has 25 years of law enforcement experience with the Newport, RI and Cambridge, MD police departments. He holds a Master's Degree in Administration of Justice and a bachelor's degree in Criminal Justice/Political Science. He is a strong advocate for using technology in the police profession to enhance effectiveness and efficiency. Dvorak always enjoyed advancing forensic sciences in his departments and was an adjunct professor in Cybersecurity and Digital Forensics at Salve Regina University, Bristol Community College, and the Community College of Rhode Island.
Chief Lee Russo (Ret.) has served in law enforcement for over three decades with multiple police departments. He began his career as a sworn officer in the University of Delaware's Department of Public Safety during the early 1980s before joining the Baltimore County, Maryland Police Department, where he worked the majority of his career, retiring as a Captain in 2007. Subsequently, he was appointed as the Police Chief for Covington, Kentucky, and following that, the Chief of Police for West Valley City, Utah. He is a graduate of the Johns Hopkins University's prestigious Police Executive Leadership Program and Federal Executive Institute.
Rod Guy, Vice President of Strategy, NICE Public Safety, has over 25 years of experience developing products and application solutions to help public safety agencies better protect and serve citizens and communities. For the past 10 years, Rod has been working with public safety agencies to understand the challenges of managing digital evidence and to develop innovative solutions which improve the usability of digital data, while addressing the need for security, data integrity and cost effectiveness.
This webinar was moderated by Police1 editor-in-chief Nancy Perry.
Register to view the webinar.