A huge blind spot: Why overlooking officer vehicle safety leads to line of duty deaths
Can high-risk traffic scenarios become safer for cops? This collision avoidance technology makes squad car safety a reality
---
Sponsored by Mobileye
By Dale Stockton for Police1 BrandFocus
Many line-of-duty deaths are preventable, making them all the more tragic for those left behind. Since 2000, law enforcement losses attributable to vehicle-related incidents have exceeded losses due to gunfire by a staggering 20%. The conventional wisdom is that "bad guys" are responsible when an officer loses his or her life, but the sobering reality is that many involve a significant degree of officer culpability. According to the National Highway Traffic Safety Administration, nearly half of fatal law enforcement crashes involve a single vehicle crash. It's pretty hard to blame the bad guy when your vehicle is the only one involved. To take matters further, in many multi-vehicle collisions, it's often the emergency vehicle that's found to have been a contributing factor to the collision or even at fault.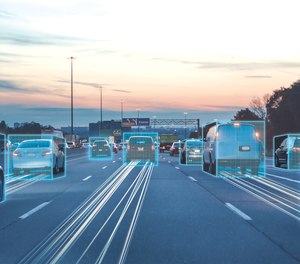 Officers, don't take driving safety for granted
Clearly a commitment to improving officer safety must include a commitment to improving vehicle operations safety because it will lower the level of line-of-duty losses and decrease the number of career-ending injuries. There's also the significant (and cost saving) fact that improving in-vehicle safety will reduce the number of at-fault collisions where an innocent party is struck by a law enforcement vehicle.
Improving vehicle safety is not a one-and-done effort. It takes ongoing commitment and can best be accomplished through a multi-faceted approach including training and the use of technology, both of which can improve driver awareness.
In terms of training, most officers receive some level of emergency vehicle operations training in the academy, but many agencies do not have ongoing programs that address the most frequent task that officers perform – driving. There is often a degree of rationalization that driving is one of those basic skills that simply improve with experience. While experience can be helpful, it can also cause drivers to "lock-in" bad behaviors over time. Refresher training can increase officer awareness and hone skills. It's easy to overlook the importance of seatbelts, which is why it's crucial to reinforce their importance as the most basic piece of safety equipment that officers have. While usage varies by assignment and, to a degree, by type of agency, the overall level of seatbelt utilization among uniformed officers is approximately 50%. In contrast, the general public's utilization rate usually exceeds 90%.
One thing is clear here: many officers are unnecessarily exposing themselves to a greater risk of serious injury.
How technology can improve in-vehicle safety
Viable technology approaches can vary but, at their core, those that are effective have two common elements: the technology is integral to the officer's work environment (in this case, the car), and drivers are made aware of the behaviors that put them at greater risk.
In an effort to improve safety and reduce at-fault collisions by their deputies, the Polk County (Florida) Sheriff's Office began reviewing tech options in 2013. Tragically, during the time that review was being conducted, PCSO Deputy Joseph "Shane" Robbins, a fifteen-year veteran, died after his vehicle inexplicably left its designated lane of travel and went off the roadway, subsequently striking a large tree. The loss of Deputy Robbins underscored the need for improving safety and solidified the agency's commitment to change. PCSO subsequently selected Mobileye, a real-time alert collision-avoidance system for a pilot effort and, after the pilot proved successful, installed the units throughout its fleet.
How Mobileye helps officers on the road
Mobileye is made up of two pieces. The primary Mobileye road-scanning camera unit mounts in the upper-center area of the vehicle's windshield and contains an image sensor, processing unit and speaker for audible alerts. The second piece is the EyeWatch unit, which can be mounted in a variety of places within the driver's field of view and consists of a circular display that provides the visual warnings. Mobileye continually scans and analyzes the roadway conditions, including reading speed limit signs, recognizing lane markings and identifying other objects such as vehicles, bicyclists and pedestrians. The unit is wired into the vehicle's Controller Area Network (CAN) bus so it can factor in real-time speed and braking actions. The combination of visual analysis and vehicle input allows Mobileye to provide a visual and audible alerts of a dangerous condition (examples of types of alerts have been covered by Police1 before). Mobileye does not take affirmative action such as braking or altering course of travel.
It's important to understand that Mobileye's technology is designed to aid the officer not replace his or her control of the vehicle.
When seconds can mean life-or-death, Mobileye gives officers the reaction time they need
Mobileye has an extensive history of improving vehicle safety and the company's technology is used by 27 different automotive manufacturers. Mobileye devices are used in a wide variety of vehicle operations, such as transportation services, transit, and commercial fleets. For law enforcement, the company created a special "mode" that disables the non-critical audio warning tones for lane departure and headway monitoring when the vehicle is being operated in an emergency response or pursuit mode. Muting these alerts can help the driver maintain focus, but the pursuit mode doesn't neglect officer safety as it still sounds critical collision warnings to protect the driver.
Polk County provided significant input for the latest law enforcement system.
Mobileye does not do any recording or transmission of information; it's purely an advisory tool for the operator.
Perhaps the best way to understand its value is to equate it to a partner officer who is continually scanning the road and pointing out an imminent threat or providing a warning when distraction is causing a dangerous situation, such as drifting out of the lane of travel. Mobileye performs these tasks at a rate faster than the human eye and brain can process what is being seen. 
It's easy to install this collision avoidance system
Mobileye can be retrofit to most any vehicle, meaning there is no need to purchase a new vehicle to receive the same advanced driver-assistance technology. There is no ongoing fee or maintenance charge. Installation can be handled by contracting with certified Mobileye installers or, in the case of a large fleet, having agency personnel trained to do the installs. Installation is relatively straightforward, requiring connections that provide power, grounding and plug into the vehicle's ignition system and CAN bus.
The takeaway for officers
Training and technology should not be viewed as an either-or situation. They are complementary and should be used to build upon each other to improve driver safety. The technology that Mobileye offers can prove to be a powerful partner, resulting in fewer injuries and line-of-duty losses as well as a lowered level of liability exposure.

Request information from Mobileye
Thank You!