5 ways agencies can report and collaborate more effectively using an RMS platform
Online RMS from Caliber Public Safety makes it easy for officers, dispatchers and investigators to enter and share information
---
Sponsored by Caliber Public Safety
By Police1 BrandFocus Staff
Law enforcement agencies rely heavily on records management systems to support day-to-day operations. An efficient RMS includes not just the software to electronically collect, organize and store secure information, it will also afford administrators, investigators and officers in the field intuitive ways to effectively navigate copious amounts of sensitive data.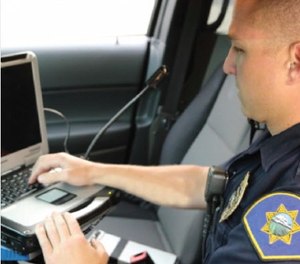 When you're trying to solve a case, system delays, network failures, awkward user interfaces and disparate systems that don't work together can be frustrating and consume hours of each shift. This results in less time on patrol, which is a disservice to the community.
Law enforcement agencies need software tools that are reliable, responsive and effective. An RMS that integrates multiple systems, improves data quality, complies with reporting standards and that can be accessed by officers from multiple devices provides efficient access to data and allows officers more time out in the community to do their jobs.
Caliber Public Safety provides a variety of software options for law enforcement. Online RMS, its flagship RMS, is a web-based product that provides secure access anytime, anywhere from any internet-enabled device running a modern web browser. It is designed to be secure, reliable, CJIS-compliant and conform to national reporting requirements.
Here are five ways the Online RMS from Caliber makes it easy for officers, dispatchers and investigators to enter and share critical information.
1. Mobile Operation
Caliber's Online RMS can be securely accessed from any location connected to the internet, at any time. Mobile data access provides flexibility that allows officers more time in the field, as they are not tethered to the in-office network for system access to look up data or finish reports at the end of shift.
Real-time data on the go also supplies officers on patrol with current information for enhanced situational awareness and improved safety, says Blair Robinson, executive vice president of Caliber Public Safety.
2. Security and Reliability
Caliber's Online RMS is hosted in secure facilities in the Nlets justice and public safety network, which is dedicated to the exchange of law enforcement, criminal justice and public safety information nationwide. The Nlets facilities meet strict FBI CJIS policies and maintain redundant network paths and a disaster recovery site to protect data and ensure continuous operations.
As a hosted offering, Online RMS grants all user agencies access to the latest version of the software at all times without having to worry about updates. Program improvements, repairs and updates are deployed automatically each month to ensure an evergreen platform with no additional costs.
3. No Need to Pay for IT infrastructure
Because Online RMS runs on a completely online cloud platform, agencies are not required to install, update or maintain software. Agencies share high-performance servers for cost savings and don't have to worry about budgeting for IT expertise or physical management of in-house data storage servers, says Robinson. Each agency has complete independent control of administration, configuration and user access privileges.
Continuous operation is a critical capability for law enforcement software, and Caliber's cloud platform ensures fault tolerance. This means the system as a whole continues to operate even in the event of isolated problems in the hardware or software so that agencies can depend on consistent access to their data 24/7.
4. UCR/NIBRS Compliance
The Caliber Online RMS system offers an intuitive and user-friendly interface for completing incident reports. Easy-to-read icons and an incident reporting wizard provide guidance and help ensure consistent reporting and NIBRS/UCR compliance. The wizard eliminates guesswork for officers on what NIBRS elements are required for each offense and walks the officer through the reporting process, collecting details about suspects, victims, vehicles, property, drugs, weapons and other items.
The wizard is configurable to meet state-specific NIBRS variations and offers agencies the ability to define additional required fields and validations, says Robinson. The system improves data entry and quality by detecting potential audit warnings for correction prior to submission to the FBI or state NIBRS programs. The platform also provides trend reports and visual aids to support crime analysis and operational efficiency.
5. Interoperability and Data-sharing
Too often, incident report data is locked down in individual agency systems and not shared for the greater good of identifying suspects and solving crimes. Online RMS is one of a suite of platforms Caliber offers to serve public safety organizations and improve agency interoperability by removing the barriers to sharing data.
Through Caliber's SmartSearch capability, agencies can search their own data as well as shareable incident report data, including narratives, from other Online RMS clients within the same state. This helps these agencies better connect the dots and improve crime fighting.
Harold C. Rodgers Jr., chief of the McCordsville Police Department in Indiana, credited Caliber's data-sharing products in helping solve what seemed like an unsolvable crime.
"Prior to having Caliber Public Safety Online RMS, the solving of this criminal activity would have taken much longer, if it was capable of being solved at all," Rodgers said. "Agencies rarely have immediate access to each other's information and reports without writing out lengthy requests and long delays. The SmartSearch database within Caliber Online RMS made information otherwise available, but unknown, readily available at the detective's fingertips."  
Additionally, users have access to Caliber's nationwide InterDEx data sharing network that enables participating agencies to easily and securely share their RMS data, according to each agency's own selected permissions. Users can query suspects, vehicle and property details from more than 400 participating agencies across 40 states, from all levels of government, plus an additional 200 external data sources.
This data-sharing capacity enables multiagency collaboration and boosts situational awareness by helping dispatchers, responders and commanders interact in real time across agency disciplines and location boundaries.
"Instant awareness of RMS-related data from participating agencies across the country saves officers valuable time because they don't need to log in and out of multiple systems to query different sources," said Robinson.
Data collected in police incident reports helps law enforcement agencies identify, track, prevent and solve crime, as well as keep the public informed to show that agencies are serving them to the fullest extent. A cloud-based RMS platform like Online RMS from Caliber Public Safety can help agencies trim costs, shorten response times, share and search data and ensure consistent reporting and NIBRS/UCR compliance.

Request product info from top Police CAD companies
Thank You!