Cutting the Fat: How one Washington PD turned to tech to revamp decade-old processes
The Richland (Wash.) Police Dept. chief's experience with public-private partnerships led to a recommendation from Microsoft to use the Adventos SmartForce Agency Management System to create a more efficient, communicative organization
---
The following is paid content sponsored by Adventos
By Dan O'Shea for Police1 BrandFocus
The Richland Police Department, which serves a population of 51,150 in southeast Washington, was looking for a solution to many of the paper-based processes and e-mail communication that was weighing them down.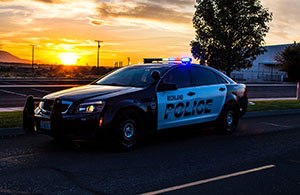 In doing so, they hoped to become a more modern operation defined by real-time communication and the freshest possible report and bulletin updates.
The Problem: Lack of Efficient Communication Tools
As the community and police force grew quickly over the years, it became imperative for the police department to find new ways of improving overall staff efficiency, said Richland Police Chief Chris Skinner.
"Our challenges were not unlike those of many agencies, in trying to move away from doing a lot of things on e-mail and being very paper-driven," Skinner said.
Skinner said that the Richland department's biggest pain point—and a common one for many police departments—was officers not communicating efficiently and important information about assignments or ongoing investigations not being passed quickly enough to officers in the field.
This resulted in officers spending precious time commuting to and from the station to get updates when they could have spent that time out in the community policing.
Skinner witnessed first-hand how multinational businesses managed to communicate and work together efficiently across several continents while studying in China working on his master's degree.
This model of cooperation could be used at a local level, specifically at the Richland Police Department, he thought.
"The answer for how to make it happen appeared to lie in the technologies the private sector was using to communicate and share information," Skinner said.
The Solution: Adventos SmartForce Agency Management System
Skinner started looking for that answer in his own backyard. The chief went to in-state neighbor Microsoft for help.
"We talked to Microsoft's global security team, and they told us about a company, Adventos, that had a niche solution for law enforcement," he said.
The Adventos SmartForce system leverages many of the capabilities found in the Microsoft SharePoint platform, but is designed—and actively configured—to address the unique challenges of police departments and similar agencies.
Skinner said it's a secure, cloud-based solution that doesn't require a new hardware investment. The software manages all information in a central, homepage user interface to collect the latest crime bulletins, analysis and intelligence, previous shift updates, administrative tasks, discussion threads, and links to pertinent reports.
It's an automated approach that doesn't require frequent checking of e-mail or laborious paperwork, he said.
The Results: Better Informed Cops
The department has had a lot of positive effects from using SmartForce, Skinner said.
"We're really proud of what we've done here in Richland to improve how efficient we are," he said.
Skinner said the Richland department continues to work closely with Adventos to look for new ways to leverage the capabilities of SmartForce.
"When we adopted it, we focused on our biggest pain points first," he said. "But we continue to look at more workflows we want to incorporate into SmartForce."
The ROI: Reduced Labor Costs
After deploying the Adventos SmartForce Agency Management System in 2013, Skinner said the Richland Police Department saw quantifiable benefits.
The agency was able to save the equivalent of $450,000 in officer time during that first year alone, as the real-time, automated updates inherent in SmartForce lets police officers spend less time at the station—or commuting to and from the station—and more time in the community they serve.
In turn, Richland witnessed an overall drop in crime, and Skinner observed that officers now are better armed with the most up-to-date information as they go out into the community.
Any department revamping their processes in an attempt to modernize should consider SmartForce. Richland found the solution delivered on its promise: helping them move away from outdated communication methods and migrating them towards a 21st Century approach for real-time communications.
For more information about the SmartForce Agency Management System, visit Adventos.

Request information from Adventos LLC
Thank You!