How one cop designed the perfect software solution to track firearms
A recent Police1 survey found agencies still have not adopted software to track firearms. Here's one cop-designed software solution that can change that trend.
---
The following is paid content sponsored by Armorer Link, Inc.
By Police1 BrandFocus Staff
A recent Police1 firearm tracking survey found 70 percent of respondents do not use software of any kind to track firearms—using outdated paper-based systems to track inventory instead.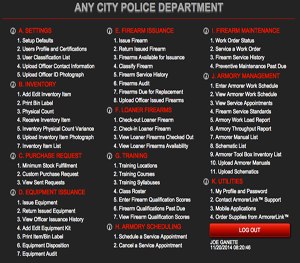 There is an obvious technology gap when it comes to tracking firearms. But there is a solution: robust firearm tracking software from Armorer Link.
Seeking a solution to close the tech gap
Armories choosing paper systems to manage one of the most critical tools used by officers isn't news to Joe Ganete, president of Armorer Link, Inc. and 16-year law enforcement veteran.
Ganete recognized the technology gap 10 years ago while serving as a training officer and armorer at the Hillsboro Police Department in Oregon, where he still serves as a detective. He realized then that the police market lacked the software tools needed to reduce paperwork associated with administrative tasks assigned to middle-management officers, like lieutenants.
Ganete utilized his 20 years of business experience to recruit a team of process optimization experts, programmers and engineers to help him design and build a software suite that was capable, agile and reliable enough to serve the law enforcement market.
"There wasn't a lot of software and what was available was expensive and complicated for the average law enforcement agency," he said. "The software also lacked needed features. I decided back then to develop a solution to capture critical information easily."
Merging field experience and software engineering
Ganete, along with his business team and software engineers, developed a turnkey tracking software solution to meet the needs of law enforcement armories.
The result was Armorer Link's tracking and reporting software, a monthly subscription service that hosts an agency's data offsite on the cloud. Setup is simple. There are no contracts; agencies just click a checkbox for the standard software user agreement and pay a monthly subscription fee with a credit card and can cancel at any time.
It's more affordable for police agencies to use cloud-based technology, as it reduces the burden on the in-house IT staff, Ganete said.  All the hardware is maintained and managed by the company and its global data managements partner RackSpace, preventing agencies from having to invest thousands of dollars to manage and store data onsite.
"We store all the data, do the backups, archive and more," he said.
Agencies also have the option to do local backup.
"We can install the software in the agency's server if they want to have it onsite," he said. "So they can host their own cloud."
Once subscribed, the software is accessed via smartphone, tablet, or PC.
"That in itself allows you to be paperless because you can access the data anywhere, anytime, anyplace worldwide," he said.
Reducing inefficiencies associated with paper
Data on paper costs money, isn't easily searchable, and isn't protected from tampering.
At the same time, managing paper-based systems ties up human resources.
"In a small agency, you have officers that are doing many things," Ganete said. "You are going to free up resources when you reduce mundane, everyday tasks like trying to figure out who hasn't qualified at the range or which firearms need annual maintenance."
Software is searchable and data is accessible anywhere, anytime securely by authorized users with a password. For example, Armorer Link lets a user recall a firearm to learn issuance history: parts history, detailed service history and round count.
"When you check-out or check-in a firearm, it is in real-time, on the spot," Ganete said. "Running reports becomes less important because data is accessible instantly."
Tracking firearms using Armorer Link software can be enhanced using bar code labels or laser marking. The company offers a wide range of label and marking services solution for large and small agencies thanks to a partnership with one of the largest bar code manufactures in the U.S., Camcode.
"This partnership lets us tag as many as five million assets efficiently," he said.
Tracking firearms is an important part of an agency's administrative responsibilities. Software solves the problems of paper, while letting administrators pull up data on every firearm and every round.
For more information, visit Armorer Link.

Request information from Armorer Link
Thank You!