Why police agencies should embrace secure cloud storage
Captain Milton McKinnon of the Hermosa Beach PD says the future of policing is in the cloud, which offers agencies improved data security and technical support
---
Sponsored by Amazon Web Services
By Police1 BrandFocus Staff
Police chiefs across the country are dealing with a changing reality in policing today, such as the need for cloud-based data storage. They're also grappling with a host of questions that come along with this shift, like, "How will I know my data is secure?" and "What do all these acronyms mean?" These can be daunting questions.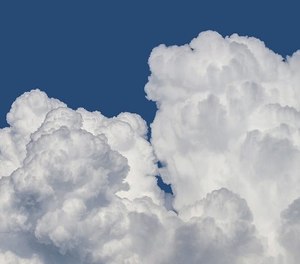 Captain Milton McKinnon of the Hermosa Beach, California, Police Department has operational, investigative and administrative experience, but what sets him apart are the years spent working in and managing the IT department as a line level officer, a supervisor and later as a manager. This experience has provided him with a solid understanding of the issues underpinning data storage and security in the public safety space. 
McKinnon says he's found that his IT background has also provided a way to bridge the divide between decision-makers and IT experts when it comes to data solutions.
We already live in the cloud
Many in the public safety space fear the move to the cloud. But the reality is that everyone is already using the cloud. The rise of consumer electronics and the "internet of things" has led each of us to use cloud-based services on a daily basis.  
 "Any information stored anywhere except your personal computer in your house is, for all intents and purposes, in the cloud," said McKinnon.
Any time you use a smartphone to hail a cab or check your bank account, you trust your credit card or your Social Security number or some other valuable piece of information to the cloud.
The reason many police officials are comfortable with that in their personal lives but perhaps not in an agency setting, McKinnon says, is because it hasn't been explained well enough.
The cloud is more secure
Security is often hailed as a concern when discussing the switch to the cloud, but in fact, the cloud is much safer than any on-premises storage.
"The security that we can provide here in a PD, with our limited resources, is completely different than what a big-name operator can provide on the scale at which they work," said McKinnon. "They can provide better protection than I can."
The reality is that a two- or three-person IT department is likely not focused on data security and cannot hope to match the resources of the security crew at a cloud-hosting company. Because of the size of these companies, they have large, focused teams that can offer multiple levels of security.
Why security matters
It's also important to recognize why security is so important for police departments and everyone else in public safety.
The two biggest concerns are data theft and the danger presented by downtime. Having a department-wide email server go down for an hour can cause chaos. Having the entire communications infrastructure go down would be even worse. Having public safety infrastructure go down during a disaster could put the lives of first responders and the public at risk.
"My big concern is having our infrastructure attacked during a large event," said McKinnon. "Who can bring that back up? Who can fix the issues?"
Ultimately, that's the power of the cloud. There's a support system of experts ready to get the problem resolved as fast as possible.
"I sleep a lot better at night knowing it's protected and that were it to go down, it would come back up quickly," said McKinnon.
When you look at the threats police departments face, the need for security becomes clear. Consider the case of the Hawthorne Police Department in California, who, in 2013, found themselves the target of hacker group Anonymous after a video of an officer shooting a dog went viral.
Departments can expect to see more such threats in the future. Without adequate security to protect vulnerable infrastructure, the outcome could be much worse.
What the shift to the cloud looks like from the officer's perspective
Beyond security, there's also a human side to moving to the cloud. Switching to the cloud doesn't just affect the organization – it also affects the people in it.
For chiefs, says McKinnon, the clouds means peace of mind and "something taken off my plate." For the end user – the officers on patrol – it means less down time, less frustration getting disparate systems to work and fewer hours filing paperwork. For the IT staff, it's a relief that they have support from the cloud provider and can utilize the cloud to test new ideas in a secure and cost-effective manner, as well as scale up or down without the potential for wasted resources.
Ultimately, says McKinnon, more and more services that first responders rely on are going to go the way of the cloud. Just as smartphones and other devices that rely upon the cloud have become commonplace in our personal lives, so, too, will they become common in policing. 

Request information from Amazon Web Services
Thank You!