QuadCurve: How ATS Armor provides the most comfortable protection available
The ergonomic design of these ballistic plates hugs the body for increased safety, comfort and ease of movement
---
The following is paid content sponsored by ATS Armor.
By Police1 BrandFocus Staff
It's no secret that body armor can be cumbersome – and that armor only offers protection when it's worn. That's one of the reasons comfort and weight are such major concerns when it comes to body armor.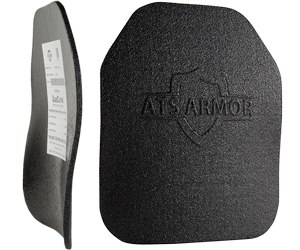 New manufacturer ATS Armor is addressing those issues with lightweight ballistic plates created through a rigorous scientific approach called Electronic Design Mechanical Analysis (EDMA). This process has resulted in a trademarked, patent-pending ergonomic design called QuadCurve.
What is QuadCurve?
In search of a lighter, more comfortable solution, ATS Armor's team of highly experienced research and development experts worked through different simulations in the EDMA process. The team cut prototypes out of plastic and asked police officers to try them on and offer feedback, ultimately coming up with a design that incorporated four distinct curves into a single torso plate that fits both the front and the back of a wearer.
Dubbed QuadCurve, the four-curve design yields a "one shape fits best" plate that fits as well on the back as it does the front and maximizes wear-side contact with the body, making it the most closely-fitted plate to the human body available while providing increased safety and comfort. The design also yields performance that exceeds NIJ standards for ballistic protection. The increased number of curves also makes it a better fit for many female wearers.
"It may not be the perfect solution for a female, but because our plates have more curves than any competitor, they will be the most comfortable on a female, making them the best solution," said Brian Beckwith, COO and co-founder of ATS Armor. "We get asked about the female fit dilemma quite often, but we do a lot of wear and fit testing with our customers today and have had great reviews on the comfort of it. Our four curves are better than three, two or a flat plate."
Better fit, better protection
In their efforts to achieve comfort, ATS Armor also stumbled upon an added safety benefit of the QuadCurve design. The closer fit also means a QuadCurve plate is more effective at protecting the wearer.
By maximizing the surface-area contact on the wear side of the armor, any trauma delivered to the strike face side of the plate will be more broadly distributed on the wear side due to the increased surface area contact with the wearer's body, reducing the trauma to the torso – meaning the QuadCurve plate yields a higher safety margin than less-curved plates.
Stand-alone protection
In addition to these features, the ATS Armor QuadCurve plates offer stand-alone protection, meaning no additional ballistic vest is required, and they are tested to withstand multiple shots.
The plates also provide edge-to-edge protection, a key differentiator. Some manufacturers add a protective border to the plate to protect it, but that protective layer can reduce the total surface area that provides ballistic protection to the wearer. ATS Armor plates are completely encased with a protective coating for maximum coverage, and their ballistic protection extends edge-to-edge on every plate.
"We are some of the lightest and strongest plates in the industry, and we are the most comfortable due to our QuadCurve design," said Beckwith. "I'll put the ATS Armor product that we have today up at the range against anyone that's out there. We know they're that good."
For more information on body armor and other protective products, contact ATS Armor.

Request information from ATS Armor
Thank You!