5 reasons cops should pursue an online certificate
Earn a professional credential that can boost your career in less time – and for less money – than a graduate degree
---
Sponsored by Norwich University
By Police1 BrandFocus Staff
Sometimes you need to master a specific skill to build your career or better serve your agency or municipality. If you're looking to move up the ladder, or maybe even prepare yourself for life after retiring from the force, it may be time to consider furthering your education.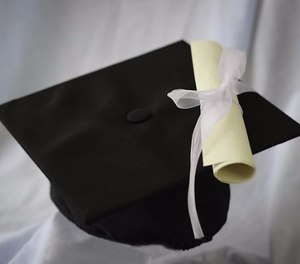 While pursuing a master's degree demands a significant commitment of time and money, you can earn a certificate demonstrating your skills in a particular area of expertise much faster and at a lower cost. Both credentials provide value, so it's important to understand your goals and what's required of you in order to achieve them.
A certificate program can provide a stepping stone to a master's degree – or a promotion. Consider both cost and your career goals when choosing between an online graduate degree program or a certificate.
Here are five reasons an online certificate program may be the right choice for you.
1. Spend Less Time, Money
Time and money saved may be the biggest advantages of a certificate program. A master's degree typically takes two years to complete, whereas a graduate certificate is a short, targeted program of study in a particular subject that can be completed in a year or less.
For example, the online graduate certificate programs at Norwich University comprise two core courses over 22 weeks, whereas their master's programs require at least 18 months of study.
This means a certificate program is easier to fit into your schedule and budget – and provides a quick return on investment.
Look for a program that, like Norwich, offers academic credit for certificate courses so that you'll have a head start should you eventually decide to pursue a full degree.
2. Test the Waters
When you reach a personal and professional crossroads, you may not be sure what you want to do next. A certificate can provide an important credential while allowing you to explore a field of study that interests you. If you decide that field is not right for you, you still have something to show for your efforts.
"People will change their careers three to five times in their working lifetime, and taking a certificate gives them the opportunity to try something different," said Dr. Rosemarie Pelletier, program director for Norwich's graduate programs in public administration and cyber security. "It doesn't commit them for a full degree and it offers more flexibility in a less daunting way. It's not wasted time or money."
3. Gain New Skills for a Career Boost
Earning a certificate demonstrates that you are flexible and willing to learn. Aside from personal development, the whole point of continuing education is to show employers that you're continuously improving your skills and expertise, which makes you more valuable as an employee.
Certification in a specialized area within your field gives you a leg up when looking to make your next career move, says Pelletier. Look for a program that provides practical knowledge you can apply to your work immediately.
"The first thing someone in HR looks at is what makes this applicant different," she said. "If they have the master's degree, that's fine, but sometimes they're really looking for a certificate in a very specific field."
4. Prepare for a New Career Path
A certificate can also open the door to a new career path or set you up for a productive opportunity when you retire from the force.
It's not uncommon to see former police chiefs promoted to assistant city manager or city manager positions, says Rex Marks, a retired police chief who is now associate director of the Leadership & Change Institute at Norwich University.
Marks says the most popular certificate programs among law enforcement students are various leadership tracks, such as human resources or organizational leadership. Norwich's change management consulting program is also popular, because so many former LEOs start consulting businesses after retirement, he said.
"All of our certificates have value," said Marks. "It just depends on that student's plan for their future."
5. Grow Your Network
Expanding your professional network is a key benefit of continuing your education. This is just as true of a certificate program as a full degree.
Your fellow students, alumni and instructors can help open the right doors to the next step in your career. Look for a program with instructors who are currently working in their field.
Pelletier says students tell her the networking aspect of earning a certificate made a big difference, boosting their confidence as well as increasing their connections.
"It wasn't just a promotion, it was the networking that came along with it, the opportunity to talk with professionals in the field," she said. "It was more than just that singular level of impact on their lives. It was multi-dimensional."
Start With Your Goal in Mind
When making your next educational move, start with your end goal in mind – what job do you want, and what do you need to achieve it?
Earning a certificate in leadership or public administration can provide a significant boost to law enforcement professionals, particularly those in smaller jurisdictions who are responsible for a broader variety of administrative roles and responsibilities.
In order to choose the educational path that best fits your career goals, consider the time commitment and cost involved, as well as your expected return on investment.

Request information from Norwich University
Thank You!