How a robotic platform can improve officers' marksmanship
Targabot challenges users to develop the skills to swiftly acquire targets and make tactical decisions
---
The following is paid content sponsored by Targamite
By Police1 Staff
In real-life situations, when marksmanship really counts, the targets don't stand still. So, why not practice with targets that mimic the unpredictable movement you're likely to encounter when it matters?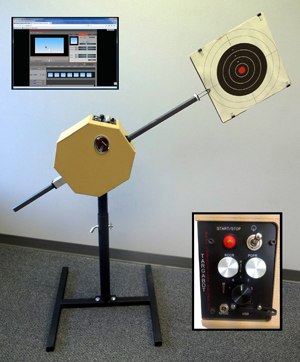 Targabot is a robotic target platform designed to present a customizable, scalable challenge to shooters of all skill levels. Able to make pre-programmed or random presentations, Targabot teaches moving target marksmanship and improves users' ability to quickly and effectively acquire and maintain a hold on targets demonstrating unexpected movement.
"It's a different skillset," said Targamite Founder Gary Kaufman. "It's similar to adding different exercises to a workout in order to exercise different muscle groups."  
Interest in the Targabot is growing, as it is picked up by sheriff's departments and law enforcement agencies across the U.S.
A moving target
The Targabot has a full 180-degree rotational movement range while also moving the target up and down.
"In real life, bad guys don't stand still," Kaufman said. "I thought there must be some way to mimic that unpredictable movement with a training platform. When I found there wasn't, we began developing the Targabot."
The Targabot comes with eight preprogrammed modes. It also can be directed to present randomly, providing an unpredictable and challenging exercise for experienced shooters.
In addition, it can be remote controlled, allowing instructors to adjust the target pattern in real time in order to practice for a specific situation or skill.
The Targabot is a rugged, durable target system. The exposed plastic shafts and target mounts are designed to be easily and inexpensively replaced if damaged.
Create your own challenge
 "I saw lots of advances on the firearms, optics and accessories side, but little being done on the target side," Kaufman said. "People were still using the same old paper and steel targets, which is fine, but I wanted to add a more dynamic platform to the training portfolio. "What really sets the Targabot apart is the ease with which users can create new challenges for themselves. Whether the user sets randomly generated or preset presentations, they are able to continually challenge their skill set as they improve."
Using a simple, user-friendly graphics interface, users are able to program new sequences on their PC with the click of a mouse. Users just need to download a free program from Targamite.com and they can create new target sequences in minutes.
Users can tell the Targabot where they want it to move and at what speed simply by moving a graphic version of the Targabot with their mouse in real time. The program records those movements and translates them into instructions for the Targabot. Once completed, the sequences are uploaded onto the Targabot via a USB port.
"The value is in being able to get it to work the way you want to, without a degree in engineering," Kaufman said.
A portable solution
Weighing in at around only 20 pounds, the Targabot is portable enough to be carried and deployed almost anywhere by a single person. This supports a wider variety of shooting environments—and the unique challenges that accompany them—than would be possible with other target systems.
Targabot runs continuously on a battery that lasts 5.5 hours; when accounting for breaks in shooting, users should be able to get a full day's use out of a single charge.
This allows the Targabot to be taken nearly anywhere for shooters to practice in a variety of situations that they may face in the course of doing their jobs. For example, the Targabot can be placed behind an obstacle such as a car or doorframe to simulate confrontations or lined up in order to recreate a "shoot/no shoot" situation.  
Designed to be long lasting, both in terms of its construction and the challenge it offers to shooters, the Targabot is a long-term solution for building the types of skill sets law enforcement officers need to excel at their jobs. 

Request information from TARGAMITE - World's Most Advanced Robotic TARGETS
Thank You!