Community policing on wheels: 3 things to consider for your next mobile command center
Saint Regis Mohawk Tribal Police took its community-first policing on the road with a multi-purpose command transport vehicle
---
Sponsored by Summit Bodyworks
By Yoona Ha, Police1 BrandFocus Staff
In 2018, a new police vehicle pulled up in Hogansburg, New York, turning heads of both officers and citizens alike. The large white truck, emblazoned with trees, bears the label "Saint Regis Mohawk Tribal Police" and the words community, integrity and professionalism on the sides.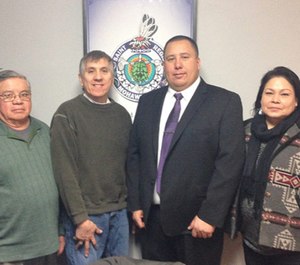 Why would the police station need a 33-foot tractor-trailer?
"It's a customized mobile command center – we don't want the people to think of it as a militaristic utility vehicle or just a way to show force, but rather a community-oriented vehicle," said Matthew Rourke, chief of the Saint Regis Mohawk Tribal Police.
The department's mobile command center has become an integral part of its community policing efforts. Equipped with drone capabilities and other state-of-the-art communication technology, the vehicle serves as an interview room, meeting center and a patrol vehicle, just to name a few. Now the vehicle is a familiar part of the city – a part of the streetscape and a comfort to some residents.
Rourke likens the vehicle to a precinct station house. Above all, it serves many different mobile response purposes for the community. Since acquiring the mobile command vehicle, the chief has become a new go-to for many departments interested in adding the vehicle to their arsenal. We asked him for advice on what departments should look for when considering a multi-purpose command transport vehicle. Here are his top three suggestions:
1. Look for a multi-purpose command transport vehicle that's customizable to your department's needs.
Police1 has covered how to spec out a mobile command vehicle, but determining your vehicle's needs can cover more than just power and meeting rooms. Rourke said that after considering many vendors, Summit Bodyworks, stood out for its ability to custom build every imaginable need possible into the mobile command center since 2008.
"Sometimes we deal with unfortunate accidents on the river, a structural fire or a missing person case, so having a command utility vehicle was important," said Rourke, who has served in law enforcement for over 22 years. "We had a huge flood around two years ago and partnered with the Franklin County Emergency Services Department to set up command away from the police station, and that was a huge success."
In addition to natural disaster response, the mobile command center also needed to offer a neutral, non-threatening presence. So, the police department collaborated with the engineers at Summit Bodyworks to include its own custom design for the vehicle that mirrored the look of its community events trailer. Rourke says the reception to the vehicle has been overwhelmingly positive, especially when it's used for outdoor gatherings and local events.
2. Is it a shared resource? Check for opportunities for shared ownership.
Multi-jurisdictional agencies or agencies that share their specialty vehicle resources with other departments can get the best value for their purchase, he adds.
For example, Rourke and his department were able to partner with neighboring fire departments during floods, as well as other tribal council law enforcement leadership teams for incident planning purposes. They can take the vehicle on the scene when needed, and the meeting room materials can be stowed away to make room for more passengers.
"Our meeting rooms have everything you'd need, from whiteboards, outlets, hookups for your USBs – any type of technology you'd need for debriefings, we have it," said Rourke. "Now we don't need to travel to the place of incident command because we can have them both at the same place. There aren't any accessibility issues anymore, and no more being stuck in a police station."
The Mohawk Tribal Police's mobile command unit is equipped with outside cameras, and Rourke says he is looking forward to adding a pan-tilt-zoom (or PTZ) surveillance camera capable of remote directional and zoom control on top of the bus that can be used for scanning a larger area.
Inspiration for this add-on came from Oneida Indian Nation Police's own mobile command center purchase in 2017. As First Sergeant William Becker wrote in a letter to Police1, "Karl [at Summit Bodyworks] spent a great deal of time during the conference going through the specific capabilities and determining which features would best support the mission of my department."
3. Be budget-savvy by doing your research.
One of the biggest misconceptions police leaders have about mobile command vehicles, according to Karl Kirschstein, who works with law enforcement and public safety clients at Summit Bodyworks, is that these specialty vehicles always come with a hefty price tag, often ranging in the millions.
"It's one of the most common questions we get at trade shows like IACP," said Kirschstein, "and there's this shock that these highly customizable vehicles are definitely within range for small-to-mid-sized agencies."
When the Cape Girardeau Police Department looked to replace its SWAT delivery vehicle, Sergeant Cary Dunavan, a senior law enforcement team leader for over 14 years, said after spending countless hours on the Internet and making numerous calls to other agencies, he found that Summit Bodyworks was not just responsive, but also enthusiastically receptive to his questions and concerns about purchasing a SWAT delivery vehicle from the moment he picked up the phone for an inquiry to several months later when the vehicle was picked up by his department.
"We cannot thank Karl and the Summit Bodyworks team enough for the most pleasant buying experience of any piece of department equipment we have ever had," said Dunavan.
Grants are available to help. The Saint Regis Mohawk Tribal Police Department received a federal grant from the Coordinated Tribal Assistance Programs Solicitation program, which helped the department quickly move forward with the purchase.
Also, the tribal police department's vehicle doesn't require a commercial driver's license, so the ride back home was a painless one, according to Rourke.
"I've had so many people call us up just from viewing our Facebook post about the mobile command center," he said. "Most of the departments in our country are around our size, and I'd recommend having a mobile command unit from Summit Bodyworks to any chief I meet."

Request information from Summit Bodyworks
Thank You!