COPS grant funding in fiscal year 2021: What can we expect?
3 key factors we think will be important for this year's applications for COPS grant funding
---
Every fiscal year brings changes to the U.S. Department of Justice Office of Community Oriented Policing Services (COPS) grant program, changes that law enforcement agencies must be aware of to maximize the success of their grant applications.
This year will be no different, but so far, the federal government has given us little to go on. As of April 2021, the only solicitation for COPS grant funding released by DOJ is the Coordinated Tribal Assistance Solicitation that relates to tribes, Alaska Native Villages and Tribal consortia. The application period for that solicitation expires on April 20, 2021. 
Although we lack other solicitations to provide specific guidance, there is still a lot law enforcement leaders can and should do now to position their agencies to respond rapidly and effectively once such solicitations are issued.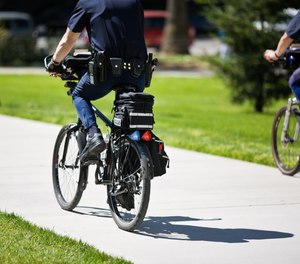 COPS Grant Funding and Safe Policing
COPS grant funding is discretionary funding. As such, the certification requirements for eligibility as defined in the Executive Order on Safe Policing for Safe Communities (signed on June 16, 2020) remain in effect, as cited in the March 2021 COPS Fact Sheet.
The DOJ Standards of Certification identify two safe policing principles that independent credentialing bodies must consider when assessing certification of applying law enforcement agencies:
Adherence to applicable laws. The applying agency maintains use of force policies that adhere to all applicable federal, state and local laws.
Prohibition of chokeholds. The applying agency maintains use of force policies that prohibit the use of chokeholds, except in situations where the use of deadly force is allowed by law.
The takeaway: To be considered for future DOJ COPS grant funds, your agency must be already certified or actively engaged in the certification process. If you are not already certified, don't wait for future COPS solicitations to start the process.  
COPS Grant Funding and Staff Reductions
The second place we can look for clues about future COPS grant funding solicitations is in how things worked in the previous fiscal year. Specifically, let's look at the COPS Hiring Program.
In fiscal year 2020, the COPS Hiring Program provided funding to hire new police officers, re-hire officers laid off because of budget reductions, or re-hire officers scheduled to be laid off due to budget reductions at the time of application for the grant funding. The fiscal year 2020 funding provided 75% of entry salary and benefits for these officers, up to $125,000 per position over the 36-month grant period. 
Recruitment has been a challenge for law enforcement for more than a decade. Today, as calls for police reform lead many communities to explore diverting local government funds from police agencies to other social agencies or defunding police agencies, recruitment is becoming even more difficult. As a result, DOJ COPS grant funding could be invaluable in offsetting staff reductions in your agency. 
Three factors can help position your application for success:
1. Community policing approaches
A requirement of COPS Hiring Program funding in fiscal year 2020 was the identification of a specific crime and disorder problem or focus area, with an explanation of how the agency would use the funding to implement community policing approaches to that identified problem or focus area. Additional consideration was given to applicants who selected violent crime, homeland and border security issues, or school-based policing as a problem or focus area.
Whether the same conditions will be imposed on any potential COPS Hiring Program grant funding in fiscal year 2021 remains uncertain, but the fiscal year 2020 conditions should provide reasonable guidance for agencies on how to begin to develop tentative plans for applications.
2. Addressing social issues
We continue to see a shift in community desires for policing services to more effectively address social problems that have never really been the primary purpose of policing. These significant social problems, specifically mental health crises and homelessness, have been either delegated to or assumed by police agencies due to an inability or unwillingness of other governmental or social agencies to address the problems.
It would seem reasonable that DOJ COPS grant funding will reflect a similar shift. Agencies that can show how they will use grant funding to hire police officers to address mental health crises and homelessness effectively and humanely with innovative and/or collaborative efforts will likely receive favorable consideration for their applications.  
3. Diversity
A final issue applicants for DOJ COPS grant funding may want to consider when developing their applications is the growing movement to infuse diversity into the police service. As our society becomes more multicultural, there is a parallel movement to ensure police agencies reflect that multicultural diversity. To that end, in their grant funding applications related to hiring police officers, applicants should consider emphasizing their efforts to recruit and hire officers who have ties to their local communities and who may be proficient in speaking and understanding non-English languages prevalent in their communities.      
Never Too Early
Some of the above information suggested is speculation. But it is reasonable speculation based on history and current social trends. Lexipol's Grant Services division will continue to monitor all guidance coming from the DOJ COPS program and provide you with timely analysis as new grant solicitations are released.
The lack of specific guidelines is not a reason for inaction. Start to develop the outlines of your applications now, and you will have a competitive advantage over other agencies when the solicitations are released.