5 reasons the Clash 8" Insulated Boot is a cop's best bet for winter
Blauer's Clash 8" insulated boot provides comfort and protection through advanced materials and design
---
The following is paid content sponsored by Blauer Manufacturing.
By Police1 Staff
Cops are on their feet for hours, so they need boots that will protect them and keep them dry—especially in the winter months.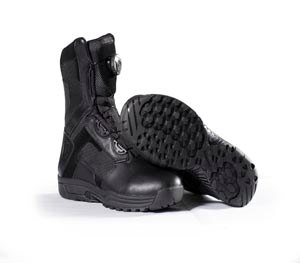 There are several winter boots available on the market, including Blauer Manufacturing's Clash 8" Insulated Boot. Blauer has combined five innovative technologies to make it the ideal boot for winter weather.
1. BOA Closure System
Have you ever snowboarded? If so, then you probably are familiar with the BOA Closure System, a lacing system that lets users take a boot off and on quickly.
The BOA closure system consists of braided stainless steel lace, nylon guides and a mechanical reel that offer a perfect fit with the simple turn of a dial. With BOA, the dial can be released quickly while resting in the squad car, and in seconds dialed-in tight for a foot pursuit.
The BOA components and stainless cable are extremely strong and guaranteed for the life of the boot.
2. Hybrid Outsole Technology
One of the most impressive technologies on Blauer's Clash 8" Insulated Boot is the hybrid outsole technology. The proprietary hybrid outsole is the ultimate combination of stability, comfort and traction.
The boot has oil- and slip-resistant rubber, while a hybrid tread pattern was designed for maximum durability and traction on the street.
The boot combines mini-lug and court-style tread while also providing traction and durability in snowy, muddy and wet conditions off road.
3. Innovative Materials
One of the worst parts of owning traditional boots is breaking them in before using them. With the Blauer Clash 8" Insulated Boot, there is no breaking-in time. That means you can buy it and wear it the very same day.
The boot has a molded polyurethane foam insole and a heel cushion for an instant broken-in feel, while a lightweight and flexible compression molded EVA midsole provides long-lasting impact absorption and rebound.
In addition, the boot's rubber patch has a radius heel protection with ankle stability, while a notched collar back offers calf comfort. The heel is unique to public safety shoes as it provides better comfort due to no 'points' in the back pushing into the heel.
4. Insulation
When it comes to boots for winter, the No.1 priority is to ensure they are insulated to protect cops' feet from the elements. That's why the Blauer Clash 8" Insulated Boot comes with Thinsulate™ technology.
A 400G Thinsulate™ lining ensures that feet stay warm for those winter night shifts, offering protection from below freezing temperatures. The technology often is used in jackets and gloves designed for outdoor enthusiasts.
Indeed, the unique microfibers that makes up Thinsulate™ insulation work by trapping air molecules. This insulation is finer than the fibers used in most other synthetic or natural insulation.
5. Waterproof membrane
Moisture won't sneak in as the Blauer Clash 8" Insulated Boot features fully waterproofed leather. The upper materials are treated at the supplier level meaning textiles are backed with film, and the leather is waterproof-treated at the tannery.
In addition, both the suede and nylon materials are enhanced by a breathable waterproof membrane—perfect to keep feet dry and protected in wet winter weather. The membrane blocks water from coming in while allowing perspiration out. The boot can also be submerged up to 5 inches without allowing water in.
A moisture wicking lining allows perspiration and moisture out of the boot to keep feet temperate and dry. In addition, anti-bacterial treatment on fabrics and lining will keep boots odor-free through long shifts.
When working in the winter months, cops must protect their feet. The technologies used in the  Blauer's Clash 8" Insulated Boot makes it the ideal boot for cops working the beat in cold, wet conditions.

Request information from Blauer Manufacturing Co. Inc.
Thank You!