5.11 Tactical reaches new heights with the Apex pant
The Apex pant combines tactical appeal with a surprising level of comfort
---
The following is paid content sponsored by 5.11 Tactical
By Sean Curtis for PoliceOneBrandFocus
5.11 Tactical established the gold standard for tactical pants years ago.  The combination of unique design and previously unavailable features gave birth to an entirely new market. Driven by demand, that market has evolved and 5.11 raised the bar yet again with the Apex Pant.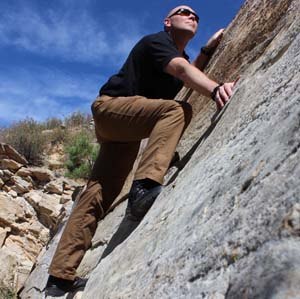 Building on a tradition of excellence
I've been wearing tactical pants for the better part of 20 years and have come to learn their capabilities and limitations. I have tried several brands but 5.11 has always been my mainstay because the quality is irrefutable. I have never had to throw a pair away for any reason; they hold up that well. When I heard 5.11 was introducing a new line of pants, I leapt at the chance to try them. I got a pair in battle brown, donned them, and set off for the mountains.
A versatile option
The Apex is the culmination of years of refining. 5.11 has built  many useful features into the pants but the greatest overall improvement, which struck me immediately, was how comfortable they are. The Apex pants feel like a pair of sweats, but don't scream "tactical" like previous iterations, so they're suitable for wearing in a wide range of scenarios. This is one detail I greatly appreciate. Law enforcement officers tend to prefer keeping a lower-profile when they're out of uniform—5.11 fills that need without sacrificing comfort or utility.
Room to 'kit up'
The thigh pockets on the Apex are nearly concealed. From a distance, you cannot tell there are accommodating pockets with covered zippers. The pockets are big enough to hold two 30 round AR/M4 magazines and have dual interior pockets within for just that purpose. While the pockets allow minor printing with the magazines, there isn't anything so obvious that couldn't be described as a Tom Clancy novel in your pocket. The design is such that when empty, the pockets do not bulge or hang, maintaining a svelte and streamlined appearance. Items in the pocket do not jostle about.
The front pockets are deep and generous. Seams are reinforced, but not so thick as to make clipping your favorite knife a hassle. With other tactical pants, once a knife was clipped on the hem of the pocket, you couldn't really store anything in that pocket. The Apex addresses this with a sweeping hem that allows full hand access while the knife remains clipped to the side. There is no collision or risk of pulling out your knife when you remove your hand.
Another great feature is the inclusion of four rear pockets. Each side has the normal pocket and an additional smaller pocket within, sewn slightly higher. The higher pockets can securely hold an ID and wallet comfortably. The quad pocket design allowed me to store my normal loadout and still have a place to firmly hold two 30 round mags.
Built for comfort
The waist of the Apex is the result of some marvelous engineering. Off duty, I like to carry concealed in the waistband for a very low profile. Many people struggle with this because you often need a larger pant size to accommodate the gun. With the 5.11 Apex, you order your true waist size. Pulling on the waist, I saw some stretching. These pants were specifically designed to have some extra give, making them very capable in the concealed carry department. After a day's wear, they do not sag or droop. Accordingly, the belt loops are strategically placed to avoid the most common carry regions while still providing ample support. The waist and pant hem also have handcuff key pockets, and room to store flex cuffs.
A focus on durability
Overall, the cut of the Apex pants feels generous while looking tapered. The gusseted crotch gives no discomfort; I did not feel even remote binding when I bent at the "articulated" knees. The "mechanical stretch canvas" proved tough yet forgiving when I harkened to 5.11's roots and began my rock climb. Another great feature is the Teflon treatment the Apex pants receive, which helps prevent any long-lasting stains.
The 5.11 Apex pants held up extremely well. During my climb I scraped them on the rocks, bent, twisted, scrambled, and leapt without any uncomfortable pinching or dangerous binding. They did not stain, rip, or stretch out. I truly appreciate the fact that they are low profile while being situationally diverse—allowing me to wear them in almost any setting. Above all else, 5.11 has improved functionality while taking comfort to an entirely new level. 5.11's website lists the Apex pants for $84.99 and they're available in brown, black, navy, khaki, and green. If my test is any indication, this is a great value as the pants will last a very long time and provide years of comfortable service.
About the author
Sean Curtis is a law enforcement professional with 15 years of experience, serving with SWAT, diving, and swift water rescue teams in Colorado. He has also served in wildland fire, search and rescue, EMS, and emergency management.

Request information from 5.11 Tactical
Thank You!