Think sweat and stink are inevitable under your ballistic vest? Think again
A new cooling fabric developed by a cop for cops is designed to keep odor and overheating at bay
---
Sponsored by DragynSkyn
By Rachel Zoch, Police1 BrandFocus Staff
Who wraps themselves in a couple of shirts and a ballistic vest and doesn't sweat like a beast while patrolling the streets? Nobody.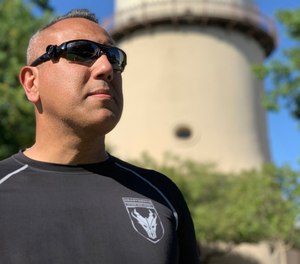 A few years ago, California police officer Darryll Van Deursen decided he'd had enough. None of the base layers he'd tried were up to the task of keeping him comfortable and his body armor odor-free. So he set about finding a better solution.
"I had a vest that was just horrible after two years no matter what I did to clean it," said Van Deursen, "and I got to a point where I stopped wearing it because it was so smelly."
He realized that not wearing the vest wasn't safe, so he started doing research and experimenting with fabrics.
Once he developed his own proprietary blend, called DragynSkyn, Van Deursen enlisted friends and family to help him test and refine what he describes as "extreme base apparel" guaranteed to manage sweat and prevent odor.
 Here are three things you need to know about DragynSkyn:
1. WHY FABRIC MATTERS
Not all fabrics are created equal. For example, cotton holds sweat, heat and weight, whereas synthetic fabrics created for athletes are designed to draw sweat away from the skin to help it evaporate and cool the body. That's how performance fabrics that keep you drier also keep you cooler.
But under a thick, heavy ballistic vest, says Van Deursen says, moisture wicking isn't enough. When sweat is wicked to the surface of the fabric, it has nowhere to go but to be absorbed by the vest/carrier. Because there's no ventilation between the snug armor and the wearer's body, the sweat just sits there, retaining heat – just like the insulating layer in a wetsuit.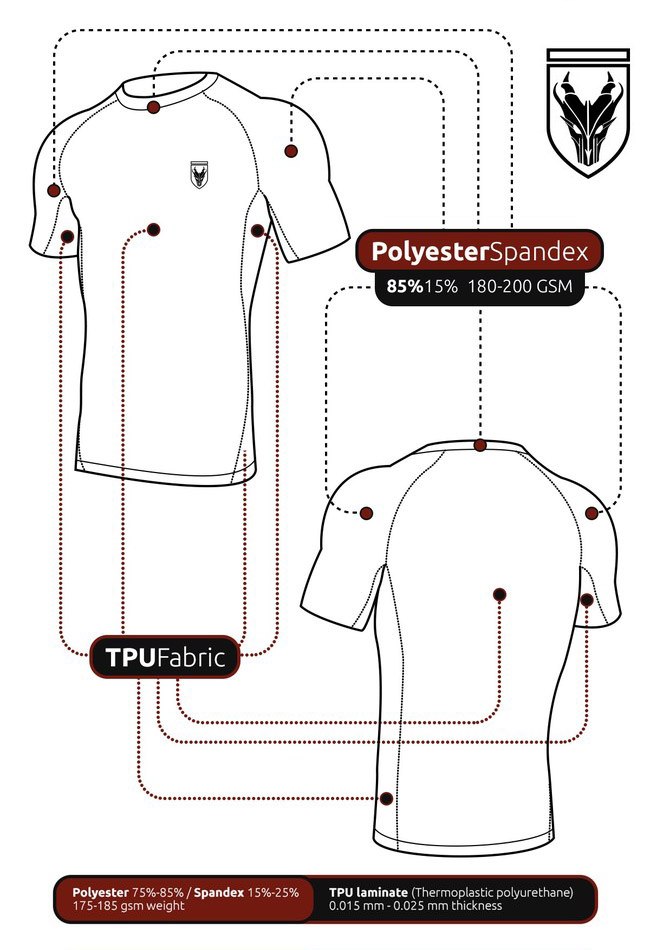 The key, then, is a fabric that will not soak with sweat during extreme activity.
"The more moisture retained between your suit and your body, the more it insulates," said Van Deursen, "and that's when the light bulb went on – because the DragynSkyn fabric doesn't absorb or retain moisture, it not only keeps you dryer but also cooler."
DragynSkyn achieves this by vaporizing moisture through micropores in its three layers of lightweight, breathable fabric, which include a poly/spandex blend and a thermoplastic polyurethane laminate (TPU) only a fraction of a millimeter thick.
2. HOW DragynSkyn STOPS ODOR
It's not you, it's your bacteria that make a stink.
Sweat is 98% water plus a pinch of salts and minerals. When sweat accumulates on your skin, the bacteria that naturally occurs there is activated and begins to break down. This is what creates body odor.
Because the stretchy DragynSkyn fabric allows only water vapor through – leaving the odor-causing bacteria behind – the DragynSkyn compression shirts not only keep you cooler, they also prevent personal funk from contaminating your vest. The three-layer fabric keeps anything you wear over it sweat- and odor-free by vaporizing sweat, effectively reducing the opportunity for odor. In addition, DragynSkyn's TPU layer is bacteria-resistant.
"I've had people tell me, 'Hey, I wore it and hung it up to dry for five days and there was literally no odor, like I've never worn it all,'" said Van Deursen. "I tested it myself and went almost a week until I had to launder it, because it started to get a slight odor after about a week."
3. MADE BY COPS FOR COPS
DragynSkyn is made to withstand the rigors of the job by someone who knows what cops need. Van Deursen wears DragynSkyn on the job every day and stands by the product, which has been field-tested for years and worn under body armor by officers in high heat.
A recent NTOA review, in which sample shirts were sent to four anonymous officers across the country for their honest opinions, returned a high score of 4.2 out of 5.
"I've definitely come a long way from having a piece of fabric in my hands about four and a half years ago," said Van Deursen. "I just wanted to develop a shirt where my vest didn't smell like a dish sink sponge after a shift."
In addition to performance, he understands that price and value matter to cops, and he guarantees satisfaction or your money back. Through DragynSkyn's "Try Before You Buy" program, you can check out the shirts for free (paying only applicable shipping and taxes) before you buy:
Add any size or style to your "Try At Home" cart.
Try it on within five days.
Send back what you don't want, and only pay for what you keep.
Visit DragynSkyn for more information.
Read Next: What's that smell? How to not be a wet, stinky mess when you're on duty

Request information from DRAGYNSKYN
Thank You!