Be ready: What footwear do you need for your mission?
Propper's Duralight Tactical Boots provide all-day comfort for patrol as well as key tactical features to support SWAT officers
---
Sponsored by Propper
By Sean Curtis for Police1 BrandFocus
There is a never-ending line of shifts rolling out in law enforcement agencies that must be filled, 24/7/365. These posts have no concerns for time of day, rugged terrain, adverse weather conditions – or tired feet.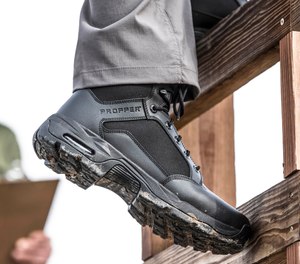 Propper, a gear company that got its start outfitting the U.S. military more than 50 years ago, designed their footwear with these needs in mind. While the Propper footwear lineup consists of over a dozen options for boots, shoes and socks, their new Duralight Tactical Boot offers added versatility capable of hitting the mark for a lot of different missions.
The boot is a solid performer that provides hours of comfort, positive traction in varied conditions and solid support in critical areas – and it cleans up nicely when necessary.
Hitting the streets
Front-line officers have a few needs from boots that are critical to accomplishing the mission. First and foremost, they have to be comfortable, but they also have to withstand hard wear but still look professional.
The Duralight Tactical Boot is built with comfort cell technology, similar to the air cell technology in athletic shoes, to cushion the feet and make the boots instantly comfortable when you pull them on. No breaking-in period is required, and even wearing them out of the box for impromptu hikes or shifts (properly fitted) will not produce hot spots or blisters. In addition, they have a built-in padded contour comfort collar to engage the shin and ankle with firm but gentle contact.
Tactical nylon panel reinforcements and double and triple stitching provide durability, and the boot's breathable lining will help keep your feet from overheating and swelling. Additionally, a removable contoured footbed (insole) means you can replace it should this critical interface between boot and officer become worn. You may also insert your favorite substitute.
Maintaining a polished look for command presence is also important, and you can easily wipe down the boot's leather upper for a clean finish or polish them to a shine as needed.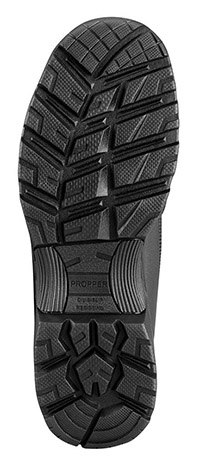 Booting the door
While patrol officers and street officers often place the same demands on their footwear, occasionally tactical units need a bit more performance. Here again, the Duralight Tactical Boot delivers.
With all the features mentioned above, you already know the boot is comfortable. While SWAT may not be walking a beat somewhere, it is entirely likely they are standing on a perimeter or stacking on location at multiple points of entry, waiting to breach when negotiations break down.
Propper designers included critical features that apply to SWAT officers, like a composite shank to provide support and rigidity, as well as a heel finger loop for getting into the boots and on your way rapidly. Also, the arch of the boot was engineered to be fast-rope compatible and resist wear from ropes and ladders.

Propper considered the environments officers typically work in and designed the outsole accordingly. It's not likely that SWAT is making entry to a clean and uncluttered domicile or building. Slip hazards are always a risk when a team of shooters is breaching, and the Duralight Tactical Boots have an oil- and slip-resistant outsole designed to keep officers upright and on target. The boots are also quiet to walk in and do not loudly announce your position to hidden suspects.
Fitting all kinds of feet
One of the most critical points of selecting long-wear, hard-use footwear is optimal sizing and fit. Propper understands that all kinds of people respond to the call of service, so they offer true U.S. sizes in the Duralight Tactical Boot from 5 all the way up to 17, including half sizes and wide widths, so that most officers should be able to find what they're looking for.
About the author
Sean Curtis is a law enforcement professional with nearly two decades of experience, serving with SWAT, diving and swift water rescue teams in Colorado. He has also served in wildland fire, search and rescue, EMS and emergency management.