How one tactical boot solved the comfort and durability problem
Learn about the ALTAI MF Tactical Tall/Short Black boot's rugged exterior and comfortable interior
---
The following is paid content sponsored by ALTAI.
By Police1 BrandFocus Staff
Choosing the wrong footwear does more than impact comfort; it can play havoc on an officer's biomechanics. Poorly fitting footwear can lead to pain in the heels, ankles, knees, hips and lower back—as well as missed workdays. A poll conducted by the American Podiatric Medical Association (APMA) recently found that 55 percent of Americans missed a day of work because of foot problems.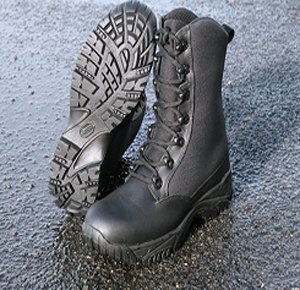 That's why it is important police have the right footwear, said Sean Thompson, a sales manager at ALTAI. The Minnesota-based and locally-owned company makes boots for cops and outdoor enthusiast, including the ALTAI MF Tactical Tall/Short Black version that promises the comfort and the durability cops need.
To make sure their boots fit cops right, ALTAI engineers regularly hand out prototypes to local law enforcement agencies to test and provide feedback, Thompson said.
"We are working hand-to-hand with our local law enforcement agencies to develop our boots," he said.
What they've heard from those tests is that there are two main features make the ALTAI MF Tactical Tall/Short Black the right fit for cops.
Durability
The secret to the ALTAI MF Tactical Tall/Short Black boot's durability is its highly functional upper material built using SuperFabric, a proprietary technology engineered and manufactured in St. Paul, Minn., at the company's headquarters.
Thompson said the SuperFabric looks like armored plates on the upper of the boots. This fabric gets tested for abrasion and tear resistance as well as stain resistance.
"It goes through a flex test in -20C to test the flex of the boot," Thompson said. "We are achieving a minimum of 500,000 cycles under the flex test."
The boots also offer a VIBRAM outsole. Among other features, this outsole has a MegaGrip technology that offers grip on wet and dry surfaces and optimal balance of stability and flexibility for ground adaptation.
In addition, the VIBRAM outsole is engineered for stability and made from a minimum of 30 percent recycled rubber.
Finally, the boots include a durable speed-lacing system.
Comfort
The boot employs several technologies to ensure maximum comfort; for example, the boot includes an EVA midsole for superior comfort and anti-fatigue.
This midsole is the most important part of the shoe in terms of cushioning and stability, Thompson said. Most running shoe midsoles are comprised of a closed cell foam called ethyl vinyl acetate (EVA), just like the ALTAI boot. In other words, it delivers a level of comfort to officers just as if they were working in running shoes.
The boots also are lightweight. With a weight of just 23 oz. (size 9), they are super light compared to other duty boots on the market that weigh 40 to 60 oz.
Another benefit to the ALTAI boot: dryness. The boots' SuperFabric has a waterproof, breathable construction, wicking moisture out and away from the foot so cops feet stay dry.
"The boots are submerged under water to ensure the SuperFabric doesn't leak," Thompson said. "We found you can stand in a bathtub with them."
An anti-clogging technology reduces mud, dirt and debris in the outsole.
"Our boots keep your comfortable, no matter what the conditions are," Thompson said.
Best of all, the boots are ready to wear immediately as there is no break in time.
"You can just put them on and wear them; they are ready to go the second they come out of the box," he said.
Durability and comfort are two key attributes in a duty boot that can help a cop get through a shift, while at the same time protecting their feet from the ruggedness and wear-and-tear of the job. And there's no better option for comfort and performance than the ALTAI MF Tactical boot.
For more information, visit ALTAI's website.