Review: My search for a well-rounded boot to stand up to the patrol environment
See how well HAIX Black Eagle Athletic 2.1 Mid Side Zip boots live up to the manufacturer's claims – and the variety of environments and challenges inherent in patrol work
---
Sponsored by HAIX
By Eric Tung for Police1 BrandFocus
Nancy Sinatra famously pointed out her "boots were made for walking." In the life of a patrol officer, boots need to be for so much more. Running brief sprints on questionable terrain, standing on pavement for hours on end and being robust for everything from the natural (brambles and loose rock in a ravine) to the unnatural (broken bottles and syringes in an alleyway).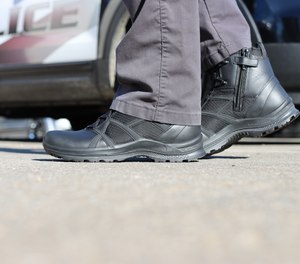 An effective boot really needs to blend durability with flexibility while balancing the right weight for rigidity yet comfort. Having used a variety of brands and styles in my career, I recognize the challenge of finding a well-rounded boot to stand up to the array of environments and applications necessary.
I was invited to trial and provide a review of the HAIX Black Eagle Athletic 2.1 Mid Side Zip to be exact. I will refer to them ongoing as the HAIX BEAs, as I think that has a nice ring to it.
For context on my career and source of boot insights:
I have been a police officer for 16 years in Washington State. For 14 years, I worked in the Patrol Division in one of the most high-crime, violent cities in the state, per capita. My duties included K-9 generalist (tracking), part-time crowd control and sergeant. In addition, my duties as a K-9 handler led me (literally) into dense vegetation and brush, frequently in the notably wet environment of Western Washington. 
From these experiences, my opinions for a patrol-appropriate boot focus on balance. There needs to be a consideration to keep the boot on the lighter side, without being flimsy. Also, especially from my K-9 days, uneven ground or a foot pursuit involving stepping off curbing means avoiding a catastrophic ankle injury. However, in the same vein, the need for ankle mobility is crucial from a physiological, athletic and fitness framing. (I am one of my department's functional strength and fitness coaches, but that should not infer that this is medical advice of any sort; for that, you should consult your doctor or other licensed healthcare professional.)
I wanted to see the main features highlighted in this boot from the makers themselves, from their site, coupled with my own impressions:
Secure Footing. "Proprietary rubber tread."
This is a must for any first responder being exposed to a host of slick situations, whether rain, ice, motor oil in collisions or other undesirable fluids. The tread provides a mixture of fine and large variations to compensate for different terrains and conditions. It is not too clunky or knobby, so I noticed it didn't sound like I was marching while walking across hardwood floors. Conversely, I practiced lateral bounds and side shuffles and found the tread to provide ample "stickiness" with no sense of sliding out.
Shock absorption. "Extra cushioning in the sole reduces foot and leg fatigue while the energy return puts an additional spring in your step."
While my exposure to functional fitness information makes me love a more minimal sole for exercise and lifting, it is not practical for a working first responder. Ask anyone who has spent hours strictly on the pavement directing traffic or working an event. Not only will your feet be swollen without adequate arch and footbed support, but you will feel it all the way up your through your knees, hips and back. It was comforting (pun intended) to feel a gummy sole that was firm, yet able to be compressed by fingernail with a nice bounce-back.
Dry Comfort. "Water resistant."
Even if you aren't in a wet climate, patrol is like a box of chocolates, and you will quickly find yourself in a swamp, drainage culvert, or flooded basement for who knows what.
I wanted to test the water resistance on this without standing in a puddle for an unforeseen amount of time. I used a fire extinguisher to sink the boot in a tub of water, with a dry paper towel lining down the footbed to the toe. I filled the tub to have the water reach just above the entire sole, to surpass the edge of the fabric upper.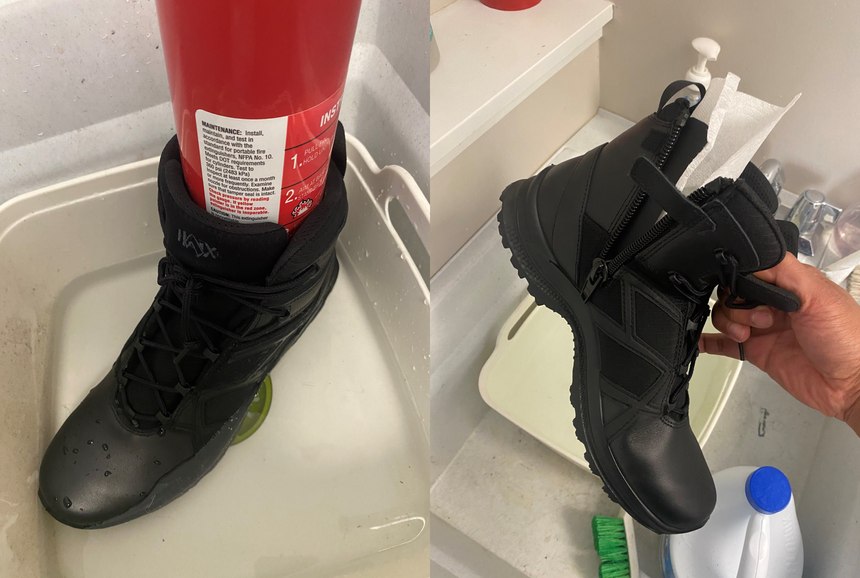 After 45 minutes, the paper towel remained completely dry – mission accomplished!
At the Ready. Convenient side-zip.
This is what I was excited about immediately. Gone are the days when us cops have to just marvel enviously at our firefighter counterparts who literally rolled out of bed and slipped/zipped on their boots. 
In a day and age when working out on duty is smartly an increasing trend, features like this will certainly help efficiency in transitioning uniform and footwear between these tasks. Also, if you are stuck at the station writing up a complex caper, being able to take off your boots would be nice (as long as you have some other footwear and don't offend the senses of your squad mates).
Additional impressions:
The boots fit into a slim profile box – so much so, I wasn't sure they were the package I was anticipating. The weight thus shone as light to the touch. The Black Eagles definitely felt on the lighter end of the spectrum yet offered firm support through the foot and up to the shin. I am biased toward a lighter boot, but I did not feel the BEA sacrificed stability in accomplishing this.
Upon wear, it provides substantial support around the mid-foot and ankle, which provides me confidence in its potential protection against me rolling an ankle. From my K-9 days, I learned to shy away from minimalist canvas or pliable boot uppers, as that is a fast track to Snap City. (I had a coworker who turned his foot around wearing a very popular boot with such a thin upper and very heavy, thick sole).
As I do before I try on any boot or shoe, I commenced flexing the sole, folding it inward with one hand on each end and then twisting it to a degree. Again, I found confidence in recognizing it was not a soft sole akin to a running shoe, yet was not unyielding like some other traditional boots I have worn, which essentially force you into stomping (which is terrible for your feet, and frankly your whole skeletal structure and gait).
Judge for yourself
Want to find out for yourself if HAIX boots are the most comfortable and durable boots you've ever worn? HAIX will be conducting a wear test to select 1000 police officers to test one of three side-zip models of boots.
Go to https://www.haixusa.com/1000 to apply for a chance to be a HAIX 1000 pair weartest participant. (Signing up does not guarantee you will be selected.)
1,000 officers will be selected from all entries submitted by August 31st and will be notified via email. Those selected to participate in weartest must wear their pair of Haix Black Eagle side zip boots while on active duty throughout the month of September and fill out and submit an online feedback form by October 22. Those who complete the wear test will get to keep their boots.
To apply for a chance to be a Weartest Participant CLICK HERE!