How this body armor startup created an affordable one-stop tactical vest
Comfort, protection, and versatility are the cornerstones of this new tactical vest
---
Sponsored by Safe Life Defense
By Yoona Ha, Police1 BrandFocus Staff
A couple of years after getting his criminal justice degree, Nick Groat had an idea. He decided to create a multi-threat ballistic vest that was both affordable and comfortable.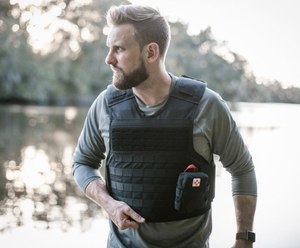 Turning your idea into reality sometimes requires herculean efforts, especially when you're trying to make it stand out in the fiercely competitive body armor market.
But through Indiegogo, a web-based crowdsourcing platform where both armchair venture capitalists and larger investors can fund interesting ideas, Groat was able to reach hundreds of intrigued law enforcement officers.
In 2016, his campaign to develop a bullet, strike, and slash-resistant vest for $449 was launched and quickly reached its initial funding goal of $15,000. He used this seed money to create the first batch of Safe Life Defense multi-threat body armor.
"I started Safe Life Defense with the goal of making the best armor possible at the best price possible," said Groat, the Founder and President of Safe Life Defense. "After the first batch of vests was released, demand exploded, and now our focus has expanded into creating tactical vests."
Developing a Level IIIa+ tactical vest
When Groat began researching the tactical vest market, he quickly realized that there were very few high-quality options that were also affordable. As an officer, you need a vest that will protect you against as many threats as possible, but the complexity of offering an all-in-one vest often discourages manufacturers from achieving true multi-threat protection.
This is where Groat saw an opportunity. Safe Life Defense overcame this common industry-wide problem by developing a one-stop-solution ballistic vest that offers protection from a wide variety of threats: bullets, strikes, slashes, stabs, tasers, and even some armor piercing ammunition!
This entirely new level of protection is called, "Level IIIa+."
It's a rating that's exclusive to Safe Life Defense. The enhanced "Level IIIa+" vest protects officers from the same threats as the NIJ-rated Level IIIa, but what makes the Level IIIa+ truly amazing is that it offers stab and slash protection, and protection against FN 5.7 and Liberty Civil Defense ammunition.
The Safe Life Defense Concealed Enhanced Multi-Threat Vest Level IIIa+ provides this new level of protection and offers another option for officers who want more from their soft body armor. Safe Life Defense soft body armor is also compatible with hard rifle plates, creating a complete package of adaptable protection.  
How comfort and versatility come together
Officers often want to know if a tactical vest has customizable options, so they can adapt their armor to meet the needs of a specific mission.
With this in mind, Groat developed the Safe Life Defense tactical vest in a way that is entirely customizable with add-ons. The most basic version of the tactical vest already has tons of options including:
Three patches (customizable)
Adjustable comfort straps
Two outer pockets for Level IV rifle plates
A name tag on the drag handle
A water-resistant polyester carrier with rip-stop fabric
Optional side armor
Laser cut molle
Multiple color options
24 unique sizes for a semi-custom fit
Three protection levels
Matching pouches in various sizes 
The tactical vest was also designed to be extremely comfortable for professionals who wear their armor daily. Most tactical vests require custom measurements, but Safe Life Defense offers 24 different sizes and free size exchanges to guarantee a great fit. Plus, each vest comes with several adjustment points that allows wearers to customize the fit of their vest.
"One reviewer told us that he wore our vest for 72 hours straight without an issue. He even slept in our armor and basically did everything but take a shower in it. We get a lot of reviews from law enforcement officers saying our vest is extremely comfortable – some who have been wearing different armor for years," said Groat.
All Safe Life Defense's vests come with a 30-day fit guarantee and a five-year incident guarantee. 

Request information from Safe Life Defense
Thank You!