How this Florida deputy found a way to ease his colleagues' back pain
It took a few years to convince the department to invest in a load-bearing vest for each deputy, but the move paid off within weeks
---
Sponsored by BlueStone Safety
By Courtney Levin, Police1 BrandFocus Staff
Law enforcement is a physically demanding profession, and if you aren't running or jumping while in pursuit of an assailant with a 20-pound duty belt weighing you down, you're sitting in your patrol vehicle at an odd angle to accommodate the items on said belt.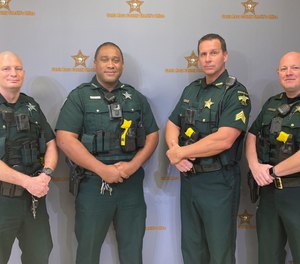 It's not uncommon for the heft of duty belts to lead to back and hip problems relatively soon into an officer's career, making pain relief and prevention high priorities for those in the field.
As a now six-year veteran with the Santa Rosa Sheriff's Department in Florida, Deputy James Moye has thought about easing his department's back pain for years. When the concept of load-bearing vests came across his radar, he was immediately interested.
However, the process of purchasing this new gear wasn't as easy as other types of orders. Here's a look at his years-long journey to get custom load-bearing vests approved for his department – and how this gear has made a difference.
GETTING THE BALL ROLLING
Change can be difficult for anyone in any industry, and law enforcement agencies are particularly known for sticking to tried-and-true practices. For Moye, it took a great deal of tenacity to bring his desire for custom load-bearing vests to fruition.
"I started looking into it and asked my administration if they would even entertain the idea," said Moye. "At first they were hesitant towards the idea, but I didn't take no for an answer, so I started researching it."
He found an article featuring a study completed by the University of Wisconsin-Eau Claire and the Mayo Clinic Health System that detailed the benefits of wearing load-bearing vests, and it led him to speak with someone at the university to get more details.
Moye knew that he had to prove just how beneficial his idea could be for his administration to sign off on it, so he spent the next four years compiling information about load-bearing vests when he had the time.
Finally, Moye was ready to present his findings to his administration. They loved the science behind it, he says, and they agreed to move forward. His next step was to find products for his department to test before placing an order for approximately 250 deputies.
CREATING THEIR CUSTOM LOOK
During his research, Moye found that after seeing the positive findings of the University of Wisconsin-Eau Claire study, the Eau Claire Police Department outfitted their officers with custom load-bearing vests from BlueStone Safety.
He decided to visit their website and saw an array of options, including customizable features that allow for unique vest styles and designs. However, Moye also came across a bit of a challenge.
"I was looking around the BlueStone website, and the only problem was that I didn't see that they had our uniform color," said Moye. "All sheriff's offices in Florida have to wear the color forest green – it's traditional and a part of our history."
Not content to stop there, Moye reached out to Josh Chernoff, president of BlueStone Safety, to see if they could find a solution.
"I saw it as a big opportunity for agencies and for us to be one of the first ones in Florida to be doing a forest green carrier that mimics the traditional polyester uniform," said Moye.
After a few conversations with Chernoff, Moye sent over a sample shirt so the team at BlueStone Safety could create a custom fabric color to specifically match Florida's forest green shade.
"It looked perfect," said Moye. "It was spot on."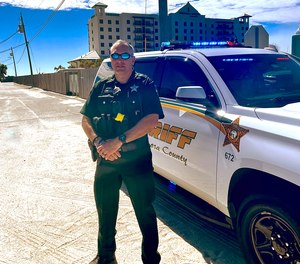 ENJOYING A RANGE OF BENEFITS
The Santa Rosa Sheriff's Department administration wanted to ensure that the custom load-bearing vests maintained a traditional uniform look, and while much of the fine-tuning process had to do with aesthetics, officers discovered a wealth of benefits once they took the vests out into the field.
"We have deputies who are constantly having to go to chiropractor's appointments or filing workers compensation claims because of back issues," said Moye.
Instead of the traditional duty belt putting a strain on officer's hips and back, the vests distribute the weight of all the gear they carry evenly across their torso.
The deputies love the new vests, says Moye, especially if their backs were already hurting, and new deputies coming into the field like having something to combat back pain right off the bat.
Beyond easing bodily woes, the custom load-bearing vests help officers in another way: by keeping them cool. During Florida's hot and humid weather, sweating beneath their uniform was a given with no real solution.
"With the vest, we can just take it off, cool off for a minute, and then put it back on and we're good to go," said Moye.
Removing the vest also comes in handy when an officer needs to perform a water rescue, a not-uncommon scenario for the Santa Rosa Sheriff's Department. Rather than enter a body of water with 20 pounds of gear and body armor that would otherwise hinder their rescue, officers can quickly undo the side strap of their load-bearing vest and remove their gear entirely.
AN IDEAL EXPERIENCE
The Santa Rosa Sheriff's Department can use a variety of body armor panels with their new BlueStone Safety custom load-bearing vests as well, and with sizing tailored to each officer, each vest fits comfortably.
Implementing his desire for load-bearing vests may have been research-heavy, but once Moye collaborated with BlueStone Safety, he says the process was very straightforward.
The distinct needs of the Santa Rosa Sheriff's Department were easily met by the team at BlueStone Safety, with design elements that perfectly mirrored the department's traditional uniform look.
"Josh and his team were phenomenal," said Moye. "I call Josh with a question or a concern and he gets back to me immediately with a solution."
Moye hopes he and his department are paving the way for other departments in Florida.
"There's research already out there so you don't have to reinvent the wheel – you just have to use it," he said.
Visit BlueStone Safety for more information.
Read next: This load-bearing vest offers body armor protection in a uniform look

Request information from BlueStone Safety Products
Thank You!