Oak Creek's hero cop heads program to connect wounded officers
The Saves program allows officers to connect with other LEOs in a way they never could before
---
The following is sponsored content from Armor Express
Lt. Brian Murphy medically retired from law enforcement after taking 15 bullets from a white supremacist in Oak Creek, Wis. — an incident that's made Murphy a household name to law enforcement nationwide. His injuries were extensive, but while they may have slowed him down, he made the decision that they weren't going to stop him. He would no longer be patrolling the streets of Oak Creek, so he needed to find a new way to serve.
Lt. Murphy had several factors to thank for his survival following the 2012 Sikh Temple attack that left six civilians dead: his skillful active shooter training, his innate warrior mindset to keep going, and the ballistic armor that stopped three bullets from penetrating his body.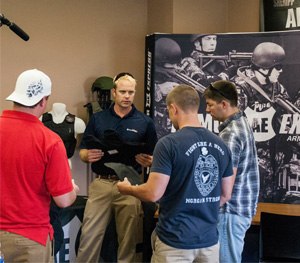 When Murphy was given the opportunity to speak on behalf of the company responsible for that armor, there was no question that this was his next endeavor.
Armor Express, the 9-year-old Michigan-based company who's employees have been manufacturing ballistic armor for law enforcement since it's inception, had developed a program that would allow the company to connect on another level with the officers they served. They wanted to do more for the men and women who had endured shootings on-duty by creating a community that would bring together others who had been in their shoes.
Murphy accepted the position of Manager of the Saves Program in June of 2013, where he would overlook a core group of 'Saves' — men and women who have literally been saved on-duty by their ballistic vests — who decided to join the program aimed at helping them and their families get back on track.
"There is no time limit that says 'once you've reached six months after recovery, you're healed,'" said Lt. Murphy, who reaches out to other Saves on a regular basis to talk, catch up, ensure they're doing well, and check on their families, regardless of how much time has passed since they were wounded.  
"New Saves have the opportunity to correspond with us, they can talk about what they've gone through, and by talking to other officers who have been through the same [experience], they can get valuable feedback and can speak more freely about the incident they were involved in."
Those involved in the program, says Murphy, are more than a group of officers with something in common — they're a family, and that includes the spouses and children of that officer.
When an officer has been saved, "we've saved a father, a mother, a husband, a brother.
"In my case, it was my wife who was constantly changing my bandages, and that was taxing on her," said Murphy, who had been shot in the head, jaw, left and right biceps, both hands, and both legs. "We want the spouses to get involved in the program to talk to each other to understand that they're not alone. That sense of family and community is what we bring to the table."
A One-of-a-Kind Getaway
This summer, Armor Express launched the first-ever Saves retreat, a multi-day getaway where Saves and their families could meet other Saves face-to-face, talk, bond, and even see the plant where their vests were made.
Attendees were taken aback by the amount of care that went into each vest. One woman who has worked at body armor plants for 30 years told them all, "It's like a marriage – we protect you so you can go out and protect us."
When he was first offered the position of the Saves manager, Murphy had had the opportunity to meet the woman who inspected the ballistic vest that saved his life. It was a moment, he said, that was "one of the high points in my recovery. She did her job and that saved my life."
Four officers who had been saved on duty under different circumstances, plus Murphy and other members of the Armor Express team, gathered at the Pine Hollow Institute in Elk Rapids, Mich. to go boating, cook out, enjoy the outdoors, and share their experiences with the officers and families who had gone through similar life-threatening tragedies together.

From left to right: Officers David Wagner, Brett Morgan, Brian Murphy, Josh Caulkins, and Cole Martin share a
​laugh at the first-ever Saves retreat in Elk Rapids, Mich. (Photo courtesy Armor Express)
"Everyone said the same thing: they couldn't believe that their body armor company would do all this, provide care for us and our families and take the time out to see if we're okay and listen to us," said Murphy.
In a letter written to Armor Express following the retreat, Amanda Martin, wife of Save Cole Martin wrote, "Meeting all of you and touring the facility, and seeing the vest actually shot tested has reinforced my peace of mind enormously, which I honestly didn't think was possible after Cole's shooting...you're our angels. Thank you."
Being a Part of the Saves Family
Murphy explained that while both he and Armor Express are proactive in looking for potential Saves, they are often contacted by an agency after an officer has been involved in an incident. At the very least, the company replaces the officer's vest and sends a representative to the agency to meet the officer.
"The bottom line is that we want officers to wear their vests. Thirty percent of officers who are killed aren't wearing a vest," said Murphy.  
The goal of the program is to provide a platform for officers to connect with each other, and to provide resources to get any help an officer may need, whether it's financial, medical, psychological, or something else entirely. Armor Express hopes that the program will develop into a self-sustaining social community where officers can reach out to one another on their own accord.
Murphy now spends much of his time educating officers about the program. He'll be attending the 2014 International Association of Chiefs of Police (IACP) conference in Orlando in October to participate on a panel about self-aid and body aid, such as wearing the proper equipment and knowing how to use it. Following the session, he'll be greeting visitors at the Armor Express booth #1332.
If you'd like to learn more about the Saves Program, contact Brian Murphy or visit ArmorExpress.com.