Why Indiana University PD employs advanced technology
Smart cameras and a sophisticated digital evidence platform helps inform decisions, promote transparency and keep officers, students and citizens safer
---
Sponsored by BodyWorn by Utility
By Laura Neitzel, Police1 BrandFocus Staff
Police departments at universities and colleges across the county have the usual share of challenges plaguing most departments – and a few extra responsibilities.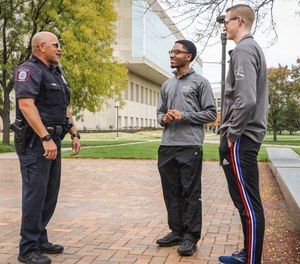 "We have unique challenges where you've got parents who are entrusting their children to us. That's a heavy responsibility," said Eric Mayo of the Indiana University Police Department. As director of information technology and systems, he oversees technology for over 230 law enforcement officers and support staff serving seven campuses across the state of Indiana.
"You have young people who are in a lot of situations, for the very first time, out in the world without any direct supervision," he said. "Sometimes they make great choices, and sometimes they make not-so-great choices. We're here to help them navigate all of that and get through it safely. "
Adding to the complications of college-aged constituents is the flow of people across the public campuses. One campus lies in the heart of downtown Indianapolis, housing Indiana University's health sciences department, which includes several hospitals serving the general public.
That means the surrounding community is also a part of the university community, says Mayo, and sometimes incidents from one spill into the other. Having real-time information and being able to respond to situations as they unfold is critical for IUPD to keep its students and the wider community safe.
TECHNOLOGY ENABLES REAL-TIME INFORMATION
To help stay on top of events at all the IU campuses, Mayo and his team rely on technology from BodyWorn by Utility. IUPD uses the full range of products from Utility, starting with BodyWorn cameras that automatically start recording based on pre-set triggers like activation of the lights and siren. The BodyWorn has built-in features such as an accelerometer that can detect when an officer is running and a function that sends an alert to dispatch and nearby officers if an officer goes prone in the field.
The central hub for this technology is Utility's AVaiLWEB evidence management platform, which, among other functions, uses data from the department's computer-aided dispatch system to automate recording of BodyWorn and in-vehicle cameras according to department policy.
AUTOMATION KEEPS OFFICERS FOCUSED ON RESPONSE
IUPD takes advantage of the capabilities afforded by a unified platform to help officers keep focus on the situation rather than on remembering to activate a camera. They can set recording rules at the system level according to department policy for a "set it and forget it" approach.
"If the officer turns on the vehicle emergency lights, the in-car cameras start recording. If their emergency lights are on and the door of their vehicle opens, their body camera gets a signal to start recording now," said Mayo.
The CAD system can also be used to set up action zones where automatic recording can begin or end when an officer enters or exits the zone – a particular concern for student privacy. IUPD also uses smart holsters that automatically start recording when an officer's duty weapon is unholstered, and officers wear smart watches from which they can control their devices.
Mayo has the IUPD CAD system configured to activate when an officer is marked on scene instead of a geography-based activation because the location of the incident may not always be accurately relayed by the caller or the location may even change between when the call is reported and when officers arrive.
"That automation really helps officers focus on their primary mission, which is to make the situation safe," said Mayo. "They get to focus on that, and they don't really have to worry about their technology."
BETTER TECHNOLOGY LEADS TO BETTER DECISIONS
Another advantage of smart technology is that it gives the department real-time situational awareness that leads to better decision-making.
"Data-driven decision-making is really key to modern law enforcement," said Mayo. "Technology makes the difference between being able to show up to a situation in progress versus responding to a call that's over and done with and just making a report."
The technology necessary to get that level of information out to officers in the field is crucial, he adds.
Getting an accurate picture and promoting transparency
The presence of body cameras has been known to encourage truth-telling by officers and civilians alike, but the data that in-vehicle technology and the unified evidence platform provides can shed additional light on a situation and help the agency be more transparent about findings.
If, for instance, a call comes in to IUPD complaining about an officer speeding, the IUPD administrator can independently confirm or deny the caller's account in a matter of moments instead of having to interview the officer. Based on data from the in-vehicle camera system, the administrator can determine when, where and how fast the patrol vehicle was traveling and corroborate that with data from the officer's body camera.
"That initial fact-finding can be, now, a very short process," said Mayo. "It provides you the ability to be very transparent as an agency"
BE PREPARED FOR THE WORST
One of the biggest fears for many law enforcement agencies is physical harm to an officer in the field. The BodyWorn platform helps protect officers' physical safety through features like BodyWorn Down and the foot pursuit activation feature. Both automatically trigger recording, allowing an officer to focus on remaining safe during a high-stress encounter. If that officer becomes non-responsive, command staff can locate the officer through GPS coordinates on the BodyWorn camera. These features – even if rarely used ­– offers an added degree or safety and peace of mind.
Another big fear that many departments have is of a different nature – not of physical harm, but of reputational harm and legal liability if they can't produce the expected recording when a critical incident occurs. The automation inherent in the BodyWorn platform can alleviate that concern as well.
MULTIPLE PERSPECTIVES PROVIDE A MORE COMPLETE PICTURE
While fortunately IUPD has not had a critical situation where someone was seriously hurt as a result of use of force, Mayo is appreciative of what the BodyWorn platform would provide should such an event occur.
He recognizes that camera footage viewed from different cameras at different angles can give different – and sometimes misleading – perspectives. With multiple cameras on a scene providing video that can be stitched together and time - and location-stamped by the AVaiLWEB platform provides a more comprehensive picture of how the event unfolded.
"One of the reasons why we opted for the multiple cameras was because now you have multiple points of view in that same instant," said Mayo. "From that, I have a much better idea of what went down, and in what sequence of events."
MORE AWARENESS FOR MUTUAL AID
At an urban campus in the middle of a major metropolitan city, the BodyWorn system also provides the ability to expand situational awareness share information with other jurisdictions like the Indianapolis Metropolitan Police Department in situations where mutual aid is needed.
Mayo admits that implementing advanced technology like the BodyWorn system across the entire IUPD at campuses around the state was a challenge, but well worth the effort. Knowing that a camera is on and recording helps speed up the investigatory process on the criminal side, adjudicating complaints on the civilian side, and helps provide an objective third-party perspective to a situation.
"Technology like BodyWorn facilitates greater agency and individual situational awareness," said Mayo, "which leads to safer outcomes for the officers and community."
Visit BodyWorn for more information.
Read next: How this Florida sheriff's office uses their bodycam system to meet citizen expectations

Request information from Utility
Thank You!