Will your call for help be heard?
Ensure you'll get the assistance you need with reliable radio technology
---
Sponsored by L3Harris
By Courtney Levin, Police1 BrandFocus Staff
Working in law enforcement has always included an element of danger, even when departments were more fully staffed and the rate of violent crime in any given city was lower. Now, more than ever, the risk of a serious incident occurring while on duty is a threat that likely never leaves a cop's mind.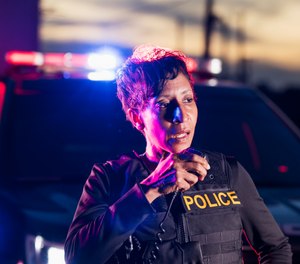 Officers who put their lives on the line every day shouldn't have to rely on older communication networks or dated equipment that may not operate correctly during an urgent situation. Should the unthinkable happen and an officer is injured in the line of duty, it's critical that calls for help – and answers to those calls – are heard.
TROUBLING TECHNOLOGY
Police communication via land mobile radio has been used since long before anyone reading this joined the force. While radio networks' efficacy have improved decade after decade, it wasn't until after 9/11 that agencies could use LMR to communicate outside of their department.
Even with interoperability now at the fingertips of every agency in the nation, officers can still find themselves in frustrating communication situations, leaving them vulnerable in an emergency.
"For an officer, your radio is really your lifeline," said Jeremy Elder, director of product management at L3Harris.
As advanced as they might seem, radios relying on LMR can't always guarantee clear communication. Think about how often you try to make a call only to find someone else is doing so at the same time.
Or consider the instances it's been difficult to hear a response due to the voice encryption used to prevent citizens from listening to your transmission. If your frustration in these situations is real, imagine trying to make an officer down call and encountering the same problems.
CATCHING UP TO CONSUMER OPTIONS
Communication technology has progressed in the civilian marketplace far more quickly than for those in public safety. Most cellphones now take higher-quality images than cameras, and we can use Wi-Fi and a range of apps to communicate even if we don't have phone service.
"Consumer communications technology provides a range of options and features to suit different budgets and feature needs," said Elder. "We are now seeing that kind of technology working its way into public safety communications."
While LMR is certainly still an option for law enforcement, many departments are choosing to use devices that are compatible with LTE, 5G and Wi-Fi. These networks provide more reliable connectivity and offer a wider coverage radius than LMR communication.
"New converged technology solutions that support the best of both worlds (LMR and broadband wireless) are entering the marketplace to provide new options to keep our first responders safe," said Elder. "We have to make sure everyone's coming home at the end of their shift and make sure that call for help is heard."
TODAY'S UPDATED EQUIPMENT
While it's helpful for departments to have access to advanced communication networks, using LTE or 5G is only half the equation. Radios with older technology may seem to function adequately enough, but when a call for help comes through, officers need dependability.
XL series radios by L3Harris are made for reliable connectivity using LTE, 5G or Wi-Fi networks in addition to running on LMR technology. These devices, often called hybrid or converged radios, allow officers to call for help during critical situations.
Several portable radio options are available in the XL series, as well as a vehicle-mounted device, and all feature voice and data encryption, ergonomic designs and long battery life.
Additional capabilities are available based on your agency's needs, including GPS, Bluetooth and hotspot technology. All L3Harris radios are P25-compliant to enable interoperability no matter what situation is unfolding.
Even if you're in the field without a radio, the L3Harris BeOn app is available with push-to-talk functionality. It can be used on a laptop, tablet or smartphone and provides officers greater situational awareness during emergencies by being able to listen to radio transmissions.
AVAILABILITY FOR ALL
While modern communication networks give officers flexibility, investing in new radio technology sometimes comes with a glaring limiting factor. Many equipment manufacturers partner with specific carriers, similar to locking in a contract with one provider when you purchase a personal cellphone.
L3Harris radios, however, provide departments the freedom to use the carrier that works best for their needs. Whether an agency already has a robust cellphone plan with a specific carrier or they rely on networks like FirstNet, it makes no difference in their ability to use L3Harris equipment, says Elder.
While all calls are important, communicating when an officer is down is possibly the most important transmission your equipment will ever make. As communication technology continues to advance, officers who put their lives on the line can rest assured that their calls for help will be heard when they use L3Harris radios.
This article originally appeared in Officer Down! A Police1 Survival Guide.
Request information from L3Harris
Thank You!