How Magnetactical perfected the art of the one-handed reload
The strong magnet clips to the duty belt so the gun can be reloaded with one hand
---
The following is paid content sponsored by Magnetactical
By Police1 BrandFocus Staff
Cops know better than most that there is no routine, which is why they regularly train for worst-case-scenarios. This includes training to survive a gunfight single-handed – a scenario that is very realistic due to the fact that assailants often shoot in the direction of an officer's gun, hitting their arm or hand and rendering it useless.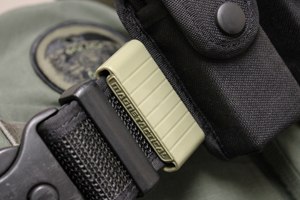 Salt Lake City Officer Devin Stutz was bothered by the fact that one-hand malfunction and reload drills entailed tucking the gun between the knees or under one knee and using the boot in order to reload, which significantly limits the officer's mobility, or assumes the officer still has use of their dominant hand, which isn't necessarily the case.
Stutz knew there had to be a smarter solution for a safe one-handed reload that won't stop an endangered officer in their tracks, allowing them to quickly get back in the fight.
Introducing Magnetactical
It wasn't long before the Magnetactical belt clip was born, an innovative magnetic attachment that clips onto an officer's duty belt for fast and efficient single-handed reloading that can be completed while moving forward, backward or sideways for cover.  
The belt clip is a strong, neodymium rare-earth magnet wrapped in hard, chemical-resistant plastic that fastens to the front of your duty belt without taking up much valuable space. In fact, the clip is only an inch wide and less than 2 ½ inches tall. It's light enough that it doesn't weigh down the belt yet strong enough to hold a loaded sidearm, even with attachments.
"I started off with different sized magnets. They couldn't be too weak and some were so strong I had a difficult time getting the weapon off, so I had to test to find the right fit," says Detective Stutz, who brought his prototype to a plastic manufacturer in Utah to create the final design.  
How it works
The Magnetactical clip is both affordable and a multi-tasking tool, making it a worthy addition to any officer's duty belt.
The Magnetactical clip should be attached to the center of the duty belt so that it's accessible from both the left and right hand, unless you'd prefer having one on each side. By keeping magazine cartridges next to the clip, the entire action of reloading can be done quickly and within close quarters. 
To reload, the officer attaches his handgun and racks the slide with the rear sight against the top on the magnetic belt clip. For a heavier handgun or a sidearm that has a tactical light, let the rear sight rest on top of the belt clip to prevent the gun from slipping.
The magnet attracts any ferromagnetic material; that is, anything made of iron, nickel, cobalt, or a combination of these. This unique feature makes the Magnetactical clip great for another law enforcement application: temporary item retention during the search of a suspect.
"I've found that the Magnetactical is extremely efficient when pulling metal items off of subjects during searches," said a fellow Salt Lake City officer who uses the product on duty. "On three separate occasions, while conducting a search of a subject, I located a folding knife/pocket knife which was immediately placed on my Magnetactical.  It was held in place with no difficulty, allowing me to complete my search quickly and safely."
Knives, handguns, handcuffs, flashlights and other weapons and tools can be placed on the clip's surface until the item can be properly secured, or until a backup officer has arrived that can secure them.
The magnetic clip can also be used as a "third hand" to grasp spare magazines, handcuffs, and multi-tools while you're working.  If you use a flashlight containing enough ferrous metal, the belt clip can be utilized to hold it during low- and no-light handgun mag changes without reholstering the light.  
Training safely
Stutz is very attuned to safety concerns about the product. He notes that repetitive one-armed training is necessary to use the Magnetactical properly. It is not designed to replace the regular process of reloading, but instead to be used in situations where only one arm is able to be used.
Because of the possible risk involved, training and practice are a must to avoid an accidental discharge. Rules of firearms safety should always be observed when using the Magnetactical, especially keeping your finger off the trigger until your sights are on the target, which is critical to safe usage. In addition, Stutz stresses that officers should practice thoroughly and often using dummy rounds.
Years of testing have gone into this original product, and the result is a multitasking accessory that solves many common annoyances officers encounter, as well as a potentially lifesaving piece of equipment. It's ideal for perfecting one-handed and support-handed reloading and as an efficient item retention tool. 


Request product info from top Police Duty Gear companies
Thank You!