This iconic tactical backpack gets an upgrade
Customizable organization, hidden compartments and extra padding in the Rush 2.0 series tactical backpack means you can carry all your stuff just the way you like it
---
Sponsored by 5.11
By Warren Wilson for Police1 BrandFocus
Cops don't have offices. They have cars. Cops don't carry briefcases. They carry backpacks. Even we office dwellers use them. How else would we get our tablets and gym clothes in and out of the building? The street cops use them for snacks, emergency water, extra pistol and rifle magazines, report forms, traffic templates and electronics.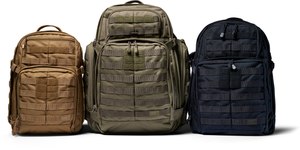 One of the more popular models of backpacks among cops is the 5.11 RUSH series. Since 2007, 5.11 has sold over a million of this particular legacy product. Why do consumers like this pack so much? The RUSH is all about versatility and modularity. In simpler terms, it's customizable for the user and his or her mission. I use one of my 5.11 backpacks as a laptop case. I use another for backpacking. I have another as a gear bag. If I wasn't lazy and unwilling to pack and unpack this bag regularly, I could use the same one for all three functions.
This year, 5.11 started the "A Million Missions and Counting" campaign as they upgraded this backpack. As 5.11 always does, they sought out the input of end users (us) to see what they (we) would want in the RUSH 2.0 
A Million Missions and Counting
The goal of the 2021 upgrade to the RUSH 2.0 series was to add some key features to the pack without raising the MSRP.  That's a tall order. End users wanted a hidden EDC (Every Day Carry) pocket, an enlarged eyewear pocket and a padded laptop compartment. Well, 5.11 actually did it.
Let's start with the number one most requested feature upgrade: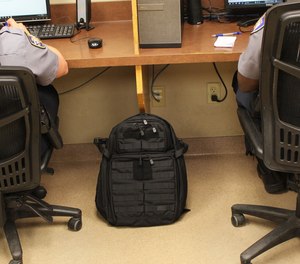 New Laptop Compartment
All three sizes of the RUSH 2.0 have laptop compartments which will accommodate a computing machine of up to 15". The compartment is padded and suspended about an inch above the bottom of the pack. You see, 5.11 understands the rigors of our work and our glorious ability to break things. The computer is then further secured by a hook-and-loop-equipped strap to keep it from falling out while being carelessly slung. Ask me how I know and join me in a moment of silence for my fallen laptop.
New Concealed Compartment
I will refer to this as the EDC compartment to carry a firearm in a situation when you just can't carry on your person, but it can be used for almost anything you want to hide. It might be a good place to keep electronics, valuables or anything you wouldn't want to display while on a deployment or a hike. When I say, "concealed," I mean it. One must be familiar with the system to find and access the compartment.         
Other Features
The eyewear pouch is on the top of the pack to keep glasses or smart phones from getting crushed. The fleece lining keeps your lenses from getting scratched. There is a yoke system between the widened and enhanced shoulder straps to disperse the weight and increase comfort.
The RUSH 2.0 is compatible with the other packs through the Tier System. That means you can easily expand your backpack with something like the RUSH MOAB 10 Sling Pack. That allows the user to take the attached MOAB and RUSH 2.0 to the campsite and then use the Sling Pack for day trips away from camp. The hydration bladder compartment has four padded spots on the exterior to keep pressure off your back. The RUSH 72 2.0 has an aluminum stay bar which runs down the middle of the back panel for additional support. It's customizable to fit your back or can just be removed. I personally like having the aluminum piece in for support. My loadout can be heavy and this setup truly maximizes the ability carry enough for a long hike or deployment.
The RUSH uses a clamshell opening design for easy access to items both large and small. Combine all that with heavier 1050D Cordura construction and you truly have a new classic in the RUSH 2.0. Updated colorways include Kangaroo, Ranger Green, Double Tap, Dark Navy for uniformity and good old tactical Black.
Pockets
The Rush series is known for having tons of pockets. I didn't count them, but there's a bunch of them. I'm one of those, "a place for everything and everything in its place" kind of people. Dumping all my gear and gadgets into a void irritates that little control nut who lives inside my brain. I know if I need a battery for my walkie, flashlight or red dot, I will not be able to find it quickly unless there's a very specific place for it. However, even I do not have something to put in every one of these pockets … but I'm working on it.  
Three Sizes
The RUSH 2.0 comes in three sizes: RUSH 12 2.0, RUSH 24 2.0 and RUSH 72 2.0. The numbers stand for length of deployment and indicate storage capacities of the packs. The RUSH 12 2.0 is intended for a 12-hour deployment and has 24 liters of storage (day pack). The RUSH 24 2.0 is intended for a 24-hour deployment with 37 liters of storage (two- or three-day general use) while the RUSH 72 2.0 is intended for a three-day deployment has 55 liters of storage (or as a team supplemental pack).     
What I Like      
Now, for my favorite part: What I like about the RUSH 2.0. No tactical backpack would be worthwhile without MOLLE attachments. The RUSH 2.0 has MOLLE attachments not only on the front of the pack but also down the sides. This goes back to the versatility and modularity of this design. If I need a tourniquet, IFAK (individual first aid kit) or bear spray in the field, I don't want to be digging for it. It needs to be readily accessible.
MOLLE also works as a radio holder in a pinch. Water, snacks and other items for which access isn't quite so time sensitive can be inside the pack. Also, the sternum straps are adjustable not just for general size but for ride height. I'm 6'2 with a short torso and long legs. That kind of adaptability is a great feature for me.
5.11
Those are the features that I like on the RUSH 2.0.
Here's what I like about 5.11 in general: They get cops. They get that our equipment needs to be durable and reliable but can't be ridiculously expensive. 5.11 is one of those established companies who has figured out how to balance those two factors.
If you're in the market for a backpack for any mission, take a look here. You might just become one of the next million satisfied RUSH customers.   
Visit 5.11 for more information.
Read next: A Class A uniform that combines comfort, fit and performance
About the author
Warren Wilson is a lieutenant with the Enid Police Department in Oklahoma. He is a former SWAT team leader, current firearms instructor and writer. He has been a full-time law enforcement officer since 1996.