An essential piece of gear gets an ergonomic makeover
Streamlight's Stinger 2020 flashlight sports an anti-roll body design, other new features
---
By Warren Wilson for Police1 BrandFocus
I've referred to Streamlight products before as "cop friendly." That statement refers to the company's ability to produce equipment which is durable and still cost-effective to the law enforcement salary. That's not an easy thing to do considering the nature of our work. Another thing I appreciate about Streamlight is their drive to stay ahead of the technological curve. In the flashlight business, this is a must. Our department is currently issuing Streamlight TLR-1 weapon lights to all our officers.
When I first got into police work, the light options were limited. The most powerful lights were more than a foot long and had to be carried on a belt in the same manner one carried a baton – hanging from a metal loop. I still have a Streamlight 20XP from those days. It still works, by the way. I remember in the late 90s, I got my first, hand-sized torch, which ran off lithium 123s. Man, I was stoked! It had 50 eye-scorching lumens and would run for 20 whole minutes!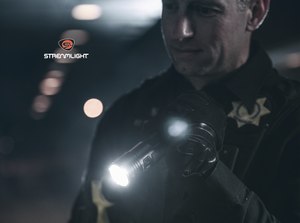 Flashlights and Flying Cars
Fast forward to what I have on my desk right now: The Streamlight Stinger 2020. It is 7.67-inches in length and weighs just over 12 ounces. It's about the same cost as the flashlight / boat anchor I used to carry on my belt. However, on its high setting, it produces a 2,000-lumen, 315-meter beam with a run time of two hours. On low power, it produces 100 lumens for 24 hours. If 2020 Warren quoted those stats to 1990s Warren, he'd call me a liar and ask me about the flying cars.  
Anti-roll design
Another feature I like about the Stinger 2020 is the outward design. Streamlight calls it "anti-roll," and that's a good description. I don't know how many times I've tried to carefully place my flashlight on the hood of my patrol vehicle, only to find myself chasing it across the street. The Stinger 2020 won't roll more than 180 degrees. I know the term, "ergonomic" has fallen out of favor with the cool kids, but it fits in this case.
I also really like the activation switches. One is on the tail cap and one is on the more traditional location near the head of the light. They operate independently of each other. Whether you use this light in the overhand or underhand positions, it works perfectly. A quick double-tap of either switch will put the light into strobe mode. The Stinger 2020 is IPX7-rated, which means it is dust-proof and water-resistant to one meter for 30 minutes.
Speaking of being cop-friendly, the Stinger 2020 has a two-meter impact rating, which means it can be dropped a lot and still be useable. This light has three power settings, which is not uncommon. What is uncommon is the settings switch. Many lights require the user to cycle through all of the settings to get to the desired power. Streamlight decided to make it easy on us and simply place a recessed three-position switch on the side of the light.
Here's my favorite feature, though: When you activate the light, you will get either a green light, red light or a flashing red light for a few seconds. That tells you the light is either fully charged, is getting low or needs charging very soon. With most police flashlights, you find out the battery needs charging the hard way at the worst possible time.
Not all batteries are created equally
Of course, the Stinger 2020 is a rechargeable light. That's mandatory for cops today. It uses a variation of an 18650 lithium battery called the SL-B26. If you're unaware, not all 18650s are created equally in quality or even size. The SL-B26 batteries are basically 18650 lithium batteries with a protected circuit to prevent overcharging. Streamlight and I recommend you use Streamlight batteries in this light.  Using only Streamlight SL-B26s leaves nothing to chance. Charging the batteries is a breeze in the Stinger 2020. The user can either charge the batteries inside the light with the included mountable charger, or charge the batteries individually in existing Streamlight battery chargers. You can even charge SL-B26s individually with a Micro USB.
All these features come with the usual Streamlight Limited Lifetime Warranty, along with the company's decades of reputable service to the emergency services community. There are even duty belt holsters being manufactured for the Stinger 2020 as we speak. A quick Internet search provided several in-stock options for uniformed officers.
Technology Marches On             
As an unrepentant flashlight nerd, this is a great time to be alive. I remember when the first 100-lumen flashlight came out just a few years ago (or so it would seem). Today, quadruple digits lumen lights are commonplace. I don't know what the future holds, but I know Streamlight will be there. Stinger 2030, anyone?  
About the author
Warren Wilson is a lieutenant with the Enid Police Department in Oklahoma. He is a former SWAT team leader, current firearms instructor and writer. He has been a full-time law enforcement officer since 1996.
Request information from OfficerStore.com
Thank You!