Review: Why the Zero Tolerance 0804CF is an excellent EDC knife
The ZT 0804CF offers first-rate craftsmanship in a sleek, lightweight package
---
The following is paid content sponsored by Zero Tolerance Knives.
By Sean Curtis for Police1 BrandFocus
The first time I opened the 0804CF from Zero Tolerance Knives, I knew it was going to be a long-term relationship. The smoothness of the action combined with the lack of heft smacked of quality. The knife combines seriously strong yet light materials with highly functional features that will keep the user happy for years to come.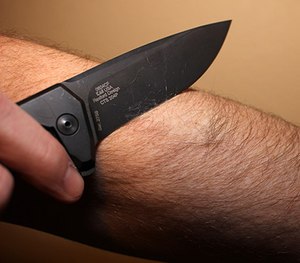 Zero Tolerance has an impressive history of collaborations with renowned knife makers, and this knife is no exception. The 0804CF was created in conjunction with Todd Rexford and is based upon his custom Gamma folder.
First impressions
This is a black knife from tip to butt. Its darkness doesn't whisper about being clipped into a tactical vest during a pre-dawn raid, although it could easily fill that role. No, the carbon fiber handle lends itself to a subdued, perhaps more urbane purview – think Porsche looks with the performance of a trophy truck.
Carbon fiber on one side, the 4.9-inch handle is DLC-coated titanium on the back and includes a lanyard hole. The carbon fiber adds an interesting tactility: It is smooth enough to draw from the pocket without struggle, yet allows a decent grip when needed.
A gentle pull on the flipper opens the 3.9-inch drop point blade, and it is all business. The blade, too, is DLC-coated black, in keeping with the dark theme, and stays open with a frame lock.
One of the first manual observations I made with this knife was the weight, a mere 5.1 ounces. I own many comparably sized folders that weigh significantly more than this. This makes the 0804CF a joy to handle and a breeze to carry.
Knife aficionados can often be spotted by the strange, often uniform, bald spots on their support-side forearm. This is not a bizarre form of mange but rather the result of a convenient way to test the sharpness of a blade. With scarcely a push, the wickedly sharp 0804CF shaved the hair off my arm.
Materials and features
With titanium, carbon fiber and aluminum backspacer, the 0804CF is a who's who of high-strength and lightweight materials. Ask any connoisseur of cutlery, though, and they will want to know what steel the blade was formed with. In this case, the answer is CTS-204P, classified amid knife enthusiasts as a "super steel" for its attributes.
Chief amongst these is edge retention. This means the knife will hold that wicked sharpness longer than lesser quality steels. I've used this knife to cut a variety of materials and find that it cuts easily with minimal pressure applied. You just don't expect something that weighs less than a cellphone to cut like a chainsaw. (As of 2017, the blade steel for the 0804CF has changed to CPM 20CV, another powdered metallurgy steel that's equivalent to CTS-204P.)
Opening the knife is an absolute treat. On the back of the handle you can access a flipper, a jimped stud that, once pulled upon, easily flips the blade open. The 0804CF is also equipped with the KVT ball-bearing opening system. The feature is slick. It keeps the blade from simply falling open from the handle but swings smoothly once the process is initiated. I found I could instantly bypass the flipper and use a flick of the wrist to open the knife in less than a second. One-handed availability increases the value of any knife.
One of the features I did not know I would enjoy so much was the knife's titanium clip. Like most, the pocket clip holds the knife in the place you've designated, and it is reversible for those who need left-handed access.
Where the clip excels is in its retention. The triangular flange at the end of the clip is designed to stay against the frame with some pressure. This translates to a knife that will not come out of your pocket without some effort. I'm sad to admit I've lost some high-end knives with amazing features that did not include an eye toward retention. I tried wearing the 0804CF in the pockets of jackets, dress pants, tactical pants and jeans, and the retention is outstanding.
A high-quality knife
During the testing period I handed this knife to a few different people to get their thoughts and reactions. The big eyes were evident, and "ooohs" and "ahhhs" were plain to hear, even among non-knife lovers (they do exist). Everyone commented on the light weight, quality and refined finish. More often than not, I was concerned about getting the knife back!
This is an excellent knife, combining high-performance materials with innovatively designed features to culminate in a quality product. I liken it to James Bond – dressed for a black-tie soiree, at any moment the blade can be deployed for some serious work and look good doing it.
The 0804CF is proudly made in the USA and features a limited lifetime warranty. In addition, Zero Tolerance will happily sharpen your knife and send it back to you for free – you need only pay for the initial shipping costs. 
About the author
Sean Curtis is a law enforcement professional with nearly two decades of experience, serving with SWAT, diving and swift water rescue teams in Colorado. He has also served in wildland fire, search and rescue, EMS and emergency management.

Request information from Zero Tolerance Knives
Thank You!